If you missed the first part of this three-part series on how to buy and sell blogs and websites for big profits, make sure you go back and start here –
Now continue on to part two…
******
It was 2006.
I had just surpassed 1,000 subscribers to my blog.
Here's how my statistic counter looked, which I had proudly displayed on my blog –
The blog considered the "leader" in my industry at the time was none other than Darren Rowse's Problogger.
He had about 5,000 subscribers, a huge audience at the time.
I was so obsessed with traffic back then. Everything was about making that little feed counter increase.
Some of it was ego driven. I wanted to claim my spot at the top of the echelon of bloggers, to be someone who mattered – and traffic counters were what mattered!
A Traffic Growth Technique No One Else Had Used Before
Growing traffic back then was not much different to growing traffic now.
Although the tools have changed, essentially as a blogger the goal is to get your content featured on as many other sites as you can.
During the early days of blogging you aimed mostly at other blogs. Today you do that still, but you add social media and multimedia into the mix as places to gain exposure from.
I did all the usual traffic building things, but I also did something no one else did…
I bought another blog to grow my audience.
Big companies did it all the time, buying other companies to expand their reach, add new income streams and increase their value.
Why couldn't I buy a blog to reach new readers and add new income streams too?
Most bloggers don't think like companies, and to be honest I didn't either back then.
That was until I had the chance to buy a blog…
Can You Even Do That?
My friend Michael had a blog, one that was similar in audience size to my own, about small business branding (smallbusinessbranding.com).
We were chatting away on Skype one evening and my friend says to me he is thinking of selling his blog.
I don't say this to him, but my immediate thought is…
Can you even do that?
I was shocked at first, but then slowly I started to realize it made sense.
My friend was more excited about web design, and not running his blog anymore. He wanted to move on and was looking to sell it.
Before this I had not considered buying a blog something I might do, until suddenly one was presented to me.
I told my friend I'd like to make an offer. He gave some details about the site, including how much traffic it had and income it made.
I did some calculations, made an offer of $2,000, and 48 hours later we had done the deal.
Here's a sample from the blog post Michael wrote the day after the sale…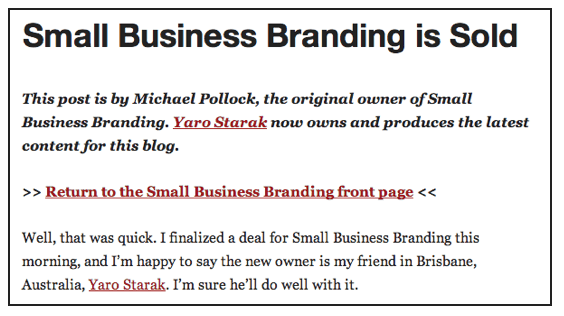 Over the next few months I grew the income from a few hundred a month, to over $1,000 a month, and then brought on a team of writers to keep the site going and increase income.
Two years later I sold the blog, making more than 1,000% return on my investment.
You can hear me talk more about this blog "flipping" (buy and sell) case study in this five minute sample video from a live one-hour long workshop presentation I recently did:
Do You Want Instant Growth?
Think about this, when you buy a blog you instantly gain –
A new audience already engaged with content about a certain topic
A source of new subscribers to your newsletter, whom you can build relationships with and begin sending offers to
An immediate increase to the number of pageviews you have available to sell to advertisers
New advertisers who are already buying ads on the blog you bought, who will pay to sponsor your other blogs/sites
A new audience you can promote affiliate products to and insight into what affiliate products are already selling
Potential new customers to sell your own products and services to, including your best selling subscription products (you could recoup the cost of buying a blog in a matter of weeks just promoting your own products to the new audience you gained)
Top ranking pages in search results for keywords you didn't rank for before
An overall increase in the value of your business, thanks to adding a new income producing asset (great if you are preparing to sell)
I could write entire articles about each point above, but at least you have an idea now of the potential.
This is no average traffic technique. It's by far the most powerful growth strategy available today.
Yet so few people use it!
Why Don't More People Buy Blogs?
The challenges with this strategy are the costs involved, the difficulty of finding a good blog to buy, and the big one I believe – a fear of failure that it won't work and you will lose your money.
Those are all legitimate concerns, but when the upside is so big, you really need to consider this strategy.
Let's take the fictional example of a blogger who covers "growing tomatoes".
You could head out and seek blogs that cover growing other foods in the backyard, like growing carrots, or potatoes, or backyard farming in general, or herbs, or even cooking with farm produce.
The key is to focus on new audience segments related to your current market.
You don't have to buy a blog about exactly the same thing as what you already do, just find sites that have the audience you want.
This is such an important point.
You can win with a blog acquisition strategy when you have a brilliant way to leverage your new purchases.
You might already have your own products to sell, or an email newsletter sequence that is strategically designed to sell affiliate products, or advertisers hungry for more people to promote to. All these things can be plugged straight into any blog or website you buy for immediate return on investment.
These are advantages you have that allow you to instantly derive income from a new blog in ways other people can't.
Even if you just buy a blog so you get a new stream of traffic, you are doing something almost no one else does.
Can you think of a quicker way to add a hundred, two hundred or even one thousand new readers to your audience in a day?
This audience is about as targeted as you can get, and is not going to be a one hit wonder, bouncing away never to be seen again.
You own the traffic source, it's not a temporary moment of exposure on another blog that quickly dissipates.
Start Small And Grow Big
Given you have to invest money to get started, it's a wise decision to start with smaller blog purchases to begin with, until you feel comfortable with the process.
You can then expand, potentially adding more than one blog to your portfolio, or even buying other types of sites.
You might buy a site that sells a product you can sell to your audience. Or perhaps a piece of software or tool you can provide to your people. Maybe you will find a niche forum or social network that perfectly matches what you already do.
You can buy any of these things if they combine well with your audience to augment what you already do and grow your business.
All these options are potential sources of new traffic, new leads and new income streams.
Free Workshop: How To Buy & Renovate Websites For Passive Income
I recommend if you are serious about this business model that you take this free workshop from my friends in Australia, Liz and Matt Raad.
I've known the Raads for years and they are two of my favorite people. They are down to earth, easy to learn from, very supportive of their community and have been incredibly successful buying and selling websites and helping others to do so.
You can take their free introductory training here:
I've attended their live three day conference as a guest and a speaker several times. I know they are truly the best in the business at teaching this strategy.
You will learn a lot from them, so go sign up for their workshop now.
Coming Up Next: The BIG Case Study
In the final part of this trilogy, I take you through the background story behind my big deal – how I sold a website for $100,000 USD.
I used the money to buy a new car and pay the deposit on my first ever house purchase. It was a pretty big achievement and I could not have done it without selling my website business.
I explain how I determined the selling price for the website, how I went looking for buyers, where the eventual new owner came from, how we did the transfers – everything.
Part three is now available here –
I hope you are even more excited about the possibilities for your own website deal.
You're only a few steps away from owning your own money making website, expanding your existing business or selling out for life changing money.
Yaro Starak
Merging And Acquiring