This is the third blog post in a trilogy about buying and selling blogs and websites for big profits. If you have not read the first two parts, do so here:
Long time readers of this blog will recall the early few years from 2005 onwards where my writing focused on my business at the time, a proofreading service called BetterEdit.
The site connected international students studying at universities in English speaking countries, with academic editors, mostly PhD level academics or active postgraduates.
My job was to act as the middleman, connecting students and editors, although the real value I brought to the equation was marketing. Students did not naturally go looking for the service, so I had to find ways to make them aware of it.
I created the website myself during my own university years in the early 2000s, but did not take the business on as my main project until after graduation. I marketed it using search engine optimisation and offline marketing in the form of posters on campuses and other advertising experiments.
It wasn't exactly a rapid rise to success, but slowly I was able to build a consistent clientele, thanks mostly to repeat users. Some students would become "lifetime" customers, using us for every paper they wrote until graduation.
On top of the repeat customers, we completed five to ten thesis editing jobs a year, which were quite lucrative. Since a thesis has many words, on average the fee was over $1,000, with my business netting 50% of that fee.
How I Set Up The Business To Run Without Me
BetterEdit was never a full time role for me. While I was the only person in charge the hours could reach 20 a week, counting the time spent visiting campuses to stick up posters advertising the service.
The most annoying part of the job was the need to monitor and reply to emails 24/7. It won't surprise you that many students would complete essays last minute, a factor we catered for by charging a higher fee for rushed turnaround times.
In order to meet this need I had to constantly check email and make sure I replied quickly or we could miss the deadline for a job.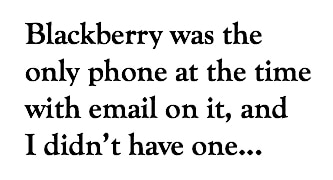 Bear in mind this was before smartphones. Blackberry was the only phone at the time with email on it, and I didn't have one straight away.
This meant logging into desktop computers constantly to make sure no editing jobs were sitting there unprocessed.
You wouldn't believe how many times I would drop into internet cafes when I was traveling around the world to check in on BetterEdit emails. I felt like a maverick in terms of the kind of business I was running, but something still wasn't right, I couldn't spend the rest of my life chained to email.
It wasn't a lot of work – mostly forwarding emails back and forth – but I had to be on alert all the time.
It could be especially stressful waking up some mornings with five emails from the one irate student complaining about our slow response when I had just been sleeping in Australia and they were overseas. We lost a few jobs because of the time difference.
This all changed once I had the cash-flow to justify hiring an admin person to take over the email job.
I wasn't sure about hiring someone straight away because I didn't want to cut into my profits when I could just do the job myself.
Back then I didn't have the wisdom of concepts like the 80/20 Rule, or all the advice on outsourcing, or systems like we do today. I had read the "E-Myth", which taught me the importance of defined roles, but it was so focused on physical businesses I had trouble finding it useful for an internet company.
It's quite incredible now that I think about it, how much I was motivated to create a lifestyle of freedom and a business that supported it long before movements like Rich Schefren's Internet Business Manifesto, and Tim Ferriss' 4-Hour Workweek took the world by storm.
That's why I hired my first assistant, Angela, who was about to have her first baby (she has since had three children and is still working for me today, about ten years later!).
Angela took over the email, which meant I was no longer chained to checking the inbox. I truly was living the four hour workweek, at least in terms of time freedom.
Next I Sold The Business, But Then I Could Not Write About It Anymore
I wrote a lot about the month-to-month operations of BetterEdit, how I grew the service, came up with a pricing structure and many other ideas, which you can find in the archives of this blog.
BetterEdit was my entrepreneurial case study for many years, which taught me so much about running an internet business, and gave me plenty of things to share with readers here on Yaro.Blog.
One thing I couldn't write about back then was what happened when I sold the business. I agreed to a non-disclosure in the contract when BetterEdit was sold, which meant all I could write about was that I sold the company.
By this time Yaro.Blog had become a blog about internet business, blogging and information marketing. My interest had taken me into the world of making money with blogs and email marketing, and eventually creating my own training products.
BetterEdit was for a long time the content focus on Yaro.Blog, but as that business was running on autopilot I wrote about it less and less. Eventually, because of the non-disclosure I couldn't write about it all – at least for a few years after the deal.
Although I did want to talk more about the sale, especially because it resulted in the single biggest payday I ever experienced from one transaction – about $110,000 AUD eventually hit my bank account – I couldn't.
I understood why I had to agree to a non-disclosure. The new owner was concerned about me giving away all the secrets and helping competing proofreading companies, which there are many.
This is exactly the kind of thing I would do on my blog, dishing out the details behind everything that worked for me when growing BetterEdit. Since it was no longer my company, I couldn't do it anymore.
The good news is that the non-disclosure period has since passed, and I am free to write about what happened.
How Exactly I Sold The Business
Prior to selling BetterEdit I had experience selling my Magic: The Gathering website, and also buying a blog, SmallBusinssBranding.com (I sold it eventually too).
This time with BetterEdit, things were a little bit different, a little bit bigger.
This was a business that generated $100,000 a year in revenue, and $30,000 to $50,000 a year for the owner to keep, on the back of only a few hours a week of work.
It was easy to pitch my business as a great website purchase. It had a few years of income history, it came with an admin assistant who would run it for you, and it had a business model that was easy to understand. There was very little downside, and plenty of upside for a person who focused on marketing.
Based on the pricing models that had become standard in the world of website property (you can usually buy/sell a site for three times yearly profit – it fluctuates a lot based on many variables) and my previous experience buying and selling other sites, I considered anything at $100,000 USD or more my target sale price. I set a buy it now price of $150,000 USD.
The new owner could take over the BetterEdit admin role and increase the profit margin if they wanted to, although I advised against it, it would be smarter to focus on growth through marketing.
Although I knew how good BetterEdit was, there was a pretty huge awareness gap for any potential buyer I need to fill. I knew I would need a detailed document to explain how good an opportunity BetterEdit was, which is why I created a 21-page prospectus to give to potential buyers.
The prospectus included the story of how I came up with the business, built the website, how it made money, who performed what roles, how we found contract editors, what marketing worked best, how I would continue to grow it if I was the new owner, income screen shots and plenty more.
I'm certain if I didn't go into as much detail as I did in the prospectus, I would not have found a buyer at the price I wanted.
Approaching Buyers
Once I had my prospectus I began a process of contacting every person I thought might be interested in buying.
I also got in touch with a broker, who agreed to take on my deal. Unfortunately my broker turned out to be a little bit distracted with other things, so we never quite completed the set-up of the deal.
It didn't matter as I ended up finding a buyer myself in a matter of months.
Some of the people I contacted at the time where wealthy internet marketers I had begun to connect with thanks to my blog.
Mike Filsaime showed the most interest. He viewed the prospectus, loved what he saw and said he would talk to his girlfriend about buying as it was the kind of business she was looking for.
Mike eventually got back to me with a no, his girlfriend was not keen. I had a few other nibbles around this time, but no hard offers.
Eventually I did find a buyer through an unlikely place – one of the editors who had recently applied to work for BetterEdit.
She was an Aussie living in the US, and was keen to take it over with the help of her husband.
I won't go over the negotiation process in detail here. To cut a long story short, after some back and forward emails, conversations on Skype, and a little bit more due diligence on her part (I had to send more accounting reports and she had to look into tax implications), we settled on a deal.
We ended up doing the transaction over two payments, a $15,000 deposit and then $85,000 final payment.
The conversion rate at the time meant I gained a little more than 10% bringing the USD into Australia, which was a nice bonus.
I offered my support for three months, which was in the contract, but with Angela around to explain things I was rarely called upon. It ended up being one of the easiest – and largest – deals I have ever done.
Why Did I Sell?
You might be wondering why sell such a well automated web business?
The simple answer is I wanted a nice big payday and didn't want to think about BetterEdit anymore.
The mental challenge was knowing I could do so much more for BetterEdit and turn it into a bigger company, but I really didn't want to.
I was much more excited about blogging, information marketing and writing, and not all that keen about growing a proofreading company.
That didn't stop me from having plenty of ideas about how to grow the business, which just made me frustrated because I didn't want to put in the time to implement them.
I had reached the end of my time with BetterEdit, having focused on it for five years. I was much more excited about earning $100,000 and having a clean break with the company.
As a result of the sale I bought my first house, which allowed me to move out of my mother's home on a permanent basis. I also bought a new car. It was incredibly satisfying making these purchases knowing I paid for them with my own business.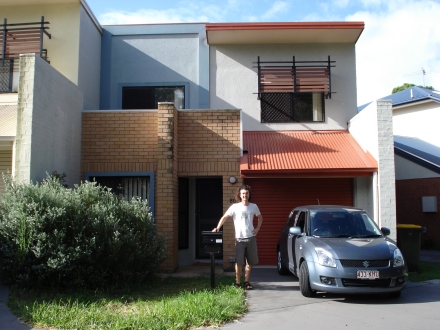 Tax Considerations
Tax bores me to tears, but it's a necessary evil as a business owner.
When I sold BetterEdit, it happened to coincide with a whole lot of other changes that impacted my tax situation. Not only did I buy a house and a car, I also launched my first training product, Blog Mastermind, shortly after.
This meant I experienced a pretty large influx of cash all at the same time, sold a business, got myself a home loan, a new home-owner grant from the government, and collected two big assets.
I had gone as far as registering a company, but I was definitely under prepared from a tax point of view to deal with all the changes.
I asked around some of my internet marketing friends for accountant referrals, and thanks to fellow Australian Ed Dale was connected with an accountant/lawyer who was familiar with internet business named Randall Ewens.
Although it was incredibly costly to set up (tax savings made up for it), my accountant created a new tax structure for me involving trusts and several companies. I won't bore you with the details – I'm not even sure I could fully explain it anyway!
The important thing is we had a plan to deal with the asset sale, which was important. In Australia you can be hit with almost 50% tax if you don't structure things right, and I really didn't want to give half of my sale proceeds to the government.
Life Changing Money
The sale of BetterEdit was a life changing event for me.
Although I would go on to make more money as a blogger, the income from the sale of the web business made it a whole lot easier for me to buy my own place. Getting a home loan as a business owner is tough. Lenders see small business owners as a greater risk, hence they want you to put more cash up front when you buy a home (usually 20% deposit instead of 10% or even zero upfront for some people).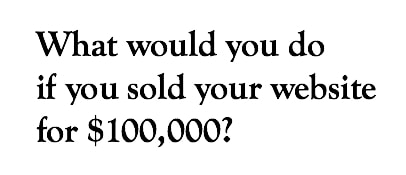 Having the proceeds from the sale of BetterEdit meant I had no problems getting a loan.
I ended up buying a townhouse for $330,000, paying a 20% deposit upfront, with help from the first home owners grant that the Australian government offered back then (about $7,000 cash). This left me with enough money to buy a new car for $22,000 and still have some remaining for a rainy day and future business projects.
Before this experience I was well aware of the possibility of selling a business. Thanks to the dot-com boom, where tech-companies were sold for millions, and even before that reading stories about bricks and mortar businesses entrepreneurs, I was convinced that the only way to significant wealth was to sell a business.
The most wealthy people on the planet have all sold a business, or several. Even if they grew their wealth after with shares or property investment, it seemed to me that the first breakthrough comes from the sale of a business.
Unfortunately many of the stories about entrepreneurs I read about featured people working 12 hour days, making just enough to keep their life going. They certainly were not getting rich running their company.
However, if you build a quality business, when you sell it you enjoy a nice big payday, which could make all that hard work worthwhile.
In your case you might look at a big website or blog sale as a way to make enough money to take a year long holiday overseas, or pay off all your debt, buy a property, or fund a new startup.
Or maybe right now you own a website that you have just had enough of. You want out. There's no greater sense of closure available than selling out. It's a huge stress release, and potentially, a lucrative one too.
Free Workshop: How To Buy & Renovate Websites For Passive Income
I recommend if you are serious about this business model that you take this free workshop from my friends in Australia, Liz and Matt Raad.
I've known the Raads for years and they are two of my favorite people. They are down to earth, easy to learn from, very supportive of their community and have been incredibly successful buying and selling websites and helping others to do so.
You can take their free introductory training here:
I've attended their live three day conference as a guest and a speaker several times. I know they are truly the best in the business at teaching this strategy.
You will learn a lot from them, so go sign up for their workshop now.
Yaro Starak
Web Property Trader