Before there was AirBNB, back in 2008, I traveled around the world.
Hotels were the standard accommodation for travel back then, although if you didn't have a lot of money, backpacker hostels or couch surfing were popular cheap or free options.
While I was financially in a good place after success with my business, I still didn't like the idea of spending several hundred dollars a night on hotels for an entire year. That's a lot of money!
I had previously lived in serviced apartments for brief trips within Australia, which were priced similar to a mid-range hotel. These were too expensive for long-term travel, but the few times I stayed in them I really appreciated the experience.
I enjoyed having a full kitchen so I could cook at home. I also felt more like a local with an apartment to return to. A hotel room never quite felt the same.
Although there was no AirBNB yet (at least outside of a few cities in the USA), prior to my round the world trip in 2008 I discovered another option called short-term or vacation property rentals.
Unlike serviced apartments, which were rented throughout the year, professionally managed and expensive, a vacation rental was usually offered by an individual who had an apartment or house available for a few months a year and wanted to make some extra money.
The price, while still more than budget accommodation like a backpacker hostel, was more in line with cheap hotels. If you were willing to live in less central areas, you could easily find vacation apartments that were not much different to a standard long-term rental lease in terms of the monthly rate.
My eyes really opened when I found one particular website – www.vrbo.com – Vacation Rentals By Owner. While not as dominant as AirBNB is today (VRBO was later acquired by Home And Away, which was then acquired by Expedia for $3.9 Billion in 2015), VRBO had a lot of listings.
At the time VRBO was my number one resource for my upcoming round the world trip, and it certainly proved a valuable resource throughout that year.
$40,000 For One Year Overseas
In 2009 I remember looking at my tax return to see how much I spent on accommodation during my round the world trip the previous year.
I traveled for nine months, from Australia, through Fiji, Hawaii, Vancouver, Toronto, New York, Chicago, Las Vegas, Montreal, Quebec City, then over to Europe, exploring Glasgow, Edinburgh, London, Paris, Amsterdam, Brussels, Rome, Valencia, Florence, Naples, Athens, then home via Dubai and Singapore.
I remember having a fantastic VRBO rental apartment in Amsterdam, including a toilet that I'm sure was at least one hundred years old. I also vividly recall the apartment in Vouliagmeni, Greece, a beach town an hour away from Athens where I spent many days sitting on the balcony organizing a course launch with my friend Gideon, who was back in Australia.
Most of the time in these cities I lived in VRBOs, occasionally hotels, and while in Toronto, with family. The first three months of the year were spent in Australia, living in my townhouse.
It was a while ago now so I can't remember the exact numbers, but I do recall spending about $40,000 on travel expenses that year, which includes all accommodation plus flights and trains. Hotels and VRBO probably cost around $25,000 for about seven months of living.
I wouldn't call that cheap, but given I'm currently paying $1,900 a month for a two-bed basement apartment in Vancouver on a year-long lease, it's not that bad. If you factor in how much cities like New York, London and Paris cost to stay in mid-range hotels, I was pretty happy with VRBO at the time.
Hello AirBNB
After returning home to Brisbane in 2008 I didn't leave the country again until 2015. I still haven't been back to Australia since I left as I type this in December 2018.
From 2009 to 2015 I only traveled internally in Australia. I can't specifically recall when AirBNB first appeared on my radar. I do remember thinking when I first learned of the service, that AirBNB looked like VRBO but with a much better user interface.
However, as I dug deeper I realized there were two key differences AirBNB brought to the table –
They allowed people to not just rent full apartments and houses (like VRBO) but also individual rooms within a house even while they still lived there, which unlocked an entire new category of accommodation inventory.
The AirBNB website design was much easier to use, they handled transaction processing for you, and because everything looked so modern, the trust-factor increased, resulting in more mainstream adoption. Although all these features were copyable, at the time AirBNB rose to prominence, these design and function factors were a key differentiator.
All of these elements lead to the creation of a multi-billion dollar company and a shining star example of the peer-to-peer evolution disrupting a very old industry.
Leaving Australia
After living in Melbourne in 2014, I made the decision to head to the USA in 2015.
My motivation initially was simple. I wanted to try San Francisco to see what it's like living in a city so focused on entrepreneurship.
I also liked the idea of being close to conferences in the USA, many of which I wanted to attend in previous years but because I lived in Australia, I didn't. I wasn't a fan of flying long distances, so let that fear keep me from crossing the Pacific Ocean just for a weekend conference.
During 2014 I used AirBNB to rent out my apartment in Brisbane while I lived in Melbourne. I did this mainly because I wanted to return to Brisbane once or twice that year and I liked that I could reserve my own place through AirBNB whenever I needed it.
My first AirBNB experiment as a host turned out to be reasonable. Financially, although I made above average rates when my apartment was rented, since it was vacant for four months of the year I didn't make as much as I would have with just a standard 12-month lease tenant.
There was also the hassle of finding and coordinating with people to manage the apartment while I was gone, who would organize the cleaners, meet with my AirBNB guests, and handle any problems. I found some good people to do this through friends, however, it would have been easier if I just hired a rental agent to manage my property under a standard tenancy year-long lease and not use AirBNB.
Because of this experience, I decided to just get normal tenants under a lease when I left Brisbane for the USA. Although there was one caveat — I had to find tenants willing to look after Ramses my cat, who I had inherited after my mother passed away. Ramses came with me to Melbourne, but he was too old and it would be too challenging for both of us if he joined me on my trip to the USA.
I eventually found a married couple who agreed to rent my apartment and look after Ramses. It was very hard to say goodbye to my little feline housemate, especially because I wasn't sure if or when I would see him again, since I had no specific Australia return date (sadly Ramses died a year and a half later, while I was in Canada).
You can read more about my year in Melbourne and the months leading up to leaving Australia, including what I was up to with my business, and view photos, in this blog post here – Laptop Lifestyle Travels: Melbourne, Brisbane, Sydney And Saying Good Bye To Australia.
I left Brisbane and first went to Sydney for a week, where I stayed in an AirBNB right near Bronte beach. It wasn't cheap, but it came with a neighbor cat and some unusual tribal masks hung on the walls. Being so close to the beach was fantastic, and I enjoyed a brief oceanside holiday before leaving Australia.
After a week in Sydney I went to the airport for my flight to Hong Kong. This was my first international flight since my around the world adventures in 2008, so I was feeling pretty nervous about it.
To book my flights through Asia to the USA I used FlightFox.com, a recommendation from Natalie Sisson, one of my digital nomad friends who travels like crazy. Flight Fox is a service where you hire experienced 'travel hackers' who locate special deals or different flight routes to get you to your destination on business class or better, at economy prices.
I asked my Flight Fox to find me a trip that got me to Vancouver via Hong Kong and Japan. After some digging around, he found me a flight that got me on Qantas business class flying from Sydney to Taiwan, via Hong Kong, which was considerably cheaper than just buying a business class flight to Hong Kong, which made no sense to me, but I took it (I didn't fly the second leg to Taiwan in this case).
My flight to Hong Kong was comfortable enough despite running up against my usual fear of turbulence during the brief bumpy moments. This was probably the last time I will ever get to ride a Qantas Boeing 747 as they have since been phased out. I will miss the big jumbo.
During my week in Hong Kong I stayed in a hotel and basically played tourist, with the help of some local friends. You can see photos and read about the trip here – My First Visit To Hong Kong.
I caught a flight to Tokyo next, where I again stayed in a hotel as it was part of a Tokyo Anime tour package I purchased (which I do not recommend – it was not really a tour, just a chaperone service).
I had a great time in Tokyo and quickly fell in love with the place vowing to be back one day. You can read about and see photos of my Japanese adventures here – I Think I'm Turning Japanese.
After a ten-day stop in Tokyo next I jumped on a brand new Boeing Dreamliner and tried out business class Air Canada style from Tokyo to Vancouver. I have to say it was nice to hear the Canadian accent again!
The AirBNB Odyssey Begins!
Upon landing in Vancouver I initially stayed in a hotel for a few days in the Coal Harbor area of downtown, then secured an AirBNB for three weeks, located in Yaletown.
This I believe was my first multi-week stay in an AirBNB apartment. I still had a few workshops to film for the new Blog Mastermind 2.0 course, which I started recording back in Australia. I figured I'd need at least three weeks to wrap up recording and editing.
In what would become a standard practice in AirBNBs I stayed in around the world, I set up a rudimentary standup desk in the kitchen, using my laptop, a keyboard and mouse, and whatever boxes or crates or really anything to elevate the computer I could find.
During this trip to Vancouver, I also met a few people who would become friends, including Matt Astifan, who invited me to speak at his Internet Marketing meetup, and Lucas Mattiello, a public speaking coach.
After a productive stay in Vancouver, my next stop was San Diego, where I was due to meet up with my friend Walter, who had been living in San Francisco at the time.
The reason for my journey to San Diego was to be one of the guest speakers at Pat Flynn and Chris Ducker's business bootcamp workshop. The aforementioned Natalie Sisson was also in town, and had rented out a three-bedroom house and invited a bunch of online entrepreneur type people to come stay.
Walter and I shared one room, Natalie had the master bedroom, and Navid Moazzez, who I had talked to online several times for interviews, was another guest. Several other internet marketers popped by, including a young guy named Chandler Bolt, who was about to become a well-known expert in the book publishing industry.
After some fun few weeks in San Diego, Walter and I caught a train to LA, then a short Virgin America flight (I was sad to see this airline get eaten up in a merger a few years later) to San Francisco.
In San Francisco, Walter went back to his share house in San Mateo, and I moved into an AirBNB in the Mission District for one week. This was my first ever taste of SF, and I have to say I was a bit shocked. I thought I was in Mexico! — Everything was in Spanish, and when I walked down Mission street, it didn't feel exactly like the safest place.
I chose the Mission District because the AirBNB prices were a little cheaper (still crazy expensive — $1,500+ USD dollars a week!) and I just needed a place to land and get my bearings while I hunted for longer term accommodation. I wasn't having any luck finding anything, which was not surprising given SF was well known for the crazy rent rates and property shortage.
I didn't like the idea of spending $5,000+ per month USD prices for AirBNBs in SF, but I needed another place to stay while I kept hunting for more affordable rent, so I found a tiny little apartment at the top of an old building in the little Italy area of SF for another week via AirBNB.
While Little Italy felt safer than the Mission District, I had managed to pick a place right next to a party area with restaurants, nightclubs and strip joints just down the round. I was woken up at the wee early morning hours several times by drunk people walking the streets shouting and singing.
Thankfully I was eventually able to find a longer term accommodation option at a better price (only $2,600USD/month, signing a three month lease, with the option to renew) in what turned out to be a great area — the Marina district, right near the water with views of the Golden Gate bridge.
My money only bought me a studio apartment, but it was furnished with a hard double bed, a couch, a TV and a ready-to-cook-in kitchen. It wasn't flash, but clean and all I really needed. Plus it had a great big window looking out into the courtyard pool area, where I could set up my standup desk (I bought myself a Varidesk and sat it on top of the little dining table).
After spending a few weeks exploring the Marina I actually came to feel very fortunate, I really liked the neighborhood, especially after my experiences in party town Little Italy, and grungy Mission District. I went for a lot of walks up and down the steep streets, checking out the amazing and super expensive houses in the surrounding areas.
San Francisco 2015
My time in San Francisco was everything I expected, but also not what I expected. I spent a lot of time alone, but I didn't mind too much. It gave me a chance to explore all the different areas, and walk up and down a whole lot of hills.
I attended a few local entrepreneur meetups to expand my social circle in the area and had a chance to attend a board game night at Andrew Warner's house (the host of the Mixergy Podcast).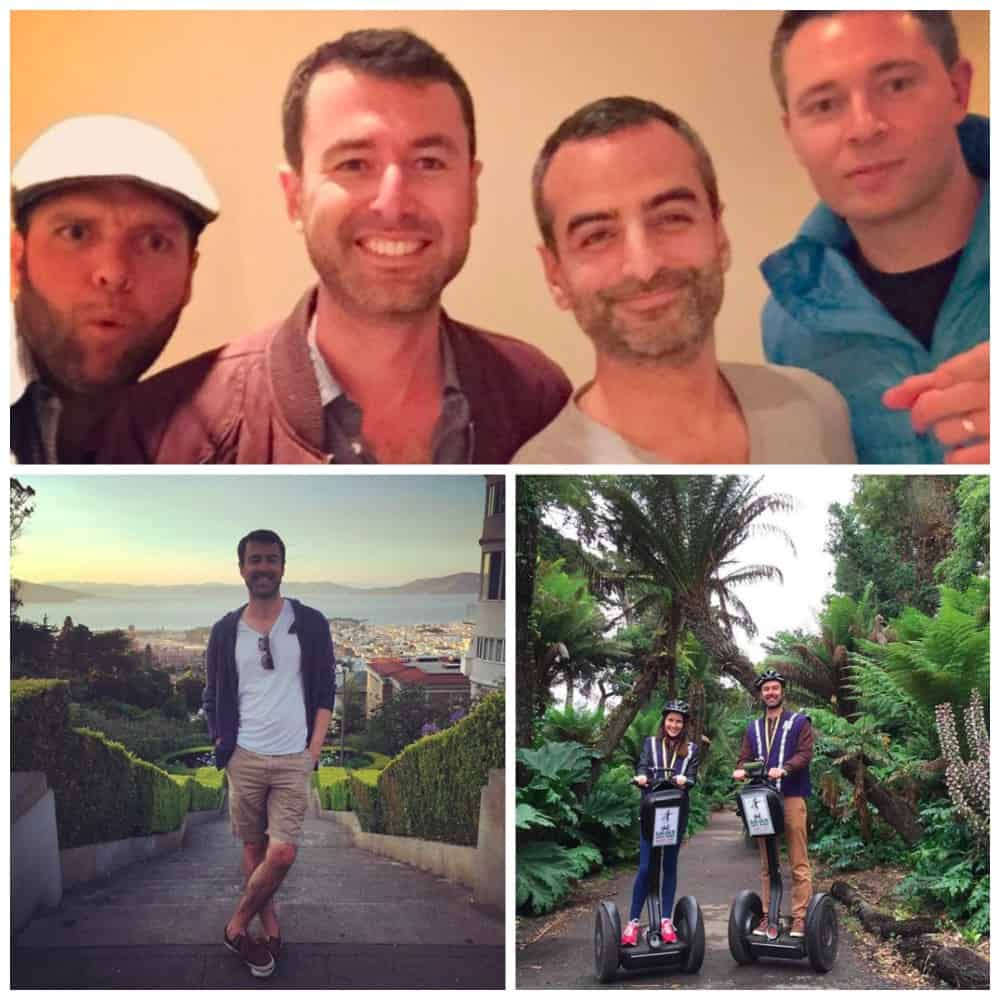 I used Zipcar to rent a car and visit Walter in San Mateo (we drove to see Google and Facebook HQs in Palo Alto), crossed the bay to visit my Aussie friend Nick and his soon-to-be-wife Betty in Oakland, Lauren a girl I was dating in Australia before I left visited me for my birthday and we had a great time exploring together, and Alexis, a French friend who I met when he lived in Australia also dropped in.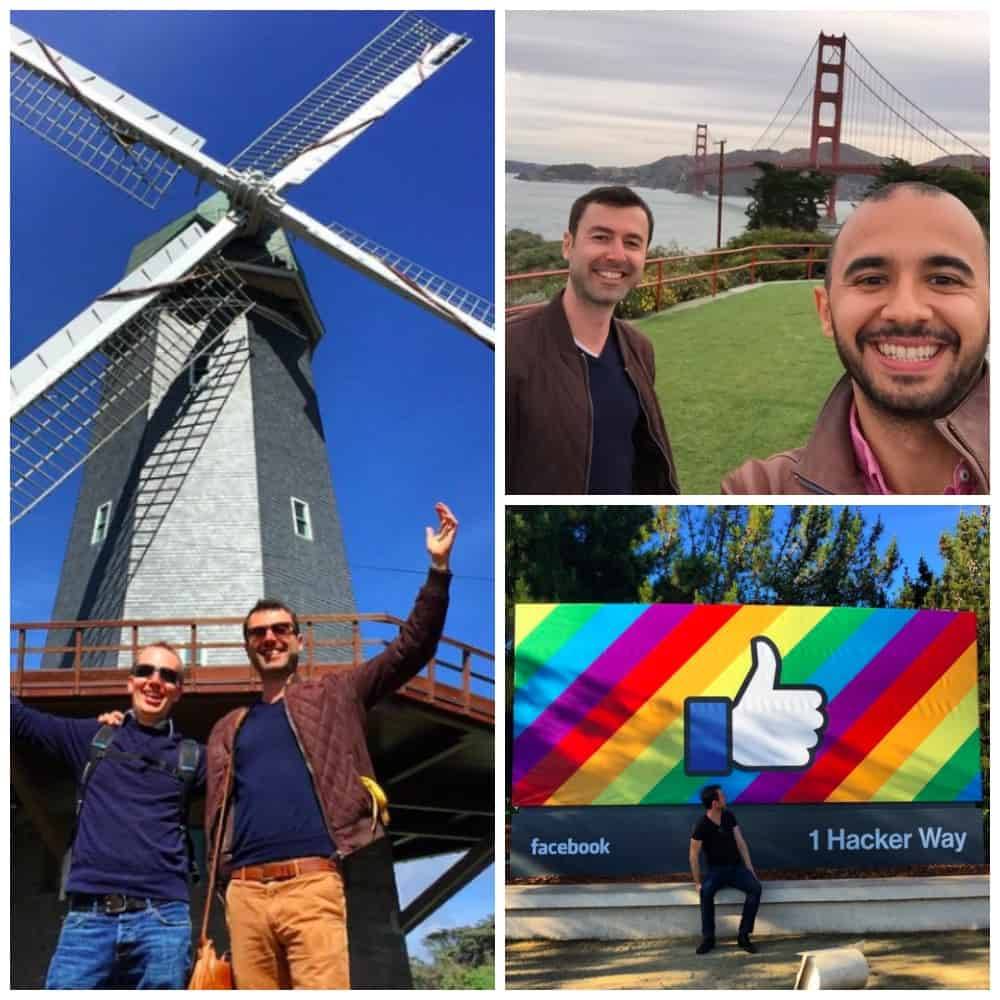 As much fun as all these things were, my time in San Francisco coincided with facing what would become a big challenge.
Over the previous months, maybe even years, my digestion was acting up. I was largely ignoring it (I mean it's normal to get bloating and gas and cramps right…), but eventually I had to do something.
A few years prior I'd given up dairy, believing that was the main culprit for my stomach issues. It did help, but clearly there was more going on.
While I was in Tokyo on the way to San Fran, I experienced a feeling I hadn't felt in a long time — the kind of anxiety that leads to a panic attack. I managed to keep it under control using my mind, but by the time I got to the USA it was surfacing more frequently.
As I wrote about in detail in How I Cured My Crippling Panic Attacks And Anxiety, magnesium turned out to be a major factor — my lack of it! After beginning a daily magnesium supplement routine, which I still do today, my anxiety levels dropped back.
However, during those first few weeks in San Fran, I noticed I was unusually reactive to stimulants. For example, all it would take was a green tea and some dark chocolate and I'd spend the next few hours seriously on edge, like I'd had three cups of coffee.
I was also suffering from digestion discomfort every evening, including painful cramps.
All of these symptoms were seriously impacting the quality of my life, so I decided to finally take action, and booked myself in to see a naturopathic doctor and get a full range of tests done.
I won't go into all the details, but the end result was finding out I very likely had leaky gut and my body was reacting to a whole range of foods (if you want to read more about all the tests I did, and see the supplements I started taking, it's all listed under Step 7 in this article).
The most surprising test result, and in some ways the most devastating, was seeing egg whites listed as the food I had the strongest reaction to. I was eating eggs for breakfast every day, so that had to stop. I still don't eat eggs today, and boy do I miss them!
Although I wasn't cured instantly, this visit to the naturopathic doctor, and subsequent followups with others, plus more diet changes (adding more healthy fats to my diet in particular helped a lot), eventually led to the point where the anxiety and nerves went away completely, and my digestion got a lot better.
As my three month lease in San Francisco was coming up for renewal I had to decide whether to stay or move on. My goal visiting SF was to decide whether I wanted to call it home and thus go through the work of getting a VISA. After my taste of life there, I decided it was good, but not good enough that I wanted to pay the premium price of living there, and the challenge of US VISA approval.
My backup plan had always been Canada, where I am also a citizen. I gave notice that I would not be renewing my SF lease, and started planning a move to Toronto, via Vancouver again.
Canada 2015
I flew from San Francisco to Vancouver and enjoyed a couple of relaxing weeks in a cute AirBNB in the Kitsalano area. These two weeks cemented my appreciation for the nature in Vancouver, it truly is a breathtaking city with the trees, the mountains and the ocean.
I then headed to Toronto, with the intention of testing out living in the big Canadian city. Toronto has never been my favorite city in Canada, but my family live there, and being such a busy city, there were plenty of opportunities to meet interesting people and grow a social circle.
Initially I lived with my aunt and uncle in the northern suburbs of Toronto. I went to some meetups, made initial contact with some people who would eventually become friends (Khierstyn Ross and Jay Wong), and then contemplated my future living arrangements.
Despite the booming Toronto property market, I decided to purchase a property and live in it. I wanted to stay in Ontario long enough to qualify for health insurance (6 months) and see how it felt to be a Canadian living in Canada.
It took a few months, but by January 2016 I'd purchased a tiny little one-bed townhome in the King West area and moved in. I purchased furniture, a bike, another standup desk, and was officially a local.
Life continued as usual for me, running my business, coaching all the new Blog Mastermind 2.0 members, and working on a new 2.0 version of my membership site, rebranded as the Laptop Lifestyle Academy. I sat in cafes and wrote, I recorded podcast interviews, and attempted to meet people in Toronto.
As hard as I tried, I never felt truly at home in Toronto. It's a city that always feels stressful to me, and compared to the beautiful nature of Vancouver, downtown Toronto is a concrete jungle.
Thankfully I had a few trips coming up to the USA, which unlike when I lived in Australia, were only a few hours flight away.
North America 2016
I've lost track of the exact order of my travels, but during 2016 I visited quite a few different places.
I dropped into Las Vegas and went on a helicopter trip across parts of the Grand Canyon. I attended the Thrive: Make Money Matter conference in San Diego, which was a fantastic event where I got to experience Jack Canfield and John Assaraf live on stage (among many others) and had a chance to say hello in person to a long time online friend, Lewis Howes.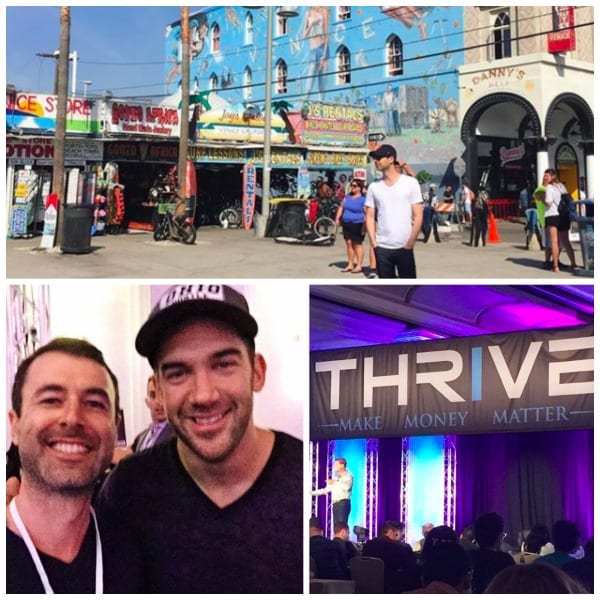 I also attended the Traffic & Conversion conference in San Diego for the first time, an event I'd wanted to go to many times back when I lived in Australia. T&C is a blast for me because I bump into so many people who have read my blog over the years and have nice things to say about me and how my content impacted them over the years.
A huge highlight from one of my trips to San Diego was going for a rollerblade along the famous Pacific Beach boardwalk and seeing the legend Slomo, from one of my favorite documentaries of all time Slomo: The Man Who Skated Right Off the Grid. He dished out many words of wisdom and was happy to take a few photos.
I dropped into LA again, a city I have to admit I really don't enjoy because of the traffic, hot weather and overpopulation. However, this trip I stayed in an AirBNB near Venice Beach, and I found the vibe of the area quite relaxed. I especially enjoyed the Abbot Kinney strip of cafes and restaurants, and cruising around on bikes.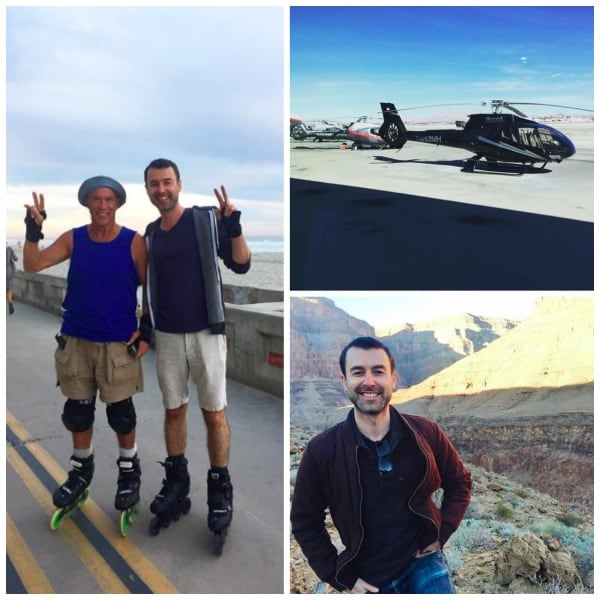 Speaking of beaches, I also headed to the other side of the states to attend a conference in Florida, hosted by Todd Brown, one of the internet marketers I had studied closely in previous years.
The conference was in Fort Lauderdale, a city I had been to once before – ten years prior in fact, with my mother, to attend a conference hosted by Rich Schefren. That was my first ever USA Internet Marketing conference, back in 2008 when I still had long hair and blogging was relatively new. I met guys like Jeff Walker and Mike Filsaime for the first time during that event.
On this trip to Florida I wanted to see Miami, so I booked an extra week in another AirBNB and explored the party city. I have to say I found the whole area a bit artificial for my liking. San Diego is still my favorite beach spot of the coastline cities I've visited in the USA so far.
During 2016 I also made a return to Quebec, dropping into Montreal and Quebec City, ten years since my first visit. I've always enjoyed these two French Canadian cities, and in fact saw Montreal as a place I could live in one day (I like the culture and the pace of life a lot better than Toronto).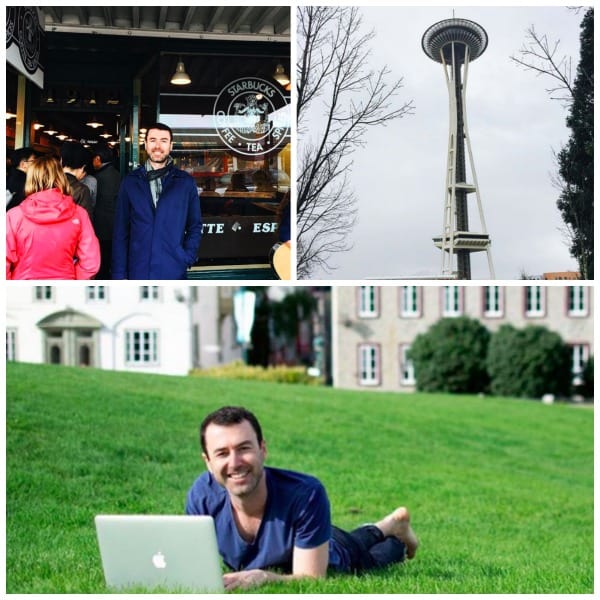 While in Vancouver I also caught the train down to Portland and Seattle, making a pilgrimage to the first ever Starbucks cafe. Starbucks is basically my head office no matter where I am in the world, so it I enjoyed snapping a photo in front of the cafe where it all started for the global chain.
As you can imagine, I dropped in and out of a lot of AirBNBs during this year. Despite buying a property in Toronto and making it my home, I spent almost half the year in other cities living out of a suitcase in AirBNB apartments. It was fun, and as it turned out, on a taste of what was to come in 2017.
Leaving Toronto
As 2016 ended I decided Toronto was not the city for me. I didn't want to live there, so I decided to sell my little one bedroom condo/townhome in King West downtown.
You might be wondering why not keep it as an investment property and rent it out? The Toronto property market was still growing, in fact in just the one year I'd owned my property there was a 10%-20% jump in condo prices downtown. How crazy is that, especially considering the years prior had similar growth rates.
The reason I decided to sell was because I didn't want to invest in Toronto, nor did I want a condo as an investment. It was at this time that I concluded Montreal would be a better option, although I did initially focus on Vancouver since I planned on living there and thought it would be easier to invest in the city I lived in, despite the prices being crazy in Vancouver too.
Given the Ontario and British Columbia governments had rolled out foreign buyer taxes to slow the market down, I also believed that the upcoming years were not going to have quite the same crazy growth figures in Vancouver and Toronto, which is another reason Montreal was on my radar for property investing.
Regardless of the future, I knew Toronto was not the place for me, so I put my property on the market in January 2017. It didn't take long for the offers to come in, and sure enough, I ended up closing a deal making about 10% profit once all the closing costs, taxes and repairs were subtracted.
Europe 2017
Initially I wasn't sure what 2017 had in store. My plan was to move to Vancouver, then head back down to San Diego as I was speaking at Social Media Marketing World, a huge social media conference I'd wanted to speak at for a long time.
I had a blast at this conference, catching up with a lot of people from my industry, including Aussies Darren Rowse and Nathan Chan, and long term friends and former coaching clients, Mitch Wilson and Leslie Samuel. I also met up with a new private coaching client, Mani Vaya and we became fast friends.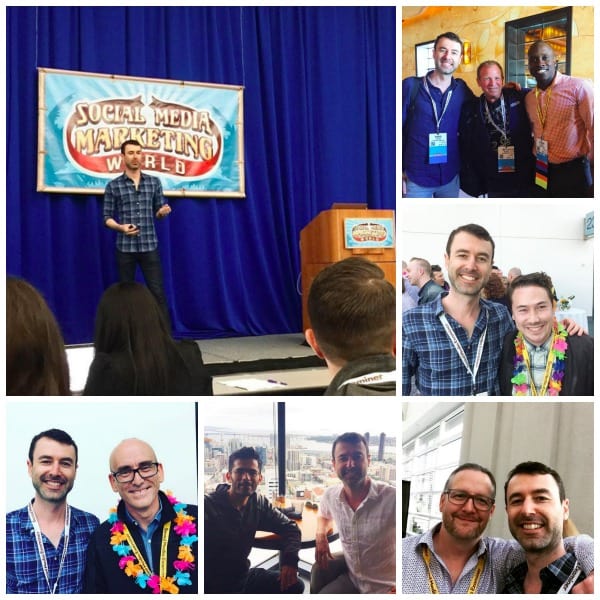 After the San Diego adventures I returned to another AirBNB in Vancouver. I hadn't planned to travel anymore that year, but then an opportunity came up I hadn't considered before – Eurovision!
Growing up in Australia means growing up with Eurovision once a year, including Eurovision parties. In case you are not familiar with Eurovision, it's a song content that's been around since television was black and white. It's a blast to watch with all the different countries and cultures on display. Some of the music can be really good and some really bad.
Attending a live Eurovision event was on my bucket list, so when Ukraine won the competition the previous year, meaning they were hosting in 2017, I had an opportunity to attend and visit the country my father's side of my family comes from.
Thus began a trip that I did not plan, which ended up taking up my entire 2017. I wouldn't return to Vancouver until February 2018.
I flew to Toronto first, then took business class using credit card points to fly to Paris. While in France I traveled by train to Nice and Monaco for the first time. The AirBNBs in France were great, more old worldly than the North American ones. The apartment in Nice even came with a grand old piano!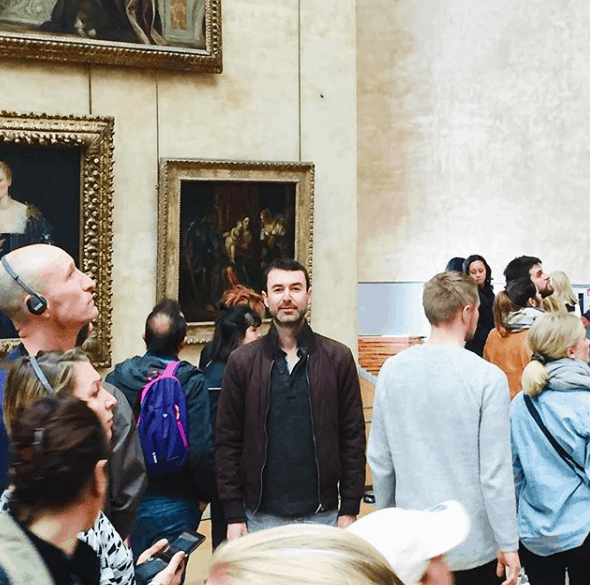 Ukraine was next, starting with Kyiv for Eurovision, where I had an apartment in an older building, but fully renovated inside, so quite stylish (I found this surprising, I thought Eastern Europe would be different for some reason).
After Eurovision I headed to Lviv, a city of approximately one million people on the far west of Ukraine. Lviv is the city where my grandfather had a photography business before he 'disappeared' during the second world war. We have a lot of family history in Lviv, and I felt a connection to the city instantly.
I enjoyed Lviv because of the charm of the old buildings, the Lviv Chocolate, the people, and the smaller size of the city — it felt foreign, but familiar at the same time.
The AirBNBs in Lviv where definitely a bit older, located in Austrian Empire era buildings, with gas heating that flames up every few minutes (I was convinced these are a fire hazard, but everyone has one!).
After Ukraine I returned to Paris to attend the French Open tennis at Roland Garros with Alexis, who was back living in France. This was the third of the four tennis grand slams I have attended, leaving only Wimbledon left on my bucket list of tennis grand slams (I plan to be there in 2019).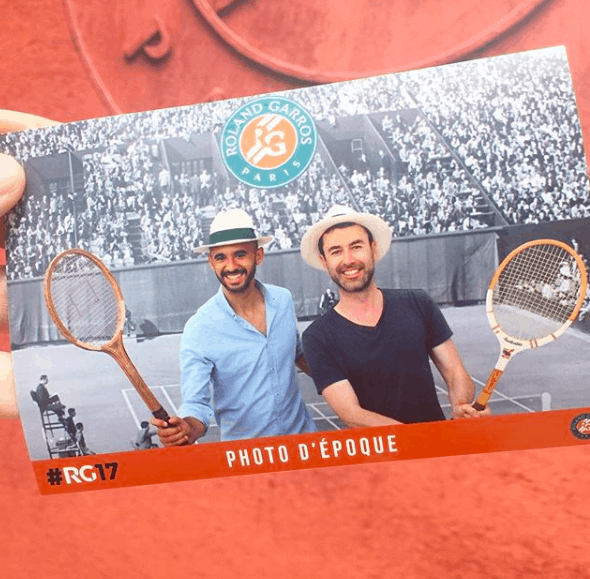 I caught the train through the Chunnel to get to London next, where I stayed for a couple of weeks before heading Spain to visit my father, little brother Jorge, his mother Gemma and meet the extended Spanish family.
After a few weeks exploring the area in and around Valencia with the Spanish amigos, I was due to fly back to Ukraine.
Due to a change of his plans, my father decided to journey with me to Ukraine. We ended up going on a little adventure, visiting Barcelona by train, then spending some time in Warsaw together, before flying to Lviv, where I would spend my 38th birthday.
My father flew back to Spain to then journey back to Australia with his family, while I stayed in Lviv. At this point I didn't have concert plans of what to do next.
Becoming Ukrainian
After stalling for a couple of weeks in my rooftop AirBNB in the heart of the historic Lviv town square, I made the decision to head back to Canada.
I bought a flight to Toronto, although for some reason I really didn't feel all that excited about returning.
As I walked through the beautiful Stryisky Park in Lviv over the weekend before I was due to leave, contemplating my future, my mind considered all kinds of options. I had a very wide open window of potential things to do, enough money to travel for as long as I wanted to and no commitments like a family to return to.
I became paralyzed by freedom. I spent my entire life up to that point focusing on creating options, and in what might seem ironic, I'd reached a point of so much freedom I felt lost.
I could do anything I wanted to do, but I didn't feel compelled to do anything.
As you can imagine, this anchor-less mindset leaves you open to opportunities that come your way — and I certainly was looking for some kind of universal guidance on what to do next.
As it turned out, my next step was completely unexpected, yet it was by far the most exciting option I had considered so far.
I decided to cofound a solar energy company in Ukraine.
During my first visit to Lviv earlier in the year, I'd met Andriy, a local who was the cousin of my friend Olena. He offered to show me around, and given he could speak pretty good English I appreciated the chance to talk to a local.
Andriy and I slowly became friends and I learned all about his role working for the local government. Although he had a fantastic job, he clearly had the entrepreneurial spark too, with several side projects running at the same time, including part-ownership in a local coffee shop.
Andriy had briefly mentioned that there was an opportunity to get into green energy in Ukraine because of a special tariff program that he knew about because of his job. Back then I was curious, but in no way ready to consider actually starting a company.
Fast forward to summer 2017 on my second visit to Lviv, it was Sunday evening and I was due to fly out on Monday, as Andriy and I sat down to dinner. He gave me the full pitch, explained how the program worked, and said he was willing to quit his job to go full time into this project if I was serious about funding it.
I felt a jolt of excitement at the solar energy idea, and thanks to some money that was growing rapidly in my cryptocurrency investment account (2017 was a good year for crypto!), I had some cash I could invest.
Andriy was committed enough to quit his job for this new business and he had all the right connections due to his years of public service.
That night I postponed my flight to Toronto and then on Monday Andriy and I met to confirm that we would seriously look into starting the business. He wasn't going to quit his job just yet, but I made the choice to make Lviv my home for a few months as we figured things out.
With this decision made, I also decided to go 'all-in' on Ukraine, at least for a couple of months. I got myself gym membership, started taking Ukrainian lessons, and booked an AirBNB for two months.
Over the next couple of months Andriy and I set up our new company, he quit his job, and we began the process of securing land and all the right documents to build a solar plant.
On top of this investment, I couldn't help but check out the property market in Lviv. It's a beautiful city, with a booming tech scene fueling the economy, yet apartments cost as little as $30,000.
As I have written about in a previous blog post, I ended up purchasing an absolutely trashed apartment, which was then renovated over the next six months. You can read about this journey and see the amazing photographs here: My Ukrainian Investment Apartment Renovation Project (With Before And After Photos) 
At the start of 2017 I would never have thought I'd end up cofounder of a solar energy company in Ukraine, and also buy and renovate a property in Lviv.
Germany, London, Tokyo, Hawaii And Back To Canada
After 'being Ukrainian' for a few months, I decided to start another project I'd wanted to do for a while – write my first book.
An opportunity to attend Chris Ducker's Youpreneur conference in London came up and I used that as an excuse to book some travel. I'd never been to Germany before so I decided to fly to Berlin from Lviv via the curiously named Wizz Air, then take my favorite form of transport — trains — through Germany, on to Amsterdam and then London.
I travelled alone this entire trip, and used my time to write my book and explore Berlin, Hamburg, Frankfurt, Amsterdam and then attend the conference in London.
I stayed in AirBNBs and hotels during my train odyssey, and spent many an hour in quaint European cafes, tapping away at my laptop writing my book. Despite feeling lonely at times, overall I really enjoyed the experience, it was something I had dreamt of doing ever since I discovered writing was something I like.
I flew back from London to Lviv to continue the solar energy business setup with Andriy, made a brief visit to Krakow by train to get myself a longer visa for Ukraine, then as the holiday period approached, decided to spend December in Berlin and booked myself a fantastic AirBNB, with a great kitchen, in the Kreuzberg area.
New Years Eve in Berlin was quite a shock, as entire suburbs let off fireworks from the streets and rooftops. Back in Australia this is completely illegal, but in Germany apparently for New Years anyone can let off fireworks, even 5 year old kids (I cringed as I watched these little children light up something so explosive, hoping they aimed away from their face!).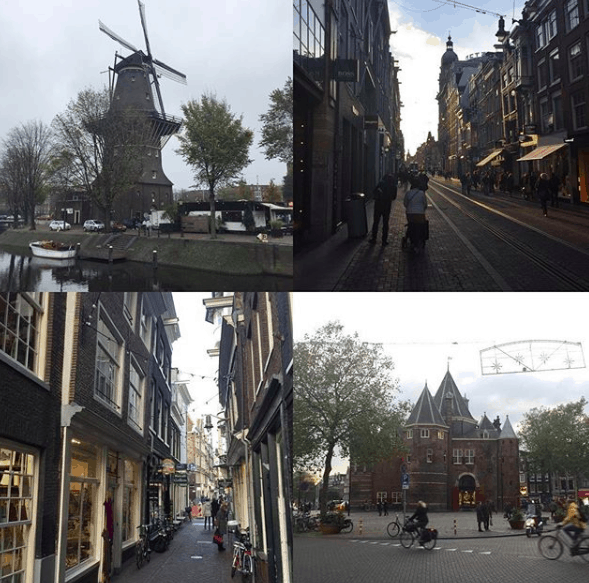 After a year traveling in Europe I wanted to head back to Canada for 2018 and not move around so much. I still had one bedroom worth of furniture and household items in storage in Vancouver, so I decided to continue the plan I set in place a year earlier and settle there.
I returned to Lviv for one week to tie up loose ends and make sure Andriy had everything he needed from me for our company to continue the setup process.
One of the other reasons I purchased an apartment in Lviv is because of the geographic location. If I travel west I have all of Europe and the east coast of the USA/Canada within one flight. If I travel East I can go to Asia, and from there I'm only one flight away from Australia, New Zealand and the west coast of the USA/Canada.
To get back to Vancouver I decided to take a Lot Airlines flight from Warsaw to Tokyo, spend a week in Tokyo, one of my favorite places in the world, then travel to Hawaii and meet up with my Canadian family for a couple of weeks in one of my other favorite places in the world.
When I landed in Tokyo mother natured dumped the first snow of winter. The next morning I had the joy of watching the locals play in the snow, as I explored the city streets. The fresh snow over Yoyogi park, near my AirBNB in Shibuya, was particularly incredible. I've never seen something so peaceful and beautiful at the same time.
A week later I boarded my flight to Hawaii, only six hours away from Tokyo, and found myself in warm sunny weather, walking on palm-tree lined streets next to the beach and ocean. The contrast to the weather in Tokyo was unbelievable, and I felt truly blessed to see nature display her diversity.
Initially in Honolulu I stayed in a hotel near my visiting family, then I switched to an AirBNB near Whole Foods, a common strategy I use when traveling. We then island hopped to Maui, where I lived with friend and star-student Mitch, his wife Keri and very friendly dog in their amazing house.
I rented a car because my family were staying an hour drive away from Mitch's house, so I had a daily commute to see them — and what a commute it was! Mountains shrouded in clouds with rainbows pouring out of them, golden beaches, clear ocean, winding roads — I had no complaints making this drive.
Eventually our Hawaii journey ended and it was time to go home. I bought myself a ticket to Vancouver and landed in February 2018.
I stayed in a couple of AirBNBs for the first month and a half while I located a more long term rental. By March I was settled in to my own place with my own furniture.
Although 2018 did contain some brief travels — to Portland to visit with my InboxDone.com cofounder Claire, and drop into Chris Guillebeau's World Domination Summit, then later in the year to Toronto and Montreal for a conference and property investing, for the most part, I stayed in Vancouver.
Since I left Australia in 2015 I've been moving around a lot. Looking back at my AirBNB history is like taking a trip back in time and around the world. It's truly incredible the time we live in, where you can move around so easily, live like a local, make a living from the internet, write a book in cafes and if you're a little crazy like me, start a solar energy business in Ukraine.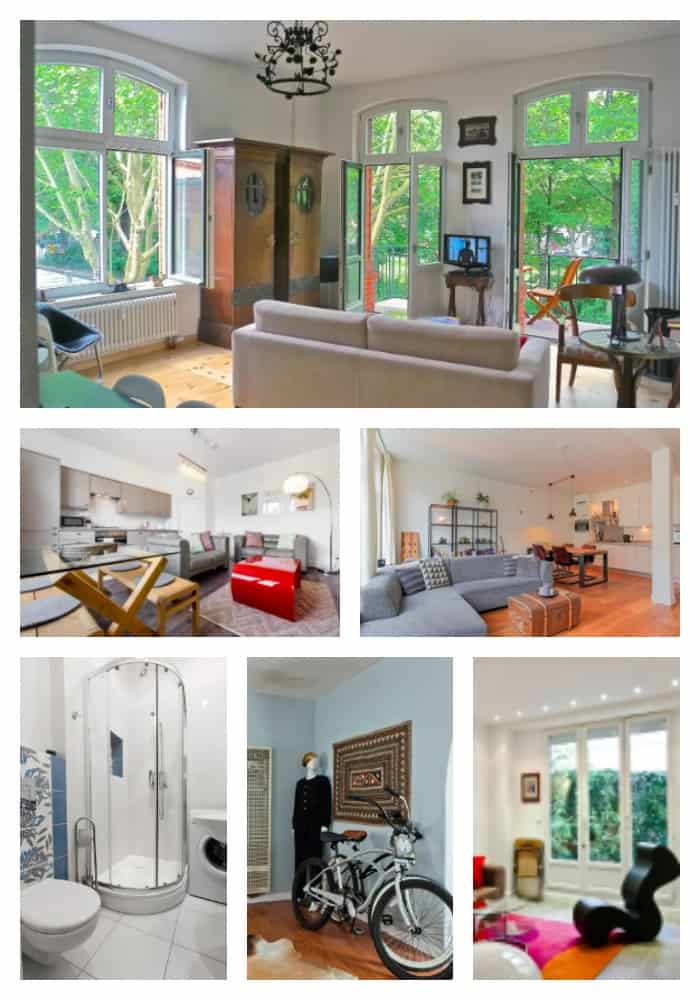 As I wrote about in The Truth About Traveling Non-Stop, this experience of moving around so much has left me with mixed emotions.
A part of me wants the stability of staying in one city, building a social circle, forming routines, having my own place, maybe getting a pet again, etc. Another part of me wants to travel because I love discovering new things, exploring nature, learning about cultures and people. The world is so large, there will always be somewhere new to go — plus I love returning to places I've been before too!
As always the answer is to be grateful, which in my case since I have the option to travel or stay in one place (or ideally do both each year!), means I am extra grateful.
Here's to freedom,
Yaro