This is part 9 of my Business Timeline, you can read all of the previous chapters here.
******
In the last chapter of my business timeline I explained what happened during the four years after I turned 30 in 2009.
I covered how I said no to becoming a speaker selling on stage, slowly closed down all my coaching programs and took you through the entire journey of CrankyAds, my software startup.
The CrankyAds experience was the most significant business project during the last three years. However, I did make some other major changes, which I know you will find very interesting. Here we go… (warning, long article ahead!)
Turning A Blog Into An Independent Entity
When I decided to devote myself fully to a software startup I knew I would have to change my strategy with my blogging business.
I had plans to close down all my coaching programs, which I did, but I was also planning what would happen to EJ, this blog, while my focus was on a startup.
I never had any intention of not writing to EJ (now Yaro.Blog). I love writing, that was not going to change. My blog was the best platform to launch CrankyAds too.
I was thinking how can I keep EJ growing without my full time attention? I was even thinking about one day selling this blog, and to do that, what would make it a more valuable asset to a new owner.
The conclusion was to change the focus from a personal brand identified blog, to a multi-author, magazine style blog.
I have experience running this kind of blog from when I was the owner of Small Business Branding, which had a team of writers.
The biggest blogs in the world are magazine blogs. Sites like the Huffington Post, Techcrunch, Mashable, The Verge and Social Media Examiner all have a team of paid or volunteer writers.
The benefits of the model is the increase in content and the ability to cover many more subjects. Usually blogs that follow this model are more news based, focused on current events, publishing ten, twenty, thirty to even fifty posts a day.
I wasn't thinking about turning EJ into quite as large an entity as that, nor did I want to focus on news, but I did believe that I could slowly introduce new writers, writers with good content to share. This would increase content frequency and hopefully increase traffic.
EJ's traffic had been fairly stagnant for a while. While it was frustrating to hit a traffic ceiling, the numbers were reasonably stable and most important, opt-ins to my newsletter continued to be around 50 to 100 a day, a rate I had maintained since the day I launched the Blog Profits Blueprint back in 2007.
The goal was to take a year to transition new authors content on to EJ, keep writing once a week myself, and slightly rebrand EJ to be less about "Yaro" and more about "Entrepreneurs Journey".
The outcomes from this change I was expecting were an increase in traffic due to increased content, less dependency on me, and thus freeing my own time up to focus mostly on CrankyAds.
A Good Start
To take on new writers and transition EJ into a more independent entity, I would also need a system to manage all the content coming through.
From my days investing in websites, I knew if you want a good price for your website business, the more hands-off management is for the owner, the greater the final selling price. I wasn't thinking of selling any time soon, but down the track selling with a content system in place would be advantageous.
I'd have to work out how to edit content and stick to a content schedule, not to mention communicate with the new authors, without me doing these jobs.
From my previous experiences running a multi-author blog, I knew that giving authors a deadline helps to encourage frequent contributions, but that's no guarantee they will keep sending through regular articles. You also need to constantly chase people up for content, especially if they do it on a volunteer basis.
My plan was to ask for one article per week per author and call them "columnists". I was expecting that to lead to an average of at least one article every two weeks, at worst one per month, per writer.
I also needed a manager to look after all the authors, a job I would have to remunerate as it would require a number of hours to do the work. This person would have to proofread, mark-up, add images, come up with titles for the articles (titles turned out to be the hardest part by far), work out a publishing schedule and chase up authors when their column submission was due.
I asked a friend, Steph, who I knew was a good proofreader from back in my BetterEdit days, if she was interested in the role. She said yes and we began working out procedures.
Things went well enough early on. I advertised on EJ and in my email newsletter for columnists and a number of people stuck their hands up. I also asked a few people I knew in person and most of them said they were keen.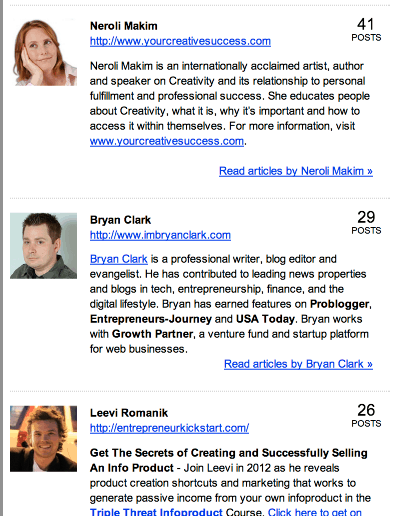 I was cognisant of my site's relationship with my current readers. I didn't want my blog to turn into yet another "guest post" filled site, like many of the blogs in my niche were becoming.
I wanted to have "columns", with authors who people identified with as consistent contributors with a certain style and expertise. These would be regulars, not once-off guest posts from people you have never heard of. My audience would come to know the authors and like them, just as they had done with my writing.
Although we had some hiccups with scheduling and editing content, and of course as expected it was sometimes difficult to get authors to stick to regular contributions, things moved forward.
I was hoping that eventually the system would run entirely without me – even the recruitment process of new authors – but this proved a difficult goal due to my desire to control quality (EJ is my baby after all!).
What Went Wrong
After several months EJ had gone from one article a week from me, to an average of three articles per week with two columnist contributions added.
The goal was to get to one post a day on weekdays, and even two per day if we could attract enough good writers.
Unfortunately we faced some major hurdles. As expected some authors contributed a few posts, and then slowed down contributions or completely disappeared. I knew this would happen, but if we found a few consistent people I was confident the good, regular columns would succeed.
It became clear over time which of the columnists were reliable and had a writing style that the EJ audience enjoyed. People like Neroli and Dr Mani resonated with my audience because they produced quality writing and had interesting insights to share.
Not every article was a hit, but we had a few posts from the new writers that became popular, earning comments and social media sharing.
The problem I was experiencing was working the system to keep the contributions flowing. Steph was doing her best to edit and publish content, as well as deal with new author applications. We spent quite a bit of time communicating and working out best-practice ways to do things. It certainly wasn't "hands-off" for me.
Eventually Steph made a decision to begin her PhD studies, and as a result of her situation she could only take on a certain amount of paid work hours. We talked about it and decided it was probably best if she left the author management role.
I was confident I could find someone else to take over the job, but I wasn't keen on going through the training process with a new person. Instead I decided in the interim to handle it myself and see if I could figure out some better systems first.
By this time it had been many months with the new writers contributing content. I kept an eye on stats and so far it appeared the increase in content was having zero effect on traffic.
Although I did my best to tell people I was still writing for EJ and for the most part I was still contributing as much as I always had, some people only read EJ for me. When they saw all the new writer's content they left thinking I was gone.
A number of people told me they were upset with the direction EJ had taken. I was concerned, but I also had people tell me they were enjoying the new content.
As is my usual practice, I decided to avoid making too many decisions based on what is usually the vocal minority, and instead look to the quiet majority. In other words, I looked to the traffic stats and social media sharing to tell me how well things were working.
The End Of The Experiment
The conclusion I reached, especially in hindsight as I write this a year or so later after I returned as the only writer, was that the experiment had no impact on traffic. Even with more content coming through, and some of it being shared on social media, it did not bring in a significant amount of new audience.
After about 18 months I came to realise that I was spending just as much time editing other writer's work as it took to write my own content. I enjoy writing a whole lot more than I do editing, and since it was clear a lot of people come for my writing, I decided to end the experiment.
I slowly re-branded EJ back to "Yaro", and stopped chasing up columnists for new writing. Strangely enough I never told any of the writers I stopped accepting work, but once I stopped asking for it, eventually everyone stopped submitting new content.
I am grateful to all the columnists who contributed over this period. There were some great articles published and I know a good chunk of my readers did enjoy the content.
The downside of this experiment was I damaged relationships with some of my audience. They left, thinking I was gone, even if I wasn't.
This became very apparent when I returned as the sole author. Even today people continue to tell me they are happy to see I am "back" even if I never left, and have been the only writer for over a year.
There is one benefit I can report from this experiment. Around half way through when Steph was still my editor, my mother had a stroke, which I have written about extensively already, including her death in March 2013.
Those early days in the hospital were very very hard, and there was a month in 2011 where I did absolutely nothing for EJ in terms of content production. During this time Steph, my assistant Angela, and the columnists kept EJ going without me.
This proves on one level, the experiment was a success. It demonstrates that if one day I don't want to write anymore about business subjects and get out of the teaching about blogging industry, I can revisit the magazine model as a possible preparation for an exit strategy.
In principle the magazine blog format works. I know this from experience on two different blogs now.
What you have to be aware of is the work required to make it work, and how big a shift it is to your brand. You can't retain a personal brand as strongly with multiple authors on your blog compared to when the blog is all about you. That should be obvious, but until you experience the shift you won't really know the impact.
As you will read later in this article, I have shifted my focus back on to teaching and writing, hence I am very much emphasising the "Yaro" brand again here on EJ – in fact more so than I have ever done before.
Personal brand blogging is a great formula for an individual to use if you want to run an information marketing and teaching business. That's one thing the last 8 years of blogging has taught me.
Leslie Samuel Takes Over Become A Blogger
Gideon Shalwick and I enjoyed huge success with our Become A Blogger video training program.
Eventually as I wrote about in the previous timeline article, we closed the program down. This was primarily done because the videos needed updating.
Gideon and I were not keen on updating the videos ourselves as we both had moved on to other projects, yet we didn't want to just shut down the Become A Blogger brand forever.
Leslie Samuel, who I talked to online many times and interviewed for my podcast, was a member of most of the coaching programs I had ever offered. He was an extreme action taker, managing to do a lot despite holding down a full time job as a university lecturer, and more recently having a baby too!
One of Leslie's biggest successes is a biology blog, one that he updates mostly with video content. Leslie has the perfect combination of skill as a teacher and video producer, plus real experience starting and running a profitable blog. I thought he would be ideal to lead the next version of Become A Blogger.
I floated the idea with Gideon, who reacted positively. We had to work out a few of the details, but first we had to ask Leslie if he was interested.
We all got on a Skype call together and asked Leslie if he was keen to become the new leader of Become A Blogger. He was very excited about the idea and said yes.
Become A Blogger Re-Opens
Gideon and I talked about what we each wanted to do for Become A Blogger going forward and how much share of the profits and company ownership we were willing to give to Leslie.
We told Leslie that neither of us wanted to be heavily involved beyond strategic and tactical direction. We also agreed to promote the reopening campaign.
Leslie's big job was to go back and re-do all the videos that needed updating. This was necessary to keep the course up to date, but it was also an important step for Leslie to "become" the teacher of the program.
Leslie was incredibly quick and managed to get the all videos done in a matter of months. He also rebranded his own blog presence to be Become A Blogger 2.0 and got everything ready for a launch.

Being a big fan of Webinars, Leslie settled on using a Webinar launch format, which we all contributed to. This one final teaching session for Gideon and me was kind of like a passing of the baton to Leslie. He became the face, and eventually the majority owner of Become A Blogger too.
Although the re-launch wasn't as big as our original launches, Leslie had a nice small group of members and began teaching them. While teaching he also decided to put together a few related niche topic webinars, which he then sold as individual products.
Leslie is still the man in charge of Become A Blogger and continues to work on a direction to take the company that matches his style. Gideon and I are only minimally involved, mostly to offer our suggestions when Leslie asks for input.
My Struggles With Outsourcing
There were certainly some serious ups and downs during this period. I have to say one of the most frustrating aspects was trying to outsource work to the Philippines.
Most people are well aware of the benefits of outsourcing to the Philippines, in particular the lower cost (you can read my article on is outsourcing exploitation for a very heated discussion of outsourcing and fair pay).
Guys like Tim Ferris, Chris Ducker and John Jonas have helped to make this concept mainstream. It seems like every blogger, podcaster and internet marketer, not to mention businesses small and large, are leveraging the affordable talent available overseas, especially from the Philippines.
Over the years I've relied on the help of contractors. Ever since I hired my assistant Angela all those years ago to take over BetterEdit (and she still works with me today – Hi Ang!), I've happily brought on help.
Every single good experience I have had outsourcing has been to local talent. By local, I mean Australia. Although not the nearly as "cheap" as overseas, I've had much better results paying local rates to get work done.
With CrankyAds we attempted to find some overseas developers, but as I wrote about in the previous timeline chapter, it took more work to integrate contractors than the benefits we gained.
With Pete Williams launching Profit Hacks, and guys like James Schramko leveraging Filipino help to basically do almost everything, I decided in 2012 to finally – seriously – give it a go.
What really excited me was the possibility of re-purporsing and syndicating my content. What Pete Williams is doing is incredible and I want to do something similar, in the hope of reaching new audiences.
Listen to the video below where I interview Pete and you will know what I mean…
Do I Smell Bad Or Something?
When I decided to get serious about outsourcing I knew I needed clarity about what roles to fill.
I decided to focus primarily on a project manager position, someone who would coordinate a team of contractors and be good at hiring new people.
It makes sense to hire someone who can hire others, so I personally only need to find the one good person. That was the plan anyway.
I also decided that I could use a new tech person, a graphics person and a video person, although I wouldn't search for all these roles at once.
Chris Ducker offered me his virtual staff finder solution to help find good people. Chris and his team had in some shape or form helped Gideon and Pat Flynn both find good staff, so I had high hopes and was grateful for the help.
I was also on John Jonas vetted workers list, which is an email list that he occasionally sends out notices of people who are available for hire who have already been vetted because they worked for other internet marketers.
Angela my assistant also looked around in a few places like online job boards, which she had done for me in previous years when I first started looking for overseas contractors.
I won't go into too many details, but I can say that my attempt to outsource to the Philippines has mostly been an epic fail so far.
Chris Ducker's helpers found some people who I interviewed. I then hired one of them as a project manager. A week after I hired her, she disappeared. Then she came back two weeks later claiming a tree fell on her grandmother's house. I gave her another chance, but she was gone again a couple of weeks later.
John Jonas had a video editor whom I hired. Immediately after I hired him, he disappeared. A few weeks later I learn he is in hospital (fair enough), but will be out soon. He comes back, I assign him work, and two weeks later he hasn't submitted a single thing to me and no one seems to know why. I tell John I want my money back.
I thought I may have found a good video editor because he showed talent. Unfortunately, possibly due to his slow computer, it took him three weeks of full time labour to produce a single hour long video. Even at $800 a month (the payment we agreed on), that's a lot to pay for one video – I could get it done locally cheaper.
I ended up saying to this video editor that he just wasn't quick enough, but I'd love to keep him around for graphics work since he was good at it. He told me his contracting rates, and we agreed to keep working together. I assigned him one tiny job to make some banners and never heard from him again.
Sigh.
By this stage I was beginning to think I smelt bad or something.
I asked various people who know outsourcing and most told me I was just having an unusually bad run.
I decided to vent my frustrations on Twitter complaining about how hard it was to find reliable people from the Philippines.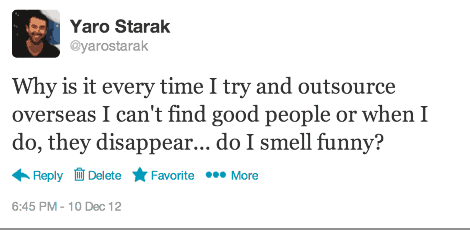 As a result of my ranting, a fellow by the name of Flo from the Philippines messages me saying he wants to defend his country's honour… ok, not quite. He at least wanted to prove that there are reliable people in the Philippines.
We had a chat on Skype and I agreed to give him a go. We've been working together for a number of months now, with Flo acting as my project manager.
So far I can report back that Flo hasn't run away, which based on my previous experiences, is a good start. Time will tell if we end up having a long term relationship, but so far we are moving forward.
My conclusion from this experience is I still much prefer hiring locally. I've considered whether it was my own unrealistic expectations, or lack of clarity on job roles, or poor communication that resulted in this terrible run of overseas hiring.
I honestly don't feel like what I was asking people to do was that unreasonable. Heck if you don't even show up after you have been hired, that is not my fault.
Since most of the people I sourced were from vetting services, I have to say I am disappointed in the outcomes.
I've been told that the Filipino way with virtual work is to sometimes just stop if they can't do a job, without saying anything to you. If you give them tasks that are beyond their skills they will vanish. I find that very difficult to deal with. I'd much rather be told that you can't do something and quit than experience all these disappearing acts.
While I am jealous of people like James Schramko and Gideon who both have some great workers and I hope that I may still yet find myself some quality overseas contractors, perhaps with help from Flo, for the time being I will stick to local talent, even if it costs me more.
Why I Left AWeber After Eight Years
Another major change I made in 2012 was to move my email list from AWeber over to Office Auto Pilot (now known as Ontraport).

Having used AWeber, and in large been happy with their service for more than eight years, switching providers is a pretty big decision. My email list is responsible for most of my income, so I don't make changes like this without having a good reason.
During 2012 it became clear that CrankyAds was not going to be my future main business. EJ had returned to being just my blog and I was thinking about what I wanted to do next.
The pressure to make money was also starting to be felt, since I had closed down all of my coaching programs and basically stopped doing any new affiliate promotions. I also reduced the number of ads on EJ, dropping my income to levels not seen since my very first year or two of blogging back in 2005 and 2006.
Of course I could have continued to make $10,000+ a month from advertising and promoting affiliate offers, but I decided I want my business to be more about my own quality teaching products and less about sending people away from my site to buy other people's products.
Although CrankyAds didn't go exactly as planned, it taught me something important – I am much better as a lifestyle entrepreneur and content creator.
I like the variety and time freedom that comes with being a blogger and information marketer. In particular I like being the person who creates the product, since I can implement my ideas rather than rely on other people.
You might say that the time spent on CrankyAds was the break I needed to reignite a fire to get back into teaching.
I began 2012 thinking about how I would build a new teaching business. I want to do it right this time and action all the things I should have done the first time I taught people how to create blogs and membership sites with my coaching courses back in 2007 to 2009.
I won't go into detail exactly on my plans for the future right now as I am still in the process of executing, and it would make this article much longer. It's already too long as it is.
What I can say is that I decided I am going to have a proper teaching business behind my blog, and in order to do that I needed a more robust solution for managing customers, email lists and product delivery.
Email Lists Vs Contact Management
AWeber is a list management service. It is fantastic for running a newsletter. You can do some pretty cool segmenting, but it's all based on different lists.
I wholeheartedly endorse AWeber as your first proper email newsletter system when you start online. It has served me well since back in the BetterEdit days.
With my plans for the coming years, I will have multiple products and variable promotions that depend a lot on tracking what a person does when they start learning from me.
To realise my goals I need a solution that is more about managing the individual person's record in my system, and how that can be used to track their interests to deliver various offers. It needs to be more powerful than AWeber.
Infusionsoft has been the clear choice for most people in my situation looking for a step up from AWeber. Having the power to tag people in your database is one of the key differences a service like Infusionsoft brings.
The problem with Infusionsoft, at least what I have heard, is how difficult it is to get used to. Most people I know who use it have a dedicated employee just to manage it, and that is not something I want to do.
That being said, Leslie made the switch and comfortably manages Infusionsoft himself, although he is extra talented when it comes to quickly learning how to use new tools.
Gideon uses FusionHQ, which looks pretty good too based on what he has done with it, although I am not sure it has quite as robust a contact management system as Infusionsoft does.
In mid 2012 I came across some videos from James Schramko, talking about how he had recently moved away from AWeber too. He had gone to Infusionsoft, hated it, then went back to AWeber. Andre Chaperon had told me a similar story, switching to Infusionsoft then reverting back to AWeber.
What caught my intention from James, was that he had moved again, this time to a service called Office Auto Pilot/Ontraport.
I stumbled across Office Auto Pilot previously, but ignored it. The website seemed a little bit oldschool in design, and at the time I wasn't thinking about switching from AWeber.
Suddenly I hear from James that he is loving Office Auto Pilot. Then I notice Marie Forleo is using them too. Eben Pagan had switched over (and even invested in the company), and more recently, David Siteman Garland had made the switch as well. I think I noticed Frank Kern has become an Office Auto Pilot user as well.
A lot of my plans for the future involve creating a similar business model to what Eben Pagan uses with his teaching businesses, so I was strongly compelled to use the same platform he does.
When James said he found Office Auto Pilot that much easier to use and had basically moved everything from AWeber across himself in two weeks, I was sold.
I ordered through James's affiliate link as a thank you, started my trial and have never looked back.
Why Office Auto Pilot?
There are way too many cool features to talk about with Office Auto Pilot. I will save the full explanation for a future blog post.
I can tell you that the move of my 50,000 person database into Office Auto Pilot was relatively easy. I'm now using the system to handle everything.
It runs my shopping cart, my affiliate program, delivers all my emails, protects all my member content, handles drip release of subscription content, and plugs into WordPress using a plugin. It has some very cool tracking features that I plan to take full advantage of over the coming years.
Office Auto Pilot is $300 a month, so you don't start with this system when you are a newbie.
New bloggers and online marketers should begin with AWeber first, then as your income and business grows, consider swapping over to something like Office Auto Pilot for the extra features and all-in-one solution.
What Is Next For Yaro?
That concludes my catch-up series to bring my business timeline up to date for this year, 2013, thus far.
I encourage you to go back and read the previous chapters in the series as you can learn a lot from another person's entrepreneur journey.
Yaro Starak Complete Business Timeline
I also encourage you to write your own history series to explain to your audience what you have done in your chosen field. It's like having a super-about page.
My plans for the rest of this year are to roll out a series of training resources to help people who want to use a blog to build an audience and then sell your own teaching products. If that is you, then we will get along very well.
I started this year by doing some private coaching. It made for a very busy February, but the experience was invaluable to help learn more about what you want from me, and where you are struggling.
My focus now is all about my internal training resources and building a proper, sustainable business around it. My blog design is being restructured as I write this to reflect my new direction. I have sketched out my plans for a completely new email newsletter series that will also align with my focus.
Of course rather than write about what is coming up, I'd rather show you and given you the opportunity to participate.
As always I will do my best to explain the "meta" behind my decisions here on this blog, but there is no better way to learn than to experience what another person does.
Stay tuned, and make sure you sign up for my newsletter if you have not done so already. It's all about to get interesting.
Yaro