[ Download MP3 | iTunes | Soundcloud | Raw RSS ]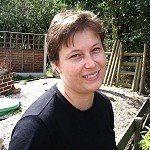 Caroline Middlebrook has been on my radar for a long time. I enjoy her writing style, her candor and her honesty and of course, she writes about the industry I love, and mentions my name now and then on her blog too, which is guaranteed Yaro-linkbait. It was about time that I invited her on to my podcast for an interview.
In this call, you will hear Caroline recount her history online, and she's been in the game for a long time, even doing pay per click marketing back when Overture was the main player and AdWords didn't exist! You will also hear a lot about Caroline's techniques for building traffic to her blog, how she built up her audience (currently 5000+ subscribers) and how she's managed to make at least $1,000 every month (as high as $3,000 some months).
The Bloggers Bible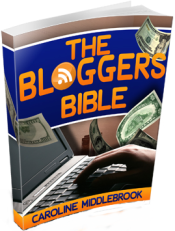 The Bloggers Bible is Caroline's latest project, a new book that teaches her methodology for building a successful blog and then generating an income from it. Caroline has some very unique ideas, is a great teacher and is the least hypey person I know in the industry, and her book does a great job of representing all these aspects.
Caroline is offering a 30% discount off her Bloggers Bible (no longer offered) just for my readers, but there's a catch – it expires January 16th – so you have one week to save yourself some money if you want her book.
You might wonder why bother getting Caroline's book if you already follow my training on blogging? There's a simple answer to that – she's different.
We share many of the same philosophies and Caroline is a Blog Mastermind graduate, but as you will hear in the interview, she doesn't agree with everything I teach and has her own system, so if you like what she says in the interview, definitely grab her book while the discount is available.
Show Notes
Caroline explains her first experiences making money online
We learn how Caroline turned to internet marketing by taking Ed Dale's 30 Day Challenge
Next Caroline explains her time spent niche marketing and why she didn't like it
Caroline launches a blog after ending her niche marketing/30 day challenge days
She offers some fantastic advice on building traffic to a new blog and how she did it
Important: Caroline talks about her free report and how she used it to make thousands of dollars
Caroline explains why she wrote her Bloggers Bible
Yaro
Loving Success Stories
[ Download MP3 | iTunes | Soundcloud | Raw RSS ]