As you know if you read my recent article about common email mistakes and the 50+ comments along with it, a big part of my new advanced blogging formula involves getting to know my audience better.
I am pleased to say that the first part of this process is now up and ready for your feedback.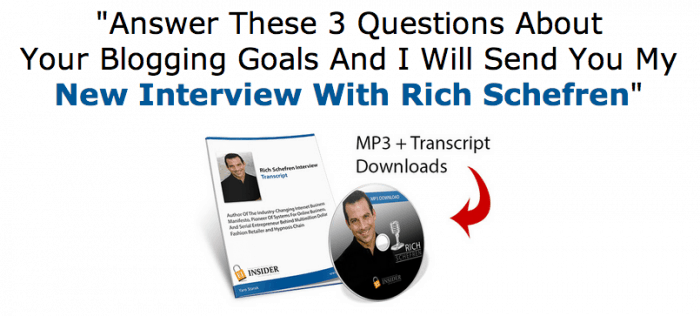 It begins with three very simple questions…
As an incentive to encourage you to answer the questions I am providing a bonus as a thank you – my exclusive interview with Rich Schefren, which up until now, only my Exclusive Interviews Club members have access to.
It's over two hours long where Rich, who is one of my key mentors, explains his entire business career. It's pretty epic and an amazing interview, in my opinion.
You can get it for free in MP3 audio and PDF text if you answer my three questions (I'll send you the interview bonus via email after you submit your answers).
More Questions For The Extra Motivated
After you complete the three questions you will be taken to a second page that has a slightly longer set of questions.
The second set of questions are completely optional, but won't take longer than two minutes to complete.
I'll send you a special leverage report that is a companion to Rich's interview as a bonus for responding to my second round of questions.
If you end up answering all my questions there is one more thank you offer, but I'll let you discover that for yourself.
What Am I Doing With Your Information?
When you answer my questions your responses are entered into my system under your personal record.
I will then know what subjects you are interested in, what your main goal with your blog is and details about your current situation.
All of this information is of course private and kept securely in my database management system powered by Ontraport.
In the future when I produce training materials and resources I'll know what you want (which helps me decide what to create) and only send you what you are interested in and relates to your goals.
This is a win-win for both of us, so go and answer my three questions and I look forward to learning about you.
Yaro