[ Download MP3 | Transcript | iTunes | Soundcloud | Raw RSS ]
Jaime Tardy has this uncanny ability to get along with everyone. This is an especially helpful skill when you run a podcast about interviewing millionaires – you end up with some very successful friends!
Jaime has just released her new book, The Eventual Millionaire, the same title as her blog and podcast.
To help celebrate the release of her new book Jaime joined me on the EJ Podcast so we can learn about the book, her podcast and blog, and also how she currently makes a living.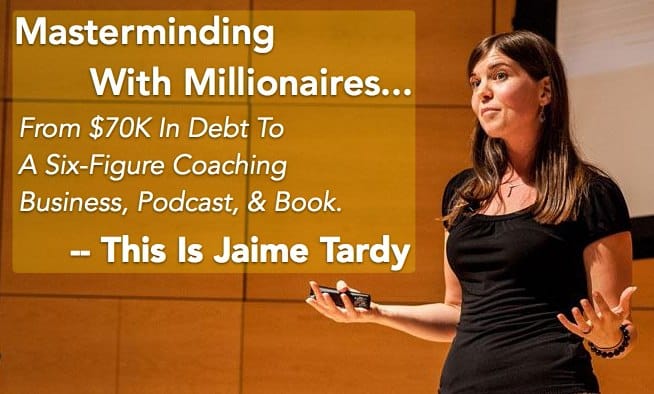 From $70,000 In Debt To Making $100,000 As A Coach
Jaime, and her contortionist performer husband (!), found themselves in some pretty big debt due to buying a car, student loans and the usual expenses you accrue in your early twenties.
When they decided to have a child they realised that getting on top of their money issues was critical. They wouldn't have two job incomes to carry their debt when Jaime stopped working because of the baby.
In this interview, you will hear how Jaime cleared her debt, how she started a new coaching business after her baby was born, which led to the creation of her Eventual Millionaire blog and podcast.
The Master Of Masterminds
During the interview make sure you listen towards the second half where Jaime talks about how she formed a powerful mastermind group. She managed to convince some fairly well-known people like Pat Flynn to become part of her group, even though her own reputation wasn't quite as established by then.
Her advice on how to create powerful masterminds with super-successful people is priceless.
What We Covered During The Interview
Here's what we talked about during the interview –
We talk about how she met her husband and bought a house before turning 20
Jaime explains how she herself became a coach after working with one
I ask Jaime to explain how she pre-qualifies her coaching clients and why she can charge as much as $600 an hour
Jaime had 30,000 downloads of her podcast in the first month, so I asked her how she did it
Jaime tells the story of she almost gave up on her blog, but after exposure on big sites like Yahoo and CNN, it took off
There's some great advice in here about podcasting, masterminds and running a coaching practice, so don't skip this one.
Where To Find Jaime On The Web
Enjoy the interview with Jaime and please if you enjoy this interview and want me to keep doing them, help out by reviewing this podcast on iTunes.
[ Download MP3 | Transcript | iTunes | Soundcloud | Raw RSS ]