I did an interview with Jeff Walker last week for a product I'm working on. If you have never heard of Jeff, he is the father of the Product Launch Formula, a proven model for launching virtually anything online.
I interviewed Jeff to learn his entrepreneur's journey, like most of my interviews, so it wasn't specifically about the launch formula.
I've been a long time supporter of Jeff and his course. His system is actually one of the first places I learned about and saw put into action many core marketing techniques like reciprocity, social proof and scarcity (he's about to reopen the course – for like the 8th time! – starting today I think with the prelaunch).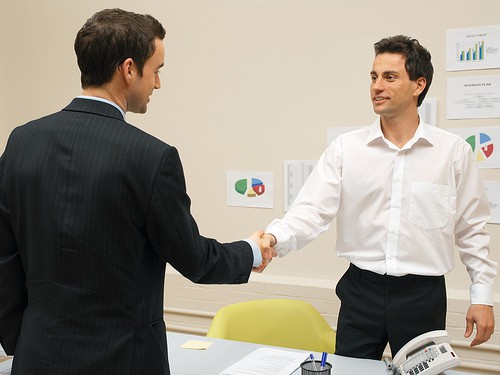 Jeff's early days were all about his very first online business, which began with a stock market email newsletter in the mid 1990s. Ironically he started the newsletter so he could put the experience on his resume in the hope of re-entering the corporate job market. Jeff's stock market email newsletter business took off and became a testing ground for what would later become the launch formula, even if he didn't realize it at the time.
At the end of the interview I asked Jeff to highlight the most important takeaways from his story, as they relate to a person just starting online with nothing much more than enthusiasm and a desire to make a living from an online business. He talked about a few things, but one aspect he discussed, which was highlighted again and again throughout his interview, was the need for relationships.
A Crowded Marketplace
Leslie, Gideon and I just wrapped up a launch for our Become A Blogger 2.0 program. Leslie is taking over the business so Gideon and I can focus on our other projects. He is very excited about the opportunity and is focusing all of his energy on growing BAB and making it the best blog training resource available online.
This year has been all about Leslie completely revamping the BAB course so it's up to date, and then conducting some opening campaigns to bring in a new group of members. We've pretty much completed this process and Leslie is well and truly the man in charge of this brand and business.
We started with an internal opening campaign with a live Webinar earlier in the year, bringing in a nice core group of members. Just last month we wrapped up a public release to give affiliates the chance to promote too.
One of the aspects of the public launch was the need to recruit affiliates to promote the free videos Leslie was producing in the lead-up to the opening. Gideon and I went to our existing affiliate email lists, and I mentioned the affiliate program here on my blog. We also knocked on a few doors personally, asking if certain people could promote for us.
I'll be blunt – we pretty much failed miserably at this job, at least compared to previous years.
We didn't get a whole lot of affiliate support and no affiliates with a large audience promoted for us during the launch campaign. The big boys (and girls) when it comes to affiliate launches are very important. Without them we didn't hit a home run, however we still welcomed another group of members, albeit a small group, into the Become A Blogger family.
I can't tell you exactly why we didn't get a lot of affiliate support, because you never really know for sure, but I have some pretty good hunches. Here they are, at least from my perspective (I should say Gideon and Leslie may not agree with me).
We began contacting affiliates way too late – less than a month before opening is not enough warning. You have to book people in about 3 months in advance, and it might take the entire three month's worth of reminders to convince them to support you.
We haven't stayed in touch with affiliates. I haven't mailed to my affiliate list about my own products for over a year because I haven't had a product on the market. My list is cold. I also haven't stayed in touch with the bigger players like I used to. In short, I haven't been fostering relationships.
The industry is way more crowded nowadays and many people just don't want to promote anything that is a "launch" style promotion. Despite how effective it can be, many bloggers and marketers are focusing more on their own internal products and projects and don't want to send their hard-earned subscribers to a person who will then bombard them with 20 emails in one week (fair enough!).
Despite point number three and the potential for "launch fatigue", there are obviously still many people who spend a lot of energy on affiliate marketing and make good money doing so. The launch process works, but you really need to be talking to the right people – the right affiliates with the right audience they can reach.
Some of my peers in the blogging and IM space won't promote launches, but are happy to do personalised webinars (more on this in a moment). Others just want to review the product on their blog or conduct a podcast interview with you and mention the product at the end.
Some internet marketers are still very actively engaged with launch promotions, but getting on to their launch calendar is difficult. You need to know them personally, usually promote and make sales of their product and even then that's no guarantee of support for your product.
A launch, as it always has, requires coordinating a lot of people. Figuring out how to handle the affiliate portion of the promotion is just as much work as making the product and launch materials. To really succeed, you have to work within the requirements of each affiliate, and again, this all comes down to the relationship you have with them.
Affiliate Relationships
Leslie just completed a once-off special promotion for an affiliate who has a big audience – Adam Short from Niche Profit Classroom. I've been a long time supporter of Adam and his training program (which is solid), so he naturally was willing to reciprocate because of our relationship.
Adam couldn't promote our launch campaign because of timing clashes, but he was able to help out if we did a training webinar for his subscribers, with a special offer at the end for our course. That's Adam's preferred method of affiliate promotion, and it worked well – everyone got some value and we welcomed new members.
The world of affiliate marketing has always been about relationships. Leslie is going to continue to build relationships and conduct personalize promotions because that's just what people prefer today in our market. It also happens to convert well, so it's probably worth testing in your market too (try webinars with special once off scarcity offers just for people who make the webinar).
Leslie plans to attend and speak at events in the USA (he lives there, Gideon and I are in Australia) so he can meet people in person and stay an active voice in our little make money online niche. This is so important because without the top-of-mind social proof that comes from being a "known" person in your industry, it's hard to develop the kind of relationships that lead to a "yes" when you ask for an affiliate promotion.
Relationships Matter Most
If we take a step away from affiliate promotions and look at more every day aspects of building an online business, relationships are still key.
If you want to write a guest post to help increase exposure for your blog and build links for SEO, some kind of relationship with the blogger helps increase your chances of an affirmative response. The same can be said for landing an interview, or convincing someone to parter with you in a project, or speak at your event. If people know you and like you, generally you get more of what you want.
Relationships are very dynamic things, driven by personalities, so trying to control this aspect of your business is challenging. What you can do, as with all types of relationships in life, is focus on how you can help others.
Being helpful and cheerful, despite circumstances being negative or positive, is the path to opening doors with other people. Working with your strengths obviously makes this process easier, so try and help people by doing things you are good at.
Currently I see the word "platform" being talked about a lot. A platform is an asset that positions you in people's minds. It gives you a means to first attract attention and then build – you guessed it – relationships, so when it comes time to ask for anything you have enough people paying attention and caring about what you say to get a result.
That's why I have said, and always will say, that having a blog is a must for any business person. It's not something everyone has the time or energy to produce, but as a relationship building tool online, and a platform to present yourself and your ideas to others, there is no better resource.
Thanks for reading,
Yaro
Relating
Photo courtesy of Victor1558