Dan Faggella is a talented Brazilian Jiu Jitsu martial artist and trainer. He started a gym in his hometown, then when he hit growth limitations combined with the unfortunate collapse of the roof in his building, decided to go online and sell digital training products.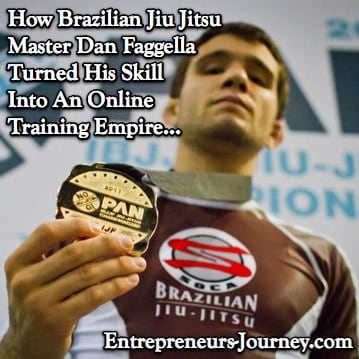 He began by recording his training sessions to create a product and then threw himself deep into the world of internet marketing.
Fast forward to today and Dan is making $45,000 in sales per month online promoting a range of Brazilian Jiu Jitsu digital products, with a sophisticated email marketing sales funnel and segmentation strategy.
This is a LONG interview – over one hour and fifteen minutes – where Dan breaks down many of the key elements that make his business work. If you have ever wanted to take your offline practice or service business and transform it into an online digital training product business, you MUST listen to this.
Dan was very generous with his time and open to all my questions. As a result, we got to really pull the curtain back and see how Dan does what he does.
Dan's Survey
During the interview, Dan talked about how he basically "forces" his subscribers to fill out a survey so he can discover the motivation behind why a person has joined his email newsletter.
Using the data he gets from the survey, he can then send tailored messages to certain segments with special offers for his products. This has proven to be a very effective strategy, enabling Dan to convert many more of his subscribers into paying customers.
As we promised on the podcast, here is an example survey Dan uses –
What We Covered During The Interview
There are some absolute gold nugget techniques in this interview. In particular pay attention to how Dan first got traffic to his new product (this is something I have never heard anyone else do, and I have done a lot of interviews!) and his email segmentation techniques to increase sales.
Here are some of the things we talked about…
Dan explains how he became a Brazilian Jiu Jitsu figher and teacher, specialising in techniques for smaller people and how he opened a Gym to fund his university studies.
Dan explains how he first created a digital product, then did interviews with top fighters and used them as a doorway to become a writer on many of the top BJJ magazines and blogs.
We learn how Dan increased his exposure, including some very clever partnership techniques so he didn't have to become reliant on constantly doing launches to make money
If you want to know exactly what "segmentation" is when it comes to email marketing, Dan explains exactly how he does it with surveys and tagging to his database
Enjoy the episode,
Yaro
EJPodcast.com
Relevant Links
[ Download MP3 | Transcript | iTunes | Soundcloud | Raw RSS ]