We've almost nutted out the bugs with the new design and I must say I'm very happy with how everything looks. I'll talk more about the design process (and reveal who did my blog design) in a later post, now I want to tell you about a little free report I'm giving away to my RSS subscribers as part of the new blog design launch.
My First E-Book (unreleased until now)
Several years ago around early 2006 I had just begun blogging seriously and had spent the previous six months pumping out some of my early pillar articles.
At this time my proofreading business BetterEdit was my main focus (I sold it in 2007) and I was not a professional blogger. I don't think I was making much, if anything from my blog yet, but my other business was doing well and I made a good living from it.
Those who have read this blog from the beginning might remember back during the early days I talked a lot more about entrepreneurship, setting up a business and general passive income strategies – and not so much about blogging (though I was starting to write about it even then).
It was around that time I decided to write my first e-book. I had no idea what I would do with it, but I felt with the several years experience running a few different businesses and I had enough content to produce a short book.
How to Start an Internet Business by Yaro Starak
Over the course of a couple of months I wrote a 50 page report detailing some of the key lessons I learned about starting and running my business and what I felt were the foundation principles necessary that all entrepreneurs understood and practiced.
The end result was a book I titled "How To Start An Internet Business…and stay happy doing it".
For the new release today, I decided to change the tile to something a little more appealing to most people's desires –
"How To Start An Internet Business…and make your first $1,000 online".
The book is not about basic tutorials on the practical aspects like setting up websites, choosing domain names, etc. It talks more about mindset and business strategy, although I include 12 steps necessary to start an online business at the end which are quite practical.
The book is a companion to this blog. You can read it and gain a grasp of what you need to do and how you should think when starting your Internet business, and then use the content from within this blog to find information on the finer details about Internet marketing.
Create A Passive Income Business
What I find interesting after reading this book myself was how clear my intentions were at the time. I had a reasonably successful business, and although it would never make me rich, it was very automated – almost pure passive income because of the business model I set up.
My proofreading business operated through the use of contractors, a deliberate choice made from the beginning. When people asked me what I did for a living I explained that I basically forwarded emails for a few hours each day. Later that same year even the forwarding emails role was contracted away so that business became a 5 hour a week commitment at most, with the time spent cashing money orders and confirming PayPal payments had come through.
I think you will see my obvious devotion to working as little as possible yet still running a solid business and these motivations carried through into this book. I talk a lot about automation and the attitude you need to adopt to create a true business, not just a self employment job from hell.
As a precursor to the very practical Blog Mastermind course, even back when I wrote this book I knew how valuable having practical steps is if you want to get results from something you study. In this book at the end of some of the chapters I include activities you can do to help realize some of the goals outlined in the preceding chapter. I think you will find the activities a nice way to get real-life outcomes after reading about the strategies.
How To Download The E-Book
How To Start An Internet Business is free to everyone who subscribes to this blog via my RSS feed.
All you have to do is click the big orange RSS button in the top right or click this link to subscribe –
http://feeds.feedburner.com/EntrepreneursJourney
If you are new to RSS, please follow the instructions here: How To Subscribe To An RSS Feed
Once you have subscribed, when you read this blog via RSS you will see something like this at the end of every post –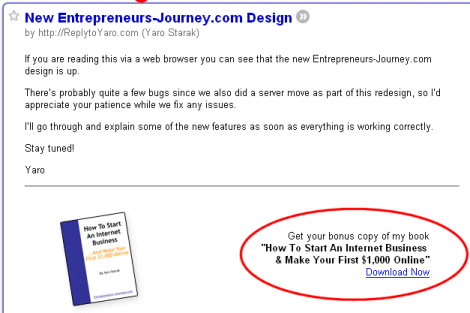 Click that download link in your RSS feed and you will be taken to the page where you can download a copy of the book.
Note: We've tested this on the more popular RSS readers like Bloglines and Google Reader, however it appears that for a few RSS reading services the download link for the e-book does not appear. If yours doesn't work, try Google or Bloglines.
I hope you enjoy reading some of my earliest work on Internet business. It's 100% content from me and very relevant to anyone just beginning their journey into the world of online entrepreneurship.
If you have any feedback after reading the book, please feel free to leave comments here.
Yaro
Author