[ Download MP3 | iTunes | Soundcloud | Raw RSS ]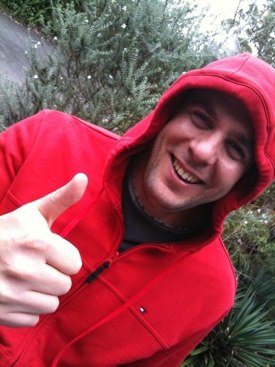 I had the pleasure of joining James Schramko on a panel at Ed Dale's coming home 2 live event in Melbourne recently.
James and I have known each other for a while, however I hadn't had a chance to get his full background story, so over dinner in Melbourne he gave me a rundown of how he went from the head of a Mercedes dealership (earning $300,000 a year!) to quitting that job to become a full-time internet marketer, now earning seven figures a year.
Whenever I talk to James I always leave slightly confused, but always impressed with what he manages to do. He runs his business from home, working with a team of contractors from around the world. He has more online income streams than you can count on two hands and two feet combined and is always learning more and doing more. He's one of the best people I know in terms of speed of implementation – he just gets things done.
In this interview I ask James to explain how he transitioned away from his well-paid, full-time job, to replace that income and then some more, using the internet.
There's one particular point you should take away from the podcast. James is earning big bucks because he's leveraging (and his students leverage too) a gap in the marketplace that exists right now and is an opportunity for virtually anyone reading this blog. This is the gap between what we know as online marketers, and what mainstream, offline business don't know. You can fill this gap, and earn a solid living too, in your area.
If you want clarification of what I am talking about, listen to what James says in the interview. I'm sure you will find his story inspiring and very applicable to you as well.
After you do that, go visit his blog and learn more about how James does what he does and how you can benefit from what he teaches – Internet Marketing Speed.
[ Download MP3 | iTunes | Soundcloud | Raw RSS ]