For seven years, from 2001 to 2007, BetterEdit.com was my main online business (I later sold it for $100,000 USD). It was also the first true Laptop Lifestyle online business I created, providing a full-time income stream I could take with me as I traveled the world.
When I sold BetterEdit in 2007 the contract I signed with the buyer included a 'non-compete' clause with a 24-month expiry. This meant I could not start up another online editing business for two years, which was fine by me.
However, the non-compete clause also meant I could not teach a course about how I built the business, revealing how others could leverage what I called the 'Services Arbitrage' business model. This was something I had wanted to do for many years, but yet again it would have to wait for at least two more years.
By the time 2009 rolled around after the non-compete period ended, I was knee deep teaching three other programs on blogging and membership sites, so I was not in a position to create another new course.
Fast forward to 2011 and I had closed down all my courses to focus on a startup advertising company, CrankyAds (which I later shut down with my two co-founders). Then my mother had a stroke and spent two years in hospital before she passed away, so I wasn't in the right headspace to be creating new courses.
When 2013 began I essentially restarted my teaching business. This blog was still up and running because I never stopped writing over those years, and I also had my email list.
Since then I've spent most of my time creating products and building systems to sell them. It wasn't until the end of 2016 that I realized I was in a position to finally teach the long overdue Services Arbitrage course, making it available as a new course to members of my Laptop Lifestyle Academy.
What Exactly Is Services Arbitrage?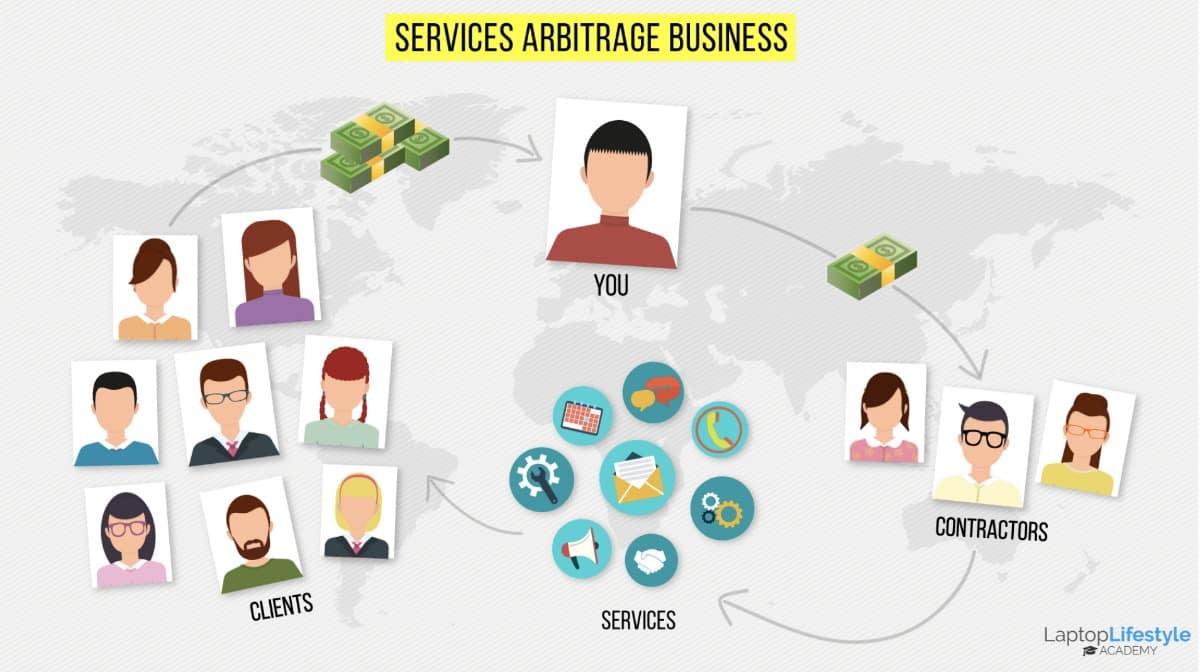 To put it simply, to arbitrage means making money as a middle-person in a transaction.
BetterEdit.com is a business I started to connect students with editors, who edited thesis and essay papers. I owned the business, hired contractor editors to deliver the services, and marketed the website to attract clients. I made a profit by charging the students more money for editing than the contractors charged me for the work.
There are countless other examples today of Service Arbitrage businesses, offering services like transcriptions, podcast editing, video creation, content writing, copywriting, legal services, graphic design, audio production and many others.
There are also some very big companies that use the Services Arbitrage model, for example, Uber, which is a multi-billion dollar company. Uber offers transportation services and hires contract drivers to deliver the service. They charge the client a fee, take a percentage as their revenue and then pay the driver the remaining money.
A Business That Grows Without Your Labor Growing With It
I came up with the idea for an editing 'arbitrage' business after researching business models.
Prior to my editing business, I had experience running an online store selling Magic: The Gathering cards, making money from advertising on websites and selling my own web design and hosting services as a freelancer.
I also paid close attention to the few people I knew who owned their own business. I knew people who were freelance web designers, Google AdWords agents, and a few people with real-world businesses like restaurants and an internet cafe.
My own experience as an entrepreneur to that point, and most of the examples I was exposed to, were of people working very hard.
I didn't mind hard work, but there was something wrong with what we were all doing…
The more money we made, the harder we worked.
Business growth correlated with an increase in the amount of work the owner has to do. Yes, it's great to get a new client adding more revenue, but that also means more labor to meet the needs of that client. Eventually, you reach a ceiling of how much money you can make, and you are exhausted long before you reach that ceiling.
After reading the story behind the creation of eBay, I decided I wanted to build a business around a better business model.
The model I wanted to follow, the same used by eBay and many other companies, including Google and Facebook, is called a many-to-many business (M2M).
I wrote a comprehensive article on M2M, which you can read here –
Here's an excerpt from that piece that explains exactly what M2M is –
What Is The Many-To-Many Business Model?
The Many-To-Many model is very simple. You have many customers and many suppliers and link them together as a middle platform.
For example –
EBay's auction technology is the platform that allows many people with products to sell to reach many people who want to buy those products.
AirBNB's reservation technology is the platform where many people who want to rent out their property can connect with many people who want to rent places all over the world.
Kickstarter's crowdfunding technology is the platform where many people who want to raise funds for their projects, connect with people who want to back and buy interesting ideas.
And perhaps the best many-to-many idea ever built, Google's search engine technology is the platform where many people who are searching for information can reach many people who publish this information.
In most of these models, the platform provider takes a fee from the transaction they help facilitate. Ebay, AirBNB and Kickstarter all do this and make billions from it.
Google's search engine does it too, but in a slightly disconnected way. They offer an advertising service (Google AdWords) and charge a fee to the many advertisers who want to pay to reach the many people searching.
Google's AdSense for publishers system is another good example. Google takes their network of ad buyers and connects them with web publishers who want to make money by placing ads on their website. Both parties (advertisers and website owners) use Google's ad delivery platform, and Google takes a cut from every click on an ad by a website visitor.
M2M a simple concept, but incredibly lucrative when you tap into large markets online, especially when you are the market leader.
This idea of connecting two groups together and taking a slice of a transaction, was at the heart of my original Services Arbitrage idea.
In my case, I wasn't looking to create a software platform. I knew I could build a website, and offering a simple service like editing or language translation was a very easy way to get started with an online business.
Profit From Day One
Most of the huge start-up companies that tap into a Many-To-Many structure did not make money for years while they built up enough critical mass.
For me personally at the time, I was looking for immediate cash-flow. I wanted to create as close to a passive income stream as I could, as quickly as I could.
This is why I decided to sell services. There was no technology required and I could make money from the point I got my first customer.
It was the best of both worlds –
The potential to scale the business without my labor increasing with each new client (because I had contractors deliver the service)
Profit made from the first sale onwards (I only had to pay contractors for work delivered)
Because of the simple and purely online structure, overheads were extremely low. The only initial costs were a domain name and hosting. The rest was up to me.
True to design, the day I got my first customer and then completed their first job, was the day I made profit.
You Don't Have To Be An Expert
Although you might look to me as an online business expert today, before I started my editing company I was far from experienced.
To be brutally honest, my confidence was shot at the time. I was all over the place as an entrepreneur, I had yet to make even close to a full-time income from my own business, and my self-esteem was low.
I was certainly NOT in a position to offer coaching, or sell books or a course or any kind of teaching product.
On top of this, I was a shy introvert. I wasn't exactly out there doing deals, networking, nor did I have any confidence in my face-to-face sales ability.
This is another reason why Services Arbitrage appealed to me.
I didn't need to worry about creating some kind of software or technology platform and I didn't need to meet people in person. I could use one thing – words I type from the safety of my computer – to create a business.
I was still able to sell expertise — just not my own.
I hired contractors who delivered expert-level services and leveraged their expertise in my online marketing materials. I was not an editor, I was just a kid who knew how to get a website online and who was willing to use the internet to find customers.
Does This Business Model Appeal To You?
If what I have written here resonates with you on any level, and you're still hunting for your first full-time online income stream, then Services Arbitrage may be perfect for you.
You don't have to be an expert, nor do you need tech skills. Provided you can communicate through typing and build a basic website, and you're willing to spend time locating good contractors and marketing your services, this is an incredible opportunity for you create a Laptop Lifestyle income stream.
The opportunity right now is huge. There are so many different types of services you can offer online, for example:
Copywriting
Video Editing
Podcast Setup
Graphic Design
Transcription
Programming
Personal Assistants
Research
Blog Content Writing
Editing & Proofreading
Social Media Marketing
Advertising Management
Split Testing
Analytics Tracking
Desktop Publishing
Recruitment
Bookkeeping
Legal Services
Customer Service
App Development
and so on and on.
Any service other people or companies need could become what you build a business around.
Sign Up For Services Arbitrage Introductory Training
Coming up next I'm going to share more stories from my own experiences growing a Services Arbitrage business, including how I found good contractors, why I could charge premium prices, how I automated the business so it ran completely without me, and more.
This introductory article series is a lead-up to the release of a new short course, which strangely enough I call – Services Arbitrage.
This new course is available to all members of my Laptop Lifestyle Academy.
If you're ready to start your own business selling services online, my new course is what you need.
If you're not sure yet, and want to learn more about the business, continue on to part two of this free introductory training series here:
I'll speak to you soon,
Yaro
P.S. To make sure you get notified when the next posts in this series are released, click this link and enter your details into the popup box –