[ Download MP3 | Transcript | iTunes | Soundcloud | Raw RSS ]
Erika Awakening tells a thoroughly entertaining story in this podcast interview. She explains how she went from a full time lawyer, had a near death experience, then started an internet business where she has had individual clients spend up to $100,000 on her products and coaching.
What's unique about this story are the subjects that Erika found herself making money in. She didn't plan it, but she started out as a seduction coach, primarily helping men with dating advice, thanks to a blog she started to track her own dating experiences.
The other subject she was pulled towards is EFT – Emotional Freedom Technique – or often called, Tapping.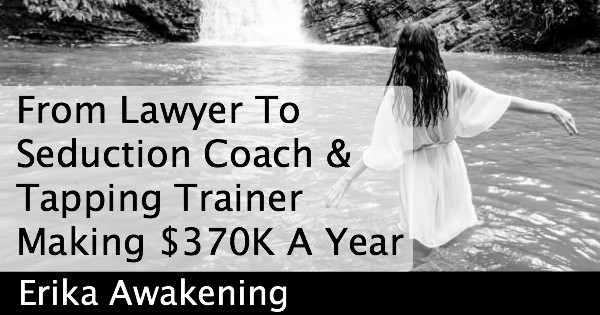 Erika started as a private coach and managed to make over $100,000 with her business even while still working as a lawyer. Eventually she quit her job and then created video courses to teach people how to release mindset blockages using EFT.
Although at times a controversial figure because she has unconventional views on hot topics like relationships, Erika enjoys walking an unusual path and helping others with her knowledge. You will see this come through during the interview.
The Power Of A Personal Brand
Throughout this interview I continue to ask Erika how she attracted customers and how she could continuously raise her prices.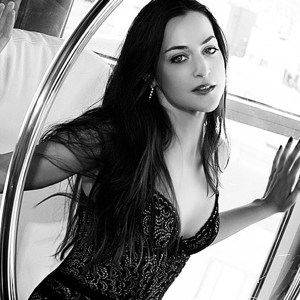 The answer is in the personal brand she built.
Although she angered plenty of people who don't share her beliefs, she connected strongly with some people, who would go on to purchase her products and take part in her coaching programs.
Make sure you listen all the way through this interview as Erika explains clearly how each different phase of her business progressed.
If you're currently working a full time job, this interview will also inspire you to see what is possible to create outside of working hours.
Making A Lot Of Money From A Small Audience
Although I have heard of Erika from many years ago due to my own interest in the dating niche (thanks initially to Davide DeAngelo/Eben Pagan), this interview came about because Erika left a comment to my recent popular blog post –
In her comment Erika noted that she agreed with my point how most people are too fixated by the amount of traffic you have and not the quality of your audience. Here is a snippet from her comment –
The best time period I ever had, I made a quarter million dollars in six months during a time when my main site was getting only 1800 monthly visitors. That's how much traffic and money were NOT correlated.
Erika is a brilliant example of having a six figure business for many years based on a very small buying audience. It's her repeat customers, those who love what she stands for and teaches, who she focuses on and helps the most.
Enjoy the interview!
Yaro Starak
EJ Podcast
Relevant Links
[ Download MP3 | Transcript | iTunes | Soundcloud | Raw RSS ]