In 1998 I registered my first domain name.
It was MTGParadise.com, a website about the Magic: The Gathering card game I still played back then as a teenager.
This was the first website I built that made money. I learned so much during this period, probably more than any other time in my life.
At its best my new website made $500 a month. Not enough to live off, but it was enough to get me hooked on the Internet.
This first website led to an online business journey that today, 25 years later, I am still on.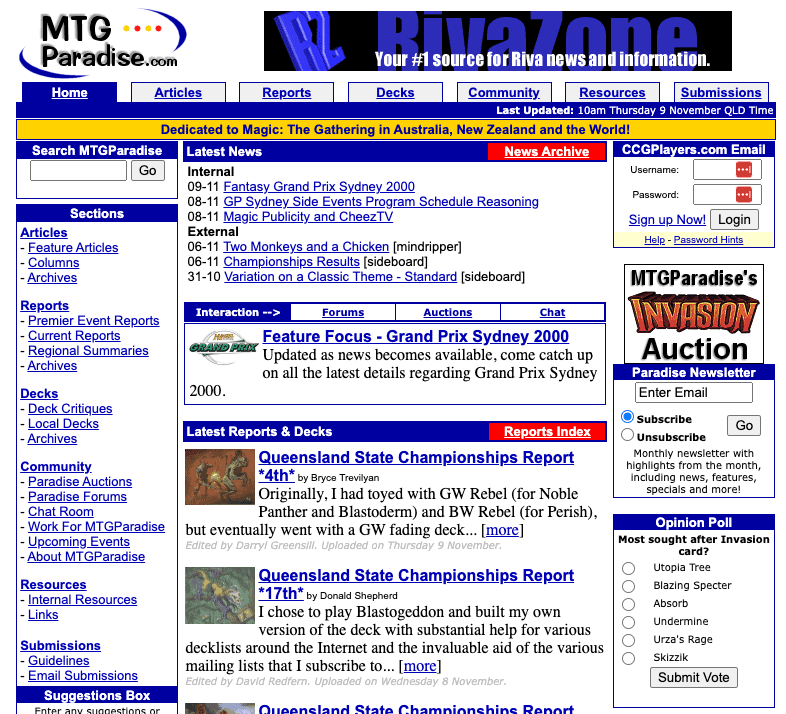 My 25th Anniversary
I'm not surprised that I'm still here, writing and sharing what I have learned about business, 25 years later.
Many domain names have been registered since then. Most went nowhere, some started then stopped, and a few turned into real businesses.
The best of those domains became companies that generated millions of dollars in revenue.
Three of them…
BecomeABlogger.com (2008)
BlogMastermind.com (2007, 2014)
InboxDone.com (2017)
…did at least 7-figures in revenue during the years that I focused on them.
Several others have done 6-figures, including MembershipSiteMastermind.com, BetterEdit.com, LaptopLifestyleAcademy.com, and of course, Entrepreneurs-Journey.com, the blog that kick-started my teaching career.
These websites made money from selling magic cards, advertising and sponsored content, affiliate commissions, selling ebooks, courses and membership sites that I created, a software plugin, providing services delivered by talented specialists and from buying and selling the websites themselves.
It's been an amazing career, full of ups and downs, highs and lows, but ultimately a very rewarding way to make a living.
Freedom First
Long before labels like digital nomad, remote work, or even my own laptop lifestyle existed, I was focused on freedom first.
My businesses were all digital, used simple business models and automated systems, and were run by talented people.
It took a few tries to figure out the right mix and learn how to solve all the big problems, but eventually I achieved my original goal — to be able live anywhere in the world, make a very good living and find satisfaction in the work that I did.
Today this is a common practice and a way of life that many people aspire to and live every day, which you can see documented on so many social media and Youtube channels.
I feel like a pioneer, but it was always obvious to me that we all crave this kind of freedom, and thus I wasn't alone (even if I often felt alone in my pursuits during the early years).
Mastering The Fundamentals
Needless to say, I've learned a tremendous amount during these 25 years.
It's a cliche, but I've probably forgotten more than I've learned.
However, the big things, the fundamentals of what makes an online business work, have become second-nature to me.
Of course, there's always variables you can't control.
Timing. Trends. Ideas. Competition…. Luck, all decide your fate.
Yet, you can very much stack the odds in your favor by knowing what works at a fundamental level, gather resources, and then iterate until success.
What that success looks like will never be quite what you expect, but if you keep learning and growing, satisfaction will be your reward.
Teaching To Learn
One of the main reasons I've been able to learn so much is because I became a teacher.
I instigated a simple philosophy once I realized people were interested in what I had to share.
I would teach only what I did.
Every training program or resource I've created was born from something I actually did.
I only felt comfortable and congruent with my advice, when it came from a place of lived experience.
This made it easier to give examples to demonstrate my teaching concepts, because I could tell my own entrepreneur stories, and later stories from my successful students.
All content creators, especially educators, understand the value in teaching to learn.
To make things even better, because the Internet is so vast, you can find customers everywhere.
Making millions of dollars as a teacher is not a sentence you hear very often.
Yet on the Internet, you can find many people selling coaching, courses, books and membership sites with 7-figure incomes.
My Experience Distilled Into One Place
Today, the collective wisdom of my 25 years experience is gathered in one place – The Laptop Lifestyle Academy.
All the flagship courses (including Blog Mastermind 2.0), short courses, ebooks, checklists, coaching calls and mentoring sessions were moved into this one master membership.
This includes my training on some big topics:
How to research a money making idea
What to focus on when you only have 2 hours per day to build your business
What business models work best for a laptop lifestyle
How to use a blog and email newsletter to sell any digital product or service
Pricing models for selling ebooks, courses and membership sites
How to start and grow a services agency to 7-figures
Dealing with technology for taking payments and delivering products
How to hire an A-player team to run your company for you
A step-by-step product launch plan
Email templates to sell your products on autopilot
Checklist and guide for creating a high-converting sales page or video script
How to buy and sell websites for big profits
…and so much more. 
I'm very satisfied with the Academy because I feel I've given all my advice, best blueprints, mindsets and techniques for building every type of business I have succeeded with (and I spent 15 years creating it all!).
Yet, there's a problem…
I've noticed that people aren't using the resources in the Academy.
I've come to realize that us humans, me included, tend to need some kind of deadline or cost in order to push us to learn and take action.
That's a fact.
I can state this in confidence because I've sold my teaching programs in many different ways.
I've delivered six-month programs, six-week courses, open and closed trainings, had live cohorts work with me, and evergreen training available on demand.
In all this experience, it's clear to me that in order for people to take action and thus get results, I have to make what I offer limited.
A short window in time gets more people active.
I'm Closing The Academy
I've decided that on my birthday this year, July 19th (2023), the Laptop Lifestyle Academy will close.
That's it. Done. Over.
If you have an active membership now or join before it closes, you will continue to have lifetime access.
I'm doing this because I like to work with a cohort of people who all join with energy and enthusiasm at the same time.
A deadline drives more action and results, and that's what I want — people using the resources I created and growing real businesses of their own.
By closing the Academy I'm closing the last window of access to my programs.
>> Join The Laptop Lifestyle Academy before it closes
Your Business Is The Breakthrough You Need
As I look back on my 25 year business career, I've come to appreciate the breakthrough moments.
The first dollar you make online.
The first $1,000 in a month.
The first $1,000 day.
$100,000 year.
A million dollars made… 
It's all exciting, life changing, and possible for anyone, but only if you build a business.
I'd love for my training to help bring a breakthrough moment to your life too.
If you've ever benefited from my advice, now is your last chance to get everything I ever taught for one lifetime access fee.
>> Join The Laptop Lifestyle Academy before it closes
Yaro
P.S. My blog is not closing, even if the Academy is.
I've got many new projects opening up soon, and I will never stop sharing what works for my businesses.