[ Download MP3 | Transcript | iTunes | Soundcloud | Raw RSS ]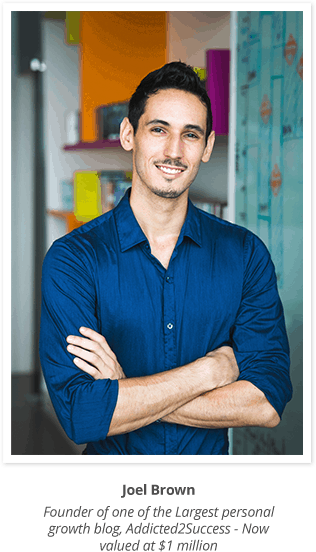 Joel Brown from Perth, Western Australia, started a blog Addicted2Success.com to share quotes and articles about his interest in personal development and success.
Joel worked hard, starting primarily with Twitter as a marketing tool, then branching into other social media platforms. His traffic grew, he produced more content and built on his success.
After nine months he added Adsense advertising to his blog and although it wasn't overnight riches, within two years he was making as much from his blog as he did from his full time job. Hence he quit his job.
Around this time he started receiving offers from brokers working on behalf of people and companies interested in buying his blog. He said no to a $250,000 offer, and then $600,000 and even a couple of million dollar deals.
As you will hear Joel describe during the podcast, he's more excited about seeing where Addicted2Success.com will take him than selling out now.
Currently he's making over $100,000 a year thanks primarily to advertising, reaching over one million people per month and delivering over 2.5 million pageviews.
How Joel Started
As always for EJ podcast interviews I asked my guest to explain his early days, what he did before he started his blog and what led him to the blogging path.
I was particularly curious to learn how Joel has reached such incredible amounts of people going after a market that is already very competitive.
It's pretty clear that social media was the kickstart for his blog (in particular Twitter), which then helped his blog gain top rankings in Google, bringing in consistent traffic.
You can listen in to the entire story right now by downloading the podcast.
Enjoy the story!
Yaro Starak
EJ Podcast
Relevant Links
[ Download MP3 | Transcript | iTunes | Soundcloud | Raw RSS ]