Continuing the theme started with my previous article on 7 Pitfalls To Prepare For When Traveling With Your Business, Kathryn Alice has written a guest article that explains how she, with her husband and kids, manage to travel with their business and as a result, lower their overheads.
Kathryn with her husband Jon offer a guide called The Portable Lifestyle, which explains how they travel the world with their kids and run a business, which is so the rage these days 😉 . Thanks to Kathryn for sharing her experience with us in this article.
The Portable Lifestyle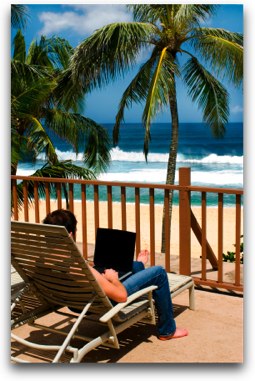 Most people can literally live anywhere or run their business while traveling, but very few have realized it. If there ever were a time to consider doing this, it would be now, when the economy has been wobbly. Working where costs are lower is a great belt-tightening move, and what a great way to turn lemons into lemonade!
My husband and I are one year into a world trip that has so far included Hawaii, the South Pacific, Australia, Southeast Asia and Africa. Cancun and Belize are next. We run our business as we go – over the internet – and make money virtually. Every month that we've been away, our sales have gone up.
An Example of Life on the Road with The Portable Lifestyle
Our stay on a small tropical island in Indonesia, which lasted for a few months, is a prime example of how you can travel with your business.
We saw our business grow while staying at a beach-front resort with our two youngest children. We had our laundry done for us, most meals cooked and cleaning done, while we worked courtesy of the wi-fi in our suite and on the resort grounds.
When not working, we played tennis, swam in the lagoon pool with swim-up bar, scuba dived, snorkeled and explored smaller islands. Our kids hung out at the Kids Club when not with us, and not only did they master swimming (they were in floaties at the start of the trip), but they've learned a great deal about different cultures and customs. One of our favorite indulgences was getting a massage several times a week in our suite. Best of all, this stay was super economical. We cut expenses in half while there.
The majority of our work is over the internet though I do book signings and workshops in the English-speaking countries like Australia and South Africa.
It's interesting how many people we've met on this trip that are doing the same thing. We meet them in the business center or because they're the other person working on a laptop at a pool lounge. They too have taken their business on the road, figuring out ways to not be tied to any particular place. In this day of the internet, email, laptops, mobile phones, Paypal and ATM's, it's not hard to do.
There's a name for this life we're leading (which we first heard from Yaro): "Portable Lifestyle." We also call it Traveliving.
You can take off with only some minor adjustments to the way you do business. It took us three months to prep and go, once we made the decision we wanted to do it. And as I mentioned, our business is growing even as we travel.
Below are some tips for getting started on your own Portable Lifestyle.
How To Prepare For Your Trip
We recommend that you set a goal to begin your Portable Lifestyle by a certain date. This will help you coalesce your intention to do this and motivate you to begin changing your business to provide freedom.
Put in some systems to ensure your business is virtual and automate as much as you can.
For example, if you have a coaching business, begin converting clients to phone, chat or email sessions only.
Automate as much as you can. For example, many shopping cart services will deliver electronic products to customers for you including downloadables, links and information. You can use a shopping cart service to do your on-line checkout, send virtual products to customers and bill for virtual coaching. They can automatically charge customers who have recurring billing and deliver funds into your bank account. They can also maintain your mailing list, adding and dropping clients who'd like to be removed without your lifting a finger. Some shopping carts and marketing systems can deliver a series of scheduled autoresponders to customers that result in sales.
You should change the way you are paid to eliminate checks, which are hard to deal with on the road. We were already accepting credit cards, and so it was easy to convert existing clients, such as distributors, to credit card payments. We accept Paypal as well and strongly recommend that you set up both a Paypal account and a means of accepting credit cards if you haven't already.
Make Your Business Transportable
To support your income abroad, we recommend the following steps.
Productize – increase your product range to include more virtual products that can be downloaded or accessed by phones. Examples are recorded webinars/teleseminars that clients can access by phone or over the net, downloadable workbooks, ebooks or a course that is taken by a series of emails your cart automatically sends out. We have found that a teleconference service is necessary along with some recording software (we use Audacity) that you can use to record products from anywhere on your laptop, no elaborate studio needed. Our new Portable Lifestyle Primer is available only electronically for the very reason that we are on the road.
Go virtual – In addition to adding more virtual-delivery products, look into how you can convert any existing products you have to electronic versions. Obviously some products don't lend themselves to going virtual but you'd be surprised at how many products you can transform into an electronic version. We did this with a cumbersome workbook and CD-set that we'd discontinued, and it has been a cash cow.
Increase your income streams – Look into new ways of making money that require no shipping. Ideas are subscription programs, taking ads even if it's just at the bottom of your Ezine, get additional distributors, set up and promote affiliate programs, beef up consulting work clients who don't need you physically there and create passive and guaranteed income in proven, easy ways.
Mobilize – Find a way to forward phones, through Vonage or Skype so you can receive local calls anywhere. You can even take your long-established business phone number with you. Get a laptop or two if you don't have them. And make sure you've got a good mobile phone plan for traveling.
Increase your virtual income with boosted marketing – Begin setting up on-line marketing methods. Consider Google adwords, search engine optimization, building an email list and placing ads on other websites. Place a few articles on-line. Create an Ezine.
Take care of the home front – Make sure you have good support staff to take over as you go. Start training someone now to run things or hire someone to do so. If you're a solo-preneur, find a virtual assistant to handle home matters and a fulfillment house or individual to handle any snail mail shipping that must be done plus any other unavoidable location-centric tasks.
Everything should be geared to web and therefore, virtual methods so you completely eradicate anything that will tie you down. It only took a few tweaks to get our income primarily over the net and to set it up to increase even as we travel.
Travel Tips
It's fairly simple to become your own online travel agent. Begin by figuring out where you'd like to go. Create an itinerary that includes any places you have to be on certain dates. Almost anywhere has internet these days. We were on a tiny island in Fiji that took 10 minutes to walk around and even they had internet.
Look for deals because with a little digging, you will come up with unbelievable situations – resorts, private villas – that can halve your living expenses while increasing the luxury and support around you.
Working as you go makes you different than most people on vacation. But you have an advantage, because you get to stay longer and you're not going back to the same old ho-hum after a week. You will pack differently than vacationers with a bag or so of technology that includes laptop, hookups, converters and tools you need.
Upon arrival at a new locale, you need to make sure you're set up for business quickly. Check out internet availability and test phone lines and reception. Once this is all done, you can take care of anything imminent and then hit the beach (or slopes, as the case may be.)
Keep expanding and moving forward with business plans. Set an intention to increase your income while you're going.
Use your international discoveries and lessons learned to enrich your business.
Bon voyage!
Kathryn is an author, entrepreneur and workshop leader currently on World Tour. To find out more on their journey or how they can support you in creating your own Portable Lifestyle, visit www.theportablelifestyle.com