Overview:- Alternative lifestyle coach Laura Maya decided to pay for ConvertKit instead of using MailChimp's free plan to run her email newsletter, before she'd even made a dollar from her website. 
In this review of ConvertKit, learn how Laura set up a system to sell her eBook and send emails and free gifts automatically, so her website builds a database of potential clients without her having to do anything.
Up until five years ago, I didn't know it was possible to have a job that could move with me around the world.
I'd already been travelling non-stop for 14 years at that stage, but I always found work as I went along.
So I'd be running a campsite in France over the summer, working as a BBQ chef in Italy in the winter, then heading off to Honduras to work as a journalist for a few months until I worked out my next move.
I had a little blog where I wrote stories about my travels, but I had no idea I could use it to make money.
Then a friend of mine, who was a web developer, reached out and told me one of her clients was looking for a virtual assistant for his online education business. The job was 100% online so I could keep travelling and work from anywhere. I felt like I'd hit the jackpot!
When I started working for Yaro, it was like opening the door to a parallel universe — a mysterious world where people ran multi-million dollar businesses online with teams of staff all working from their laptops in their pyjamas around the world.
Over the next few years I got a crash course in digital and content marketing, and I started to think, — "Hey, I could do this myself."
I took my old blog offline and started a new one called The Magic of Everything, a place to connect with other hyper-curious, freedom-seeking travellers like me who want to live life outside the box.
To start with, I had some basic goals:
Goal #1: I wanted the blog to be a shop front for the coaching and consulting business I was building, so my ideal clients could find me through my blog posts and web content.
Goal #2: I wanted to sell digital products on the site, including an eBook I'd written about how I find work around the world. As long as I could remember, people have asked me "How is it possible you're travelling all the time!" and I wanted to offer a truly affordable and easily accessible answer to that question.
Goal #3: I wanted to build an email list. Because even though I find email marketing a bit icky at times, I'd come to understand it was still the most effective way to reach people and the only guarantee I'd have ownership of my contacts.
Goal #4: To build up my email list, I decided to offer an "optin" — a free gift I would give away if someone "opted in" and joined my mailing list. In my case, it was a self-coaching program called GPS for the Soul that I offer in a digital format.
To hit these goals, I knew I needed an email autoresponder system that was able to do three things:
Create at least two online forms where people can enter their email address on my website and then, like magic, automatically receive an email with the free self-coaching workbook. This is called an 'Automation'.
Generate those annoying little pop up boxes to appear on the website after a reader has been there for a certain time — to promote my eBook and encourage people to join the mailing list. Because even though they're annoying, they work!
Separate all the people who sign up to my mailing list into different groups based on their interests and activity. So if they opted in for my book Work the World it tags them as being interested in travel, but if they opted in for GPS for the Soul they're tagged as being interested in personal development. That way I can write emails to different groups that are more aligned with their interests.
So off I went into Google land in search of one system that could do all of those things.
Why I Chose To Pay For Email Automation Before I'd Made Any Money
Like most newbies starting out, I gravitated immediately to MailChimp because of it's beautiful… price.
When you're a new blogger starting out and your website hasn't produced any income yet, the best option is usually the FREE option.
So I opened a MailChimp account and asked the web developer setting up my website to link them together, hoping she would just magically fix it so I could replicate what she did once I saw it in action.
Unfortunately, that didn't pan out…
It turned out that on MailChimp's free plan, it wasn't possible to have two different pop-up boxes for two different optins, and I wanted one for both GPS for the Soul and the first chapter of my eBook.
I didn't want to pay to upgrade MailChimp so I could provide two optins because, so far, I'd found the platform too difficult to navigate. I'd worked out how to set up an email list and send an email, but I couldn't figure out how to set up automations so the website delivered my emails and free gifts automatically.
If I was going to have to pay something to someone, I decided to shop around and look for alternatives to MailChimp.
The only other system I was familiar with was the business automation software, Ontraport, which seemed like overkill and far too expensive for a new blog starting out.
So I narrowed my search down to ActiveCampaign, AWeber and ConvertKit based on the recommendations of other bloggers, coaches and VAs in some Facebook groups I joined.
I spent two weeks researching all my options, signing up for free trials, and ended up completely overwhelmed by all the tech talk, jargon, confusing interfaces and conflicting reviews.
Frustrated, I gave up the search and went with ConvertKit for two (not very well thought out) reasons.
Reason #1: Whenever I asked a blogger or VA why they use ConvertKit they said "Because it's EASY. I don't need a pilot's license to drive it."
Reason #2: Two big names in my industry — one blogger and one Virtual Assistant trainer — were plugging ConvertKit big time. And even though I know they're probably making a killing from referral fees, I trusted their opinion enough to believe they wouldn't do that if the software wasn't worth the hype.
Setting Up ConvertKit Was Easier Than I Expected
By the time I made the switch to ConvertKit and paid for a subscription, I'd lost dozens (maybe even hundreds) of hours trying to make MailChimp work for me.
So I had low expectations going into ConvertKit and was kind of blown away when I managed to get everything I needed set up within a week — without any tech help.
That's not to say I didn't tear a few hairs out that week, but I got it all done — two free optin offers or 'lead magnets' as some people call them (GPS for the Soul and the first chapter of Work the World) with follow-up email sequences my subscribers receive automatically.
As soon as I signed up for ConvertKit, I was guided to a video tutorial for beginners and sent an email with a free automation sequence, ready made.
I'm not going to guide you through the step-by-step process I took because really, if you follow the beginners video, it's like following a trail of breadcrumbs that will lead you to a castle.
And in this analogy, the castle is an automated system that sends digital gifts to your readers via email, all while you sleep.
But even if you follow the video, you'll probably get lost at some point and when that happens, just find the button that says "New Automation".
This will put you back on the right path, sending you into a sort of flow chart the helps you set up the different components of your email marketing in a logical order.
For example, in my case, in order for me to send my reader a free gift from my website, I first need to create a "form", like this: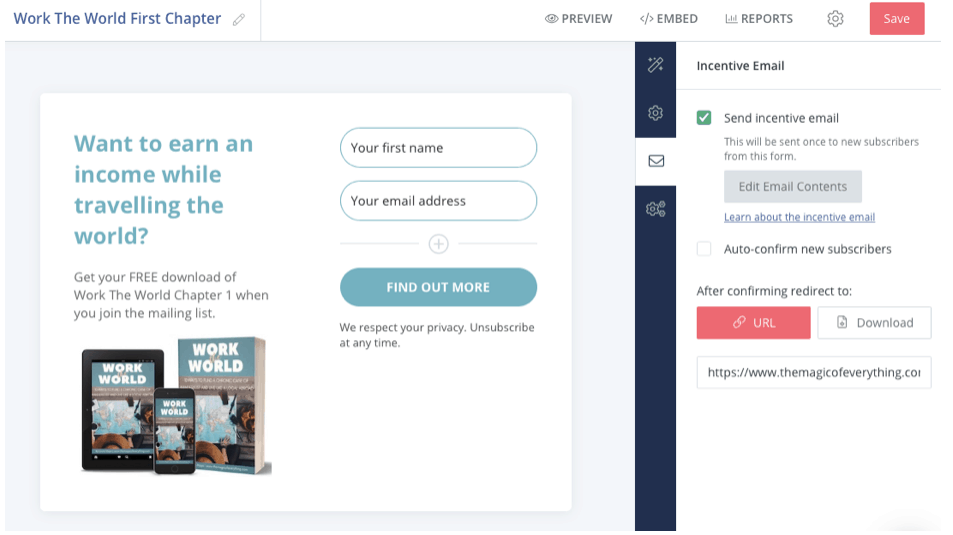 Only I forgot to create the form before starting my second "New Automation". But it didn't matter, because when ConvertKit asked me what I form I wanted to use, one of the options was "Create Form" in case I didn't have one. I clicked on that and voilà, it immediately took me to the page to get it done.
Unlike MailChimp where I felt like I was constantly hitting dead ends if I didn't know where I was going, ConvertKit has built their platform with breadcrumbs everywhere that you can follow forward and backwards so it's hard to get lost.
If you're moving to ConvertKit from another platform that wasn't quite as user friendly, I recommend you try not to think too much, and just relax and follow the prompts.
One step usually leads you to the next and the next and if it doesn't, just click all the buttons to work out what they do and where they go. By doing that, you learn about all the features you can use to improve your email marketing system and slowly add them in.
All that said, there were still moments when I get lost and overwhelmed and had to hunt for solutions without always knowing what the problem was.
Anyone who tells you they set up their first email autoresponder system with no issues, no second-guessing and without dropping the occasional f-bomb is probably lying.
For me, one of the biggest issues was my MacBook seemed to hold onto the memory of all my ConvertKit ghosts. By that I mean whenever I tried to change the text on a landing page, or the colour of a font in ConvertKit, my computer wouldn't show those changes until a day or two later.
At first, I thought the changes I made hadn't saved, so I kept updating it over and over again to no avail. Eventually I sent a support ticket to ConvertKit saying I was ready to give up and cancel my free trial, but their support desk was quick to respond and told me it all looked as it was supposed to at their end.
So I learned to test everything in an incognito window on Google Chrome as a work around and accepted it would take a few days before that changes were visible in my normal browser. I'm not sure if the issue is with my computer or ConvertKit, but as long as the people visiting my website see it the right way, that's all that matters.
Once I got my automations set up, I called on family and friends to run at least five tests with five email addresses on five computers with different browsers. Each time someone came back with something wrong or missing or formatted incorrectly, and I had to dive into the ConvertKit resources to work out where I'd gone wrong.
ConvertKit isn't foolproof, but with limited tech knowledge, I was usually able to work a solution on my own. Or, when all else failed, with the help of ConvertKit's help desk.
Without a doubt, there was still a definite learning curve, but is ConvertKit easier to use than MailChimp? Hell, yes…
Once you've gotten the hang of the basics and your first automation set up, you can start incorporating ConvertKit's more complex features. You can set up tags so your subscribers are automatically organized into lists according to their interests, and you can view their history to see all the different ways they've engaged with your website.
This information can help inform decisions about what to write about on your blog or social media so you get the best response from your audience and attract more clients.
For example, I thought everyone would be more interested in learning how to find work around the world because that's the question I get asked the most in real life, but the overwhelming majority of people opting into my mailing list click on the "Feeling lost?" button that leads them to GPS for the Soul email optin.
Knowing that completely changed my marketing angle and how I promote my services.
All up, I think it took about one week to set up all my automations, write all my emails, and create all my forms so my website could run without me.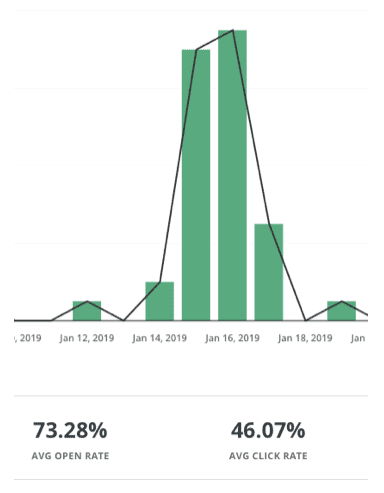 The only thing I couldn't set up myself was the integration with WooCommerce for the sale of my eBook Work the World, and so coaching clients could book and pay for sessions online. This I handed over to a web developer who took care of it in just a few hours.
Then when the website went live and I shared the link on my social media channels for the first time on January 15th, 2019, my ConvertKit dashboard lit up. Emails and eBooks started flying from my website to every corner of the world.
When I woke up the next morning I'd sold enough eBooks to cover the first two months of my ConvertKit subscription.
How I Use ConvertKit Now
To be honest? I don't much, really.
Ever since I set it up, it's been working behind the scenes to do exactly what I need. It's a well oiled machine that runs on its own and I've barely touched my automations in over a year.
The feature I use most is sending broadcasts from ConvertKit whenever I write a new blog post, which is as easy as sending a normal email. I give the email two different subject lines and ConvertKit sends half of each to the first 15% of my list to see which one people are more inclined to open.
Then the winning subject line is sent to the other 85% of my list. This is called A/B testing and it's really helped my open rates — the winner is always B, the second headline I write!
Otherwise, since the Coronavirus pandemic when just about everyone in the world stopped travelling, I made my Work the World book free for anyone who wants to download it. This only took 20 minutes to rewrite the email and get it set up in a few clicks.
Up until then, I was waking up in the morning and finding random strangers had bought my book and deposited $9 in my bank account while I slept. ConvertKit does all the work in the background, sending the emails, sending the products (in partnership with WooCommerce which my web developer set up on my website), so I can just sit back and reap the benefits.
I should emphasize I don't use all the features ConvertKit makes available to me. I'm not using the pop-up boxes that appear when someone is reading my content (although I probably should because), but they're available on ConvertKit.
My email sequences are also quite straightforward without a lot of the rules and tags and additional emails I could be using to really target my marketing.
There is probably a lot more I could be doing with ConvertKit, but I won't go into those features in this review because that's exactly the kind of information that made me feel overwhelmed when I was in the same position as you now, trying to decide which email autoresponder company to go with.
Just because it has all the features, it doesn't mean you're not getting value if you don't use them all right away.
At this stage of my journey, I'm not a super active blogger publishing content every week, so the website is more of a virtual home office designed to attract people and potential clients to my business.
Now people find their way to the website mostly by searching for words or phrases that appear in my blog posts. When they arrive, they download what they need, join my mailing list, and I send them emails every so often to stay in touch. From that database, people reach out to me for coaching or consulting projects and that's how I generate an income from my blog.
How Much I Paid For ConvertKit
At the time of writing, the entry level cost for ConvertKit is $29 USD per month.
But I pay $290 USD per year for up to 1,000 subscribers, and when I cross that threshold I'll go up to $490 per year.
I hate having monthly bills so I prefer to pay it as a lump sum and forget about it until January rolls around again. The other good thing about doing it this way is ConvertKit gives me the equivalent of two months free for paying up front.
The biggest struggle for me with ConvertKit's pricing is the exchange rate. As an Australian, I'll admit, seeing the difference in the price quoted on ConvertKit's website in USD versus how much actually gets taken out of my bank account? That hurts…
So every January when that money comes out of my account (well over $400 Aussie dollars last time), I tell myself I should search around for a cheaper option. But by February I've forgotten how painful it felt to hand over that money, because ConvertKit is just so easy.
And I love when things are easy…
It's running a huge part of my business without me even having to think about it. After just one client receives an email and goes onto pays for a 3 month coaching series up front, the cost of the annual fee is more than covered.
I'm usually the kind of person who will use the "free" versions of anything before handing my hard earned money to a big, impersonal software company. But ConvertKit's mission (or at least their marketing strategy) also really spoke to me.
They claim they built their software for *creators*, not using the same ultra-businessy language of other software companies that makes me feel excluded. ConvertKit feels like it was built with creative brains in mind — so an artist or creative soul (like me) who isn't familiar with this kind of technology can still learn to use it without feeling like a complete dumbass.
If you're not sure, ConvertKit has a free trial for anyone wanting to test all their premium features before committing, and a free plan for anyone starting out slowly who has less than 500 subscribers on their mailing list. So it costs nothing to spend a couple of weeks having a play with the software before you decide to buy.
Is ConvertKit Right For You?
I believe ConvertKit is the right software for anyone who wants to plan for their business growth right from the beginning.
No matter what plan you're on (except the free plan) ConvertKit charges you for how many subscribers you have on your list, not for the features you have access to.
So I won't have to learn a new system as my business grows, or upgrade to another platform for the features I need. I can use exactly the same features to manage my small business now as a huge corporation paying $3,000+ per month for a million subscribers.
Although that said, ConvertKit is not really an ideal platform for big companies with hundreds of thousands of email subscribers. Its pricing structure makes it an expensive option for high-end users and the platform doesn't offer the same features as a more robust customer relationship management system like Ontraport or Keap.
But for me, ConvertKit does everything I can see my business needing for the next few years. It's the best platform I found for bloggers, artists, creatives and anyone who (quite frankly) doesn't want to waste their time learning fancy words for technical terms they couldn't give a stuff about.
ConvertKit is for small businesses who just want to reach their audience and share their message, without getting tangled in the technology.
Convert Kit In A Nutshell
Overall, I'm a big fan of ConvertKit because:
It's much more intuitive than its competitors and uses great visuals like flow charts and graphs to help you navigate around the platform.
The set up was relatively pain-free and I could do it myself without paying a tech person to do it for me.
It communicates seamlessly with the eCommerce platform, WooCommerce, so emails are automatically sent to people when they buy something from your website
I have access to every feature I need on the most basic plan, and there are still plenty of additional features I can use as my business grows (although I admit I don't know what they are yet)
Their support desk is quick to respond and has helped troubleshoot me towards a solution for every problem I've encountered.
It has simple graphs that provide insights into my customers and how they engage with my website so I don't have to search for that information. It lights up my dashboard as soon as I log in.
It's hard to get lost in ConvertKit because there are always paths to guide you back and forward to build every part of your automation.
But there are some things I'm not too crazy about…
Firstly, the cost.
Ok, I lied. That's the only thing.
While I wouldn't expect it to be free, I do think there could be a middle ground between free and $29 USD per month for new users with 0 email subscribers.
While it's not an issue for me now and I can see the return on investment, it certainly would have helped me out in the early stages of my building my business.
But to sum it all up, I'm happy with my decision to use ConvertKit and I have no plans to move to another platform in the future.
What can I say? I'm a sucker for simplicity.
And if you're a blogger or small business owner who would rather pay a little bit extra for a simpler and more care-free life (not to mention less technology-induced grey hairs), then create a free account and take some time to play with ConvertKit.
Once you've seen how easy it is to navigate compared to its alternatives, you'll probably find you're happy with it too.
Laura Maya
TheMagicOfEverything.com