Shaan Patel grew up as a son of Indian immigrants, who worked hard to save enough money for a deposit on a property in their hometown of Las Vegas.
However, rather than buy a house, the Patels bought a small hotel. Later they expanded to buy the petrol station next door. Shaan grew up working for both businesses, learning what entrepreneurial hard work looks like from a young age.
Shaan, after a less than stellar performance on his SAT (college admission test in the USA), decided to take the test again. He studied relentlessly and eventually walked away with the very rare perfect SAT score on his second attempt.
This result opened many doors to Shaan, including the option to study at better universities, land jobs and make connections. However, the decision that ended up changing his life was to take his breakthrough result — the perfect SAT score — and use that as the basis for starting a SAT preparation school.
Keeping Things Small And Simple
Shaan began with a simple plan — he would teach a live classroom-style workshop to pass on his knowledge of how to improve your SAT score.
He used his fame as being one of the few people with a perfect score to land some press coverage in his hometown. This exposure netted him 18 students for his first class.
Things went well from there. His students SAT results improved (he later went on to guarantee a minimum 200 point increase in test results as a benefit of taking his course, a powerful selling point!) and he began teaching more classes.
Eventually, Shaan expanded, hiring teachers who also had top 1% SAT scores, to teach his methods. Then things really took off when he began delivering his training through PrepExpert.com, expanding his reach to the entire USA and the world thanks to the Internet.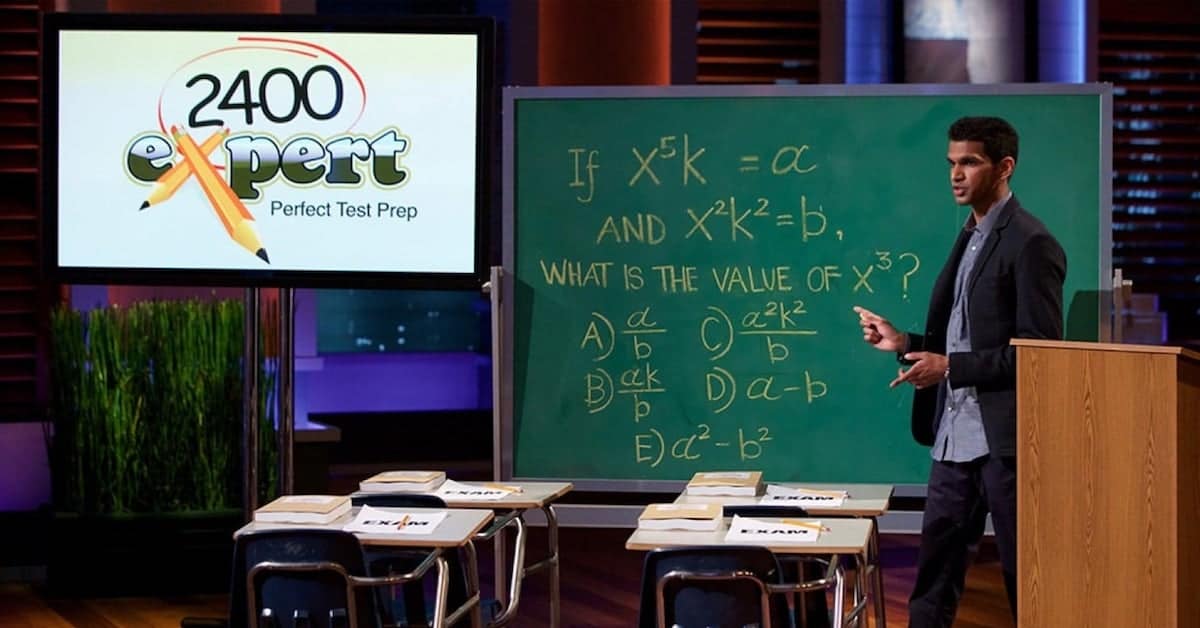 The Shark Tank Deal
Shaan was already a successful entrepreneur by the time he decided to apply for Shark Tank.
He wasn't specifically looking for a deal or investment money, but he did see the television show as a fantastic source of nation-wide free exposure (and he was very right — his business exploded after people learned about it from the show).
You can watch Shaan's appearance on Shark Tank here:
During the podcast, I asked Shaan to explain how hard it was to get selected to pitch on Shark Tank. Needless to say, it's not easy, but like most things in life, Shaan prepared harder than most.
I was also curious to know more about what we don't see on the live television episode. I was blown away to learn that Shaan actually spent several hours presenting to the Sharks, even though his TV spot was only several minutes.
Shaan also explained what it's like working with Mark Cuban, including how much support he actually gets from the billionaire.
After the Shark Tank experience, Shaan's business has grown to do over $20 Million in sales. He's paid back Mark Cuban's investment of $250,000 and is passing on more dividends every year — Mark clearly made a smart choice investing in Shaan.
What I was most impressed to learn was how much Shaan's business uses the same techniques that I use and countless other internet marketers employ. He's selling digital teaching products using webinars, content marketing, email marketing and all the usual tools of the trade.
Shaan's results are impressive. It's clear a lot of his success comes from his strong work ethic, which perhaps was first formed all those years ago working for his family's businesses.
I hope you enjoy this interview and share it with someone you think would benefit.
Talk soon,
Yaro
Topics Covered In This Podcast
Shaan's origin story – the lessons his parents taught him that he attributes as setting him up for entrepreneurship
How Shaan 'hacked' his way through to achieve a perfect SAT score and won over $250,000 in university scholarships
How over 100 rejections eventually led Shaan to create his SAT preparation course and hence start Prep Expert
How Prep Expert grew from 18 students in Shaan's first course, to over $1 million in sales within 4 years, and now $20 million per annum
Shaan's top tips on 'hacking' the SAT test
The behind-the-scenes reality of the Shark Tank show – what really goes on in the casting call process, and the due diligence process
What Shaan's experience working with Mark Cuban is like
Relevant Links
[ Download MP3 | Transcript | iTunes | Soundcloud | Stitcher | Spotify | Raw RSS ]
If You Enjoyed This Episode, You May Also Like…