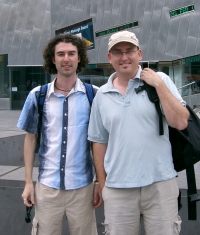 [ Download MP3 |  iTunes | Soundcloud ]
This episode features myself and Darren Rowse and our topic of discussion is blog design. Darren talked about his recent Problogger redesign and how he worked with his designer, Ben Bleikamp. Then we talked about the different professional blog designers currently available (listed below) and how you should work with a designer to minimize the risk of problems.
We went on to discuss how bloggers who have limited financial budgets can go about sourcing a unique blog look, including modifying free themes and why you would want to have a custom design for your blog. We also talked about what a new design can do for you in terms of blog traffic, demonstrating your professionalism and infusing yourself with new energy if you are feeling blogger burn out.
Here's a list of the resources mentioned in the podcast.
Blog Designers
Freelance Sites
Darren's Logo Designer
Free WordPress Themes