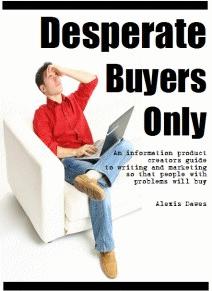 Desperate Buyers Only – by Alexis Dawes
Name: Desperate Buyers Only
Creator: Alexis Dawes
URL: www.desperatebuyersonly.com
Purpose: Learn how to create e-books for people who actually want them.
The ultimate guide for profiting selling e-books and short reports, with a focus on finding markets with buyers who have pressing problems and are willing to spend money to solve them. A great book for any person struggling to find a profitable topic to begin their quest to earn a living from the Internet – but does it provide all the answers?
You can find a list of other product and service reviews and resources I use to run my online business in the
Reviews Section
of this website.
Desperate Buyers Only Review
At the start of Desperate Buyers Only, an e-book by Alexis Dawes, is the following –
How To Choose Topics That Attract Buyers Like Bee's to Honey – (It has NOTHING to do with "Doing What You Love")

Online infopreneurs fail for 3 main reasons–

1) They focus on general topics.

2) They focus on so-called 'hot' niche topics.

3) They follow the all-time favorite, and frequently quoted, adage, "Do what you love and the money will follow."
Nice. Very nice.
I found a book that teaches only what you need to know about the making money part of selling online. Forget anything about loving the topic, or having a passion for what you do – this is the book for those lost souls who are passionless, money-hungry, wannabe information sellers.
Okay, maybe that's too harsh.
This is the book you need if you are still struggling to find a way to make money online and you need help picking a topic that has profit potential, despite it being the most dry and boring topic ever.
I come from the world of "do what you love" but I'm well aware there's no point doing what you love when you can't make money from it, at least if you want all the trappings that modern society offers. The harsh reality is, for some people – "what you love" is not going to be profitable.
It could be because you don't have the marketing skills, maybe your passion is a saturated market or maybe what you love is not something that people spend money on.
For whatever reason, some people have to find ways to make money and what they love simply won't cut it. In this case, no amount of passion for your topic can put food on the table.
Ideally, we all want the holy grail combination of passion and profit, where you make great money and love the work, which is why I direct my students towards looking at passions first. An important factor is motivation and, as I know from my own experience, sometimes the only way you stay motivated long enough to realize results, is to a choose a passion-based topic.
Thanks to Alexis and her e-book, you can use her techniques to chase the dollar by focusing on "desperate buyers", people ready to spend money to solve urgent problems. Your motivation is your desire to make an income and if that is enough motivation for you to do the work (and it was for me when I first started Internet business), this is a book that offers a straight-to-the-point blueprint for turning on the cashflow.
The Challenge of Topic Selection – Solved
For most newbie Internet marketers, topic selection is the greatest challenge. Desperate Buyers Only provides an easy to follow breakdown of how to find topics that can make you money.
Here's a rough breakdown of Alexis' methodology for locating a profitable topic –
Choose an audience – In this section Alexis provides a list of 13 types of people who all have desperate problems that need solving. People who are in trouble with the law, who want to lose weight, who are going through divorce, etc. Alexis provides a very frank description of each type of person, which is critical so you can establish a strong rapport with the audience you eventually choose to sell to.
Find websites devoted to your chosen audience – The next step is to find the locations online where the type of person you identified in step one congregate. Alexis suggests you outsource this research and explains how she does it.
Study your potential audience habits and language – This step is all about isolating the root problems people in your chosen audience have. You do this by monitoring conversations at the websites you found in step two.
Isolate desperate problems – Taking what you learned in step three, you determine where the money is. What are the problems people are desperate enough to spend money on? Find the most common questions people are asking.
Find the pain – Once the desperate problems are determined, the next step is to understand the psychology behind the problem. Alexis offers a great list of nine common psychological needs humans have. The problem you find must relate to at least one of these issues (for example, does this topic relate to helping someone keep their job? or maintain their health?).
The Dealbreaker (as Alexis calls it) – This is all about traffic and reaching an audience. It's not simply buying pay per click traffic for the hottest keywords you find in WordTracker, although that can be part of it. Alexis explains why it is critical to figure out how your desperate buyers go looking for solutions and not simply follow what is considered standard practice to drive traffic.
Assess the competition – The last step may seem obvious, but I was impressed that Alexis focused on differentiation as a strategy if the market is very crowded and specified exactly how to do so (for example, by using different media like audio instead of text). She also provides a competitor assessment form to help with analyzing the competition.
Alexis definitely has a system behind how she chooses topic and there is nothing about needing a passion. It's all about finding buyers.
Creating Content
Desperate Buyers Only focuses on publishing reports as the product you sell and Alexis provides a relatively easy formula for creating the content. It's not in-depth and is designed for people who don't like to write. This is a system for pumping out short reports that sell for under $30 and get straight to the point, usually researched and written by other people.
Alexis explains how she decides what content desperate people want – the "insider secrets" as she calls it – and outsources the research to find the answers. In some cases it seems all she does is use what is already freely available online, but pays people to do the hunting around to find the gold and then compiles the info into a report and sells it.
The idea is to provide all the best answers in one place to sell to people desperate enough to buy immediately. One prime example, which is a case study from Alexis that she talks about throughout the book, is a report she made that lists resources for people who are in the US Chexsystem.
People in the ChexSystem have trouble getting a bank account and Alexis was one of these people. She went online dug through all the useless information, found the right answers, got herself a bank account and then piled that information into a (very) short report.
Alexis notes that you don't have to create 50 page reports to make this work. Her ChexSystem report is only 6 pages. Yep, that's right – 6 pages – and she claims she makes $150 – $250 a day selling to this market.
If you have trouble coming up with content to sell online, this section of Desperate Buyers Only is very helpful, however in my opinion the best part of this book was the next section all about copywriting for sales pages.
Copywriting
If there was one reason I would pick this book up, it is for this section.
I hate writing copy. I totally understand how critical it is and I actually think I'm quite good at it when I write about something I understand, but because copywriting needs to cover so many elements I find the process quite tiresome. It's fun – but there's so many things to cover I always feel like I could do more.
Alexis provides a fantastic breakdown of how to write a sales page for virtually anything online. She's not presenting herself as a copywriting expert and you won't find an in-depth analysis of the psychology behind copy in this book, but what you do get is a REALLY simple list of elements your sales letter needs to address.
I plan to use Desperate Buyers Only as my checklist for any future sales page I write. I'll sit down with her book beside me and write sections for my product sales page by "filling in the blanks" based on what Alexis does. This really is the highlight of the book in my opinion.
Alexis illustrates the copywriting section by drawing examples taken from her own sales page. You could almost take her sales pages and just copy what she does making changes based on whatever you are selling and who you are selling to.
Here's a brief list of instructions taken from the chapter on writing a sales letter. Each section has about two pages of content explaining how to elicit the trigger and why it's important to do so.
Your sales letter should…
#1 – Demonstrate you empathize with the reader more than your competition
#2 – Show that your competition (both free and paid for) sucks
#3 – Explain why your information is more valuable because of the way you have formatted, presented or researched it
#4 – State that your information is current and appropriate for what matters today
#5 – Prove that your information can deliver results for the reader NOW
This is just one area Alexis covers about writing a sales letter that works. She also talks about why it is important to point out a flaw in your product, why you need an FAQ page and how to use it to increase conversion, how to justify price, what to put in the order box and in your P.S. at the end, and a TON more.
As I said, Alexis is not a copywriting expert, which is why I love this section of the book. You won't get anything more than what you need to put together your own powerful sales letter. You won't have a perfect sales page after doing this of course, but you will definitely have a stronger page than if you attempt to write one without any guidance or a template.
Desperate Buyers Only provides exactly what you need to write the sales letter yourself. If I was you, I'd take this book, use it to copy the format presented for your product and then, if you can afford it, pay to have an expert do a copy-review, which can cost as little as a few hundred dollars, compared to a few thousand to have the page written for you from scratch.
Traffic
A book like this wouldn't be complete without a discussion of how to get traffic. I have to admit I'm always curious about the traffic section when it comes to any Internet marketing book, specifically because I want to see if the author can surprise me with something new.
Unfortunately Desperate Buyers Only did not surprise me, the techniques mentioned are nothing that hasn't been written about before. However what I do like is the real-world case study Alexis provides. She says she did "this" and "this" to get traffic and then shows you how to replicate her methods.
The book reveals how Alexis used the following techniques to generate traffic to her sales pages –
Classified Ads – USFreeAds to be exact.
Google AdWords – Alexis shows how she finds keywords and what headlines worked best for her against the headlines that did not work as well.
Affiliate marketing – As I expected, Alexis relies heavily on a handful of top affiliates, who generate a lot of sales. Alexis suggests only seeking affiliates inside your existing customer base since they are best equipped to promote your products.
Article marketing – Nothing new here, except Alexis does tie in her "desperation" strategy into her article marketing as well, which is definitely something worth talking about. Just throwing out articles is not the answer, using the right keywords and responding to a person's desperation is key according to Alexis.
Case Studies
There's a REALLY interesting case study on how Alexis used a Warrior Forum special offer to make $2600 in two weeks. I'm eager to do a Warrior Forum special offer for my own products so I found this section interesting.
In case you are not aware of it, the Warrior Forum is a website community full of thousands of Internet marketers of all experience levels. There is a section in the forum where you can offer your product for sale as a "special offer" and because of the sheer number of users you can often make a few thousand dollars in a matter of days.
Don't Overestimate The Buyer
Alexis ends the book with a poignant point, similar to what I talked about in Get Rich Helping (And Selling To) Beginners.
The web is full of free information, but that doesn't mean you can't make money selling the information. Everyday net users are not necessarily good researchers and cannot find the best information on their own. If you package the quality content into a report and use the right marketing to sell it, you can help people and turn a profit, even if the information is available elsewhere online.
Should You Buy This Book?
Desperate Buyers Only is a great book and I have trouble finding any major faults with it. If anything, the only thing I don't like about the book is the fact that money is the core focus, however that really is a moot point, because you can take the book and apply it to an area you are passionate about and use it to find where the money is.
I bought this book myself because I wanted to know what Alexis did that I don't do. I'm not good at high-level research into niche markets and looking at things like keywords and profitability because I tend to focus on what I like and just "do it" rather than find out if I can make money from it. This isn't a good strategy for everyone and I wanted to know alternatives for those who are struggling to find a profitable passion or if you desperately need money.
This book is ideal for you if you don't have your topic yet and in particular good for people who in the past may have followed their passions and just not made any money.
It's frustrating to spend months not making a penny – I totally understand that – and sometimes just making your first sale is the motivation boost you need. Alexis presents a very logical and systematic way to start making money, devoid of passion but potentially very profitable once you get the marketing mix right.
I recommend after finding a niche that you make profit in, you look for ways to dominate and go deep in that niche. Alexis recommends the use of back-end products, which is definitely a good idea and I'd suggest taking that even further by becoming one of the preeminent sources of information on that topic.
Finding buyers is aways the greatest challenge for people new to Internet marketing. If you are new, or just plain frustrated, pick up a copy of Desperate Buyers Only and try it out. This could be your ticket to cashflow and maybe even more, and if nothing else, you will never wonder how to pick profitable topics again after reading this book.
Here's the link: http://www.desperatebuyersonly.com
Yaro
Just Plain Desperate