I'm excited to begin 2021 by releasing a brand new report –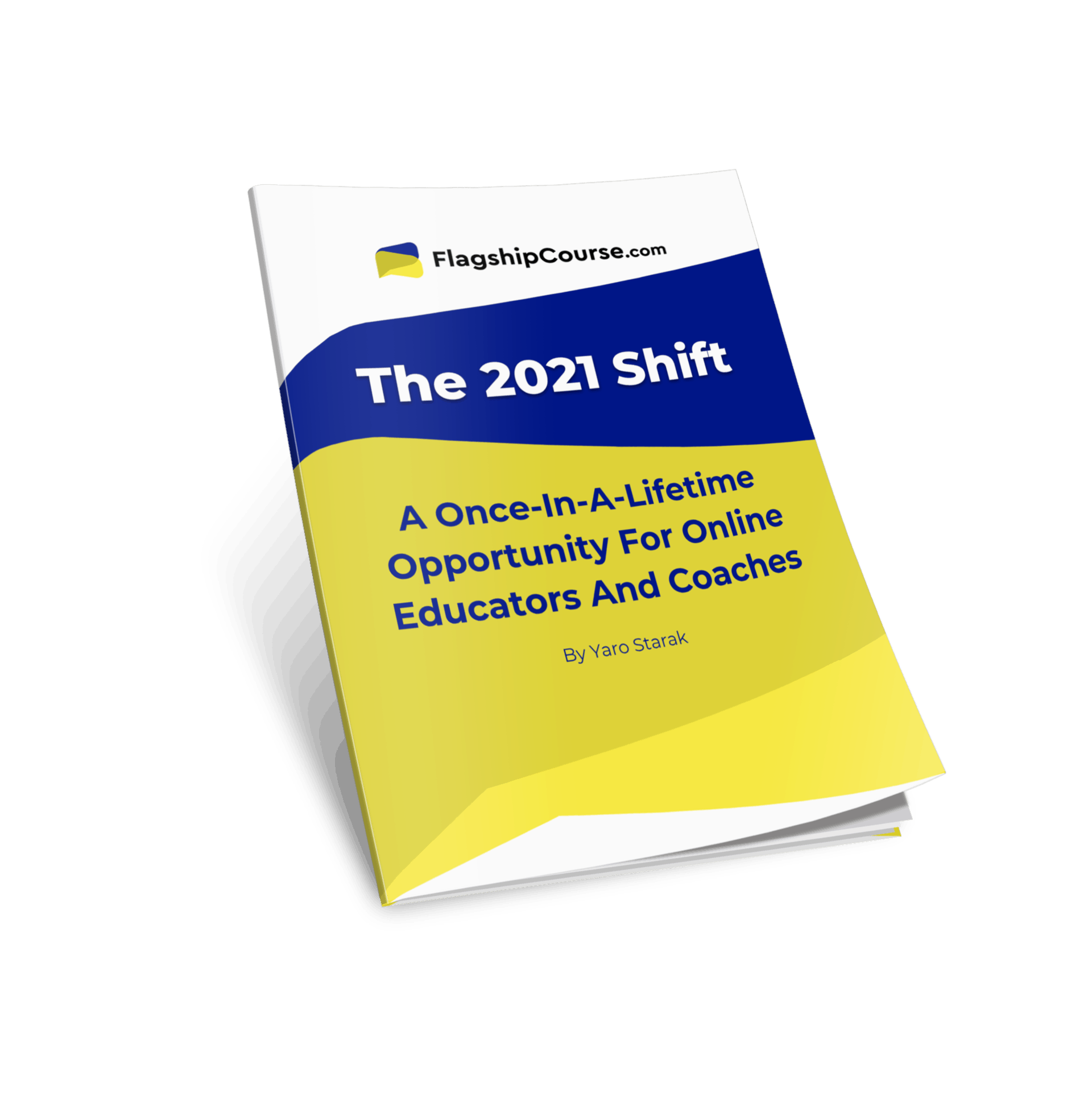 This handout is for anyone who currently sells or intends to sell an online course this year. You can download the entire guide for free in PDF right now.
I began writing this report in 2020, but as the events of that year unfolded, I realized what I was revealing was far more relevant — and important — than I first thought.
I completely rewrote the beginning of this document late 2020 to make sure I highlighted what I believe is a unique moment in time, and a unique opportunity for people who sell education online.
That opportunity very much has to do with the now mainstream work-from-home movement. This incredible shift that we all went through as a result of the pandemic forcing people to stay home, has second order consequences for the online education industry.
To put it simply, there are more people looking to buy online training programs today than ever before, and the numbers prove this already.
I outline why this year is so important and how you can take advantage of the opportunity in the handout, so just go download it and start reading.
My Decade Of Experience Selling Online Courses
Back in 2007 I released what I believe at the time was the first ever online course on how to make money blogging called Blog Mastermind.
From there I went on to create two more courses, generate over a million dollars in course sales, then close them down as they became dated. Then I created a new course, which I went to sell another million dollars worth, using all kinds of different strategies and tactics, from live launches, to evergreen funnels and webinars.
Needless to say, I have A LOT of experience in the world of selling online training programs, and not just from the decade of selling my own courses. I've also helped my coaching clients over the years to plan, prepare, launch and grow their income from their own online programs. Even today as I write this, one of my clients just recently had their first ever $100,000 product launch.
I decided to take what I believe are 16 of the most important insights I have gained from all my years selling online training and reveal them in this report. In particular, I focus on the idea of selling a 'Flagship Course' and break down many of the components that make this type of product the best to sell — especially this year!
You can zip your way through all 16 insights in my brand new free guide here –
Just enter your name and email on the page linked above to download your free PDF copy of the handout.
I'm Launching A New Coaching Program For 2021
If what I wrote in the handout resonates with you, and you feel well positioned to go after your market in 2021, but want help planning, preparing and profiting, I have a unique opportunity for you.
To coincide with the release of my first new free guide in years, I'm opening up a new coaching program, a high-end, personal support program, working directly with me, for people who are ready to take their online education business to the next level in 2021.
Here are the details:
We will work together to assess your current situation, determine your strengths and weaknesses, what assets you currently can leverage and decide the steps to take to fill the gaps that are currently holding your business back.
Then we will decide on a strategy to ramp up sales of your current product (course, membership site, workshop, etc), or plan the release of a new program – your Flagship Course.
These strategy sessions will occur on private calls directly with me – one per month for three months, with the option to extend coaching if you want ongoing support throughout the year.
As you go through the process with me, I will connect you with the experts I have worked with in the past to help with technical setup, copywriting, podcasting, social media marketing, pay per click marketing, video creation and team building (hiring) – you can work with the exact same people I rely on to grow my business.
You will also receive one ticket to attend an in-person live workshop with me, guest experts, my previous successful coaching clients and current clients, held in an exotic location (dates and location to be determined once the pandemic situation is under control).
I intend to sell this program for $7,000 (fair value for both one-on-one coaching with me and a live workshop), but since this is the first time I have run this program I am offering a first-cohort special, a discount price bundled with my current programs.
How To Sign Up For Private Coaching
To sign up for this private coaching program with me, plus claim your ticket to the in-person workshop, all you have to do is purchase my Blog Mastermind 2.0 + Laptop Lifestyle Academy membership package using this checkout:
Join Yaro's Coaching Program, Claim Your Event Ticket, Plus Full Access To Blog Mastermind 2.0 And The Laptop Lifestyle Academy
This offer saves you $4,000 off the price of my new coaching program, plus you get complimentary access to my most comprehensive self study program and support community.
Once you sign up for this package send me an email to schedule your onboarding call for the private coaching program – yaro@yaro.blog.
You will also have immediate access to Blog Mastermind 2.0 and the Laptop Lifestyle Academy, so you can begin reviewing all the amazing training content and support services available in these programs. The welcome emails are sent automatically after you join.
Note: You must use all your private coaching calls within six months of signing up for the program. Your event ticket is valid for any in-person workshop I hold. I will give you plenty of warning of when the next one is once it is safe to travel and hold events again post-pandemic. You retain lifetime access to Blog Mastermind 2.0 and one year access to the Laptop Lifestyle Academy.
In summary, the full offer includes:
Three private coaching sessions with Yaro to plan, prepare and profit from your online education business in 2021 (Normally $1,997)
One ticket to a live, in-person workshop with Yaro and other successful online entrepreneurs, to be held in an exciting location ($2,997)
Immediate access to the entire Blog Mastermind 2.0 course ($1,997)
One year membership to the Laptop Lifestyle Academy ($997)
Total value is almost $8,000, but you pay just $2,997 today.
Due to the nature of private coaching I am only taking on up to 10 clients in this new program, so sign up today to secure your spot.
Join Yaro's Coaching Program, Claim Your Event Ticket, Plus Full Access To Blog Mastermind 2.0 And The Laptop Lifestyle Academy
If you have any questions, send me an email.
I hope you find my new handout helpful this year and put into action what you learn.
Yaro