[ Download MP3 | Transcript | iTunes | Soundcloud | Stitcher | Raw RSS ]
All the way back in 2010 I invited my fellow-Aussie friend James Schramko to appear on my podcast.
During that interview, James explained his entrepreneur's journey story, from taking home a very good salary selling cars, to becoming an affiliate marketer, and eventually owning several online businesses providing outsourcing services like web design and SEO.
Fast forward almost a decade later and James and I decided to reunite and do a joint podcast, which means you can hear this episode on both my show and on the Super Fast Business podcast hosted by James.
James recently published a book, Work Less, Make More: The Counter-Intuitive Approach To Building A Profitable Business And A Life You Actually Love. This topic is obviously dear to my heart, as it's a philosophy that I have embodied with my own Laptop Lifestyle methodology.
This podcast is very much focused on this core idea, as James and I explain to you how we have structured our businesses and lives to free up time and make more money.
We also do a deep dive into email, since it's usually the first area where entrepreneurs can make some simple changes to free up significant time, for example hiring someone to take over your email from InboxDone.com (and yes I got to plug my company a lot in this podcast — thanks James!).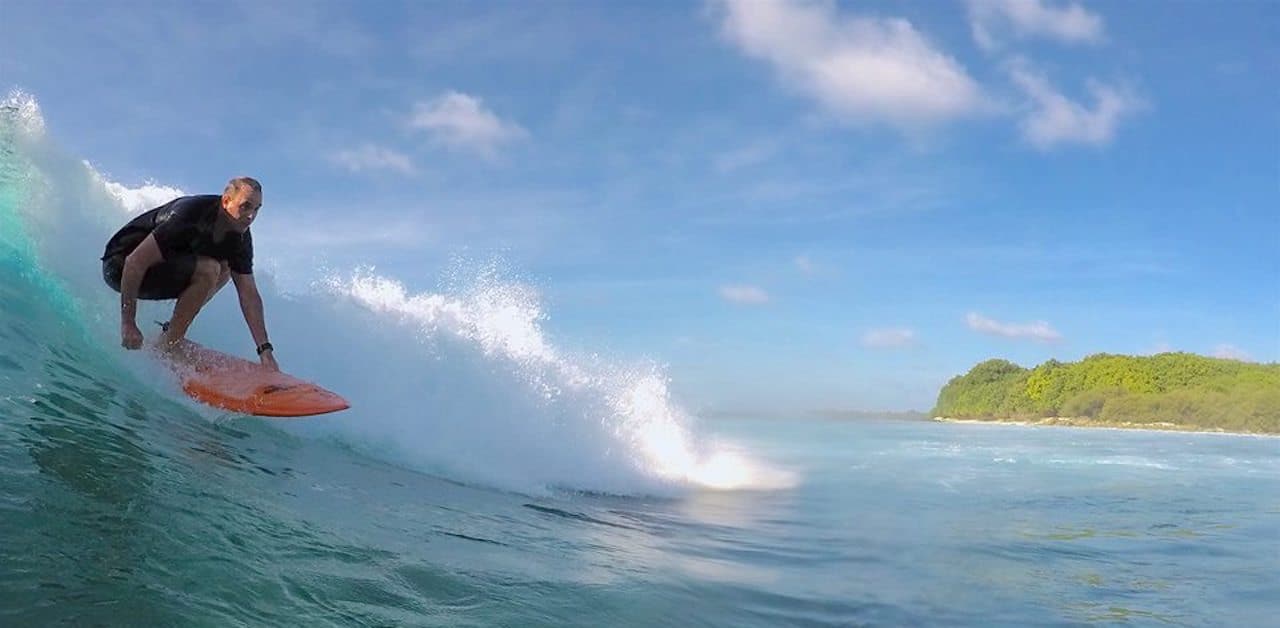 Selling His Companies And Becoming A Surfer
Over the last decade, at least from my perspective of James, there have been two major changes.
He got into surfing — and I mean REALLY got into it. Most of the social media updates he does are related to his regular surfs in Australia, The Philippines, and Maldives.
The other change is James sold his two outsourcing companies, freeing him up to focus almost entirely on coaching. During the interview, James explains how and why he sold his companies.
Currently, James runs two programs, a membership site called Super Fast Business for entrepreneurs earning in the several thousands to low six-figure level, and his Silver Circle coaching, for entrepreneurs earning at least half a million a year profit (the medium being $3 Million a year companies).
James also runs an annual conference in Sydney, and a mastermind retreat in the Maldives, living on a boat on the water, a pretty nice place to talk business.
As James mentions on the podcast, he's working behind the scenes with a lot of very high profile entrepreneurs, primarily helping them to do what the title of his book is – to work less and earn more. You could call James a surfer-business-guru to the experts!
If you're currently working too hard in your business, this podcast will open your eyes to some basic changes you can begin to make.
Enjoy the episode,
Yaro
Topics Covered In This Podcast
Why James didn't like the 4-Hour Work Week book by Tim Ferriss
The origin story behind InboxDone.com
Whether email or blogging is going to die out
Why LinkedIn is a better platform for video than Facebook or Instagram
Why you should put out an Audible version of your book
Email addiction and how both James and I handle the back-end of our businesses
The different kinds of challenges you face when you run a $500,000 a year business VS a $1 million a year business
Why James decided to sell his service-based businesses (a web development business and SEO business)
Relevant Links
[ Download MP3 | Transcript | iTunes | Soundcloud | Raw RSS ]

If You Enjoyed This Episode, You May Also Like…