[ Download MP3 | Transcript | iTunes | Soundcloud | Raw RSS ]
Gideon Shalwick is my long-time friend and one-time business partner.
More recently, Gideon founded two companies:
Splasheo – A video intro production service that Gideon has turned into a passive income stream
Veeroll – A video advertising creation tool for people who run video campaigns on Facebook, Instagram and YouTube, which has grown into a million dollar company
I recently began teaching a new course called Services Arbitrage, which reveals how you can set up a business selling services that other people deliver.
This is exactly the business model Gideon tapped into to start both his businesses, so I thought it was about time to invite Gideon on to the EJ Podcast to talk about how he did it.
Simplify
During this interview, you're going to hear Gideon talk a lot about his business goals, philosophies and also what specifically led to the creation of his two most recent projects.
Splasheo, a business Gideon created that has run for years without him being actively involved, is a great example of starting out with a big target audience, and then narrowing in to find a sweet spot.
Gideon explains the genesis of the Splasheo idea, a much larger project designed to connect people with freelancers to do all manner of video production projects.
By narrowing in on a much simpler offer – video intros – Gideon was able to offer a service that people needed, which could be turned into a 'templated' package.
The Splasheo initial concept later spawned the Veeroll business, an extension of what Splasheo does, but targeting a larger market – the ever growing world of online video advertising.
Growing A Million Dollar Services Business
Gideon made it clear that marketing Veeroll was a much different beast to growing Splasheo (it's well worth listening to this interview just to hear Gideon explain how he attracts customers to both businesses).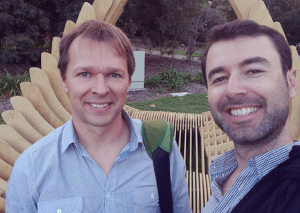 It's very clear to Gideon that Splasheo, while a great business, does not quite hit the right need in the market the way Veeroll does. Consequently, Veeroll has grown into a much bigger company, one that requires a different level of commitment from Gideon and his team.
If you're currently starting or growing a services business, or you want to learn more about how to turn a services business into an automated 'template' service, this is the perfect interview for you.
Enjoy the episode,
Yaro
EJPodcast.com
Relevant Links
[ Download MP3 | Transcript | iTunes | Soundcloud | Raw RSS ]