The new EJ Podcast Email Newsletter is now up and running. Sign up today and I'll send you my very best podcast interviews from my archives once week.
You will also receive an email as soon as my latest podcast interviews are published. You can unsubscribe from any email at any time and it's 100% free.
How It All Began…
During the year 2005, six months after starting the Entrepreneurs-Journey (now known as Yaro.Blog) blog, I learned about a new trend that had recently began online – Podcasting.
At first I wasn't sure about this new format, but having secretly harbored a desire to be a "radio star" because a university lecturer once told me I had a great voice, I eagerly switched on the recorder and created my first ever episode of the Entrepreneurs-Journey Podcast.
Initially the first few episodes featured my own voice rambling on about topics I was interested in as a young entrepreneur. However I quickly realized two people conversing would make for a more entertaining podcast, so I invited a friend and fellow entrepreneur on for a conversation.
From that first conversation I turned my attention to interviewing other entrepreneurs using a format that perfectly matched the ethos of this blog – exploring the "journey" an entrepreneur has gone through to get to the success they enjoy today.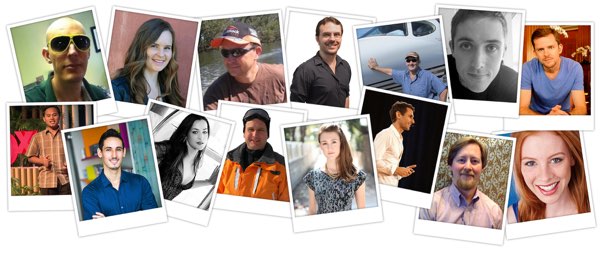 Fast forward to the present and I've published over 150 episodes of the podcast, featuring guests like Tom Kulzer the CEO of AWeber, the author Tim Ferriss, helped shine a light on people who would eventually become online superstars like Pat Flynn and Laura Roeder, and interviewed successful DJs, acne experts, model train enthusiasts, poker and video game entrepreneurs, multimillion dollar startup founders like Steve Baxter and Neil Patel, and many more.
Announcing: The New EJ Podcast Email Newsletter
Now that the EJ Podcast is so established and the back catalogue has grown, I thought it was about time to start an email list to help achieve two objectives…
Give you the latest podcast episodes as soon as I release them, so you never miss out
Guide you through the best episodes from my archives
Many people have commented that I have a unique interview style, different from all the entrepreneur podcasts out there, because I keep my guests on track and make sure they cover the important details behind their success.
Just recently I received this feedback from Bahri, a long time listener to the EJ Podcast…
I think what separates Yaro from others is the fact that he has his guests tell their stories in a way that it is educational for the listeners. Every time I listened to his podcast, I learn something from the experiences of his guests. The best part is that I hear "Actionable Items" that I can apply to my own journey. Yaro interviews his guests having his listeners in mind, which clearly comes across in his interviews.

— Bahri, Turkey
If you're looking to learn the specific steps online entrepreneurs, bloggers and information marketers take to initially grow their traffic, make sales and scale to millions of dollars a year, you need to subscribe – its FREE.
"Don't Miss Yaro's Latest Podcast Interviews"
Sign up for the EJ Podcast Newsletter and Iíll send you new
episode notices and the best interviews from my archives.
Don't Miss My Latest Interviews
My schedule of new upcoming interview guests is huge, full of inspiring entrepreneurs and bloggers who will explain exactly how they created their successful companies.
To make sure you don't miss out on a single episode, sign up to my EJ Podcast newsletter.
I'll speak to you on the next show.
Yaro