In episode #16 of the Everything Entrepreneurship podcast Walter explains what happened to his body after spending three days of straight coding.
[ Download MP3 | iTunes | Soundcloud | Raw RSS ]
I talk about the domain name land grab that is just about to kick off when over 1,000 new domain name extensions are released in February. Thanks to Ana's January 25th Weekly Marketing Skinny for a heads up about the upcoming release.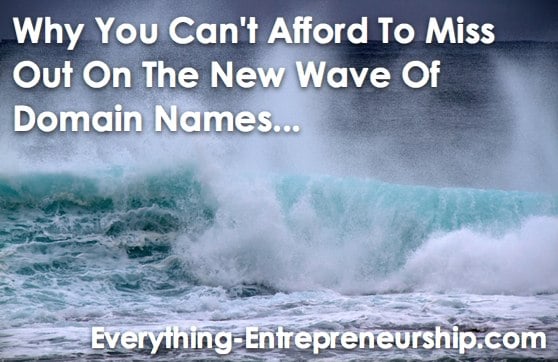 The rest of the podcast features three questions we selected from over twenty questions left on episode #14 of our podcast from students of TEC de Monterrey, a school in Mexico (thanks to teacher Horacio Edgar for suggesting his students listen to our show and leave us questions!).
The questions we responded to are –
Mauro Valencia
Hi I'm Mauro, and I'm a student at Tec de Monterrey (Mexico). I would like to know if it would be better to focus on a bigger niche although there is more competition, or a smaller niche, because if you innovate creating a blue ocean and you have success wouldn't you make bigger companies notice you and try to take you down, causing you to fail?
José Fernandez
Walter, what are some ideas or ways you used in order to have more traffic or promote your site? I am a student of the Tecnológico de Monterrey here in Mexico, and I want to start a blog for various things, but I have yet to find a good way to promote it. If you can, could you share some ideas? Thank you for your help, and great informative Podcast.
Ana Bety
Hi, my name is Ana Bety and I am a student of Tec de Monterrey Campus Tampico. I found this podcast really interesting. It helped me understand more about my class project, but I would like to know what you do if your costumers needs change so much your product that you don't like it anymore. Do you still sell it, even though it isn't what you are passionate about?
Walter and I offer our insights in response to each of these questions during the second half of the show.
We Have A Question For You!
Starting next episode Everything Entrepreneurship (EE) is being spun-off from EJ into it's own separate podcast. I want to keep the EJ Podcast for interviews, which I have been doing since 2005. The EE show has proven it deserves it's own dedicated podcast channel. I'll have more news about the separation next episode.
To kick of the new independent channel Walter and I are going to start a series of episodes looking at what goes into a pitch to promote your business to either investors or potential customers.
To help us better help you, during this episode we asked you a question –
What part of doing a pitch scares you the most?
If you could answer that question as a reply to this blog post we would really appreciate it!
If you have any of your own questions to ask us, feel free to ask along with your answer to our question in the same reply, and we will respond during the next EE episode.
Thanks again for listening,
Yaro and Walter
[ Download MP3 | iTunes | Soundcloud | Raw RSS ]
"Don't Miss Yaro's Latest Podcast Interviews"
Sign up for the EJ Podcast Newsletter and I'll send you new
episode notices and the best interviews from my archives.