My newsletter subscribers will be well aware that I recently moved to Melbourne. To meet new people I have been hitting local entrepreneur meetup events pretty hard.
I quickly met Rob Ward and Chris Peters, two local guys who used Kickstarter campaigns to start off what is now a multi-million dollar iPhone case company.
Their first product, the Opena, a beer-bottle opening iPhone case was one of the early Kickstarter success stories, raising almost double their intended target of $15,000 (they raised over $28K).
Along the way they picked up endorsements from Ashton Kutcher and Jamie Oliver, among many other points of exposure in the media. This led to a successful launch for their first product.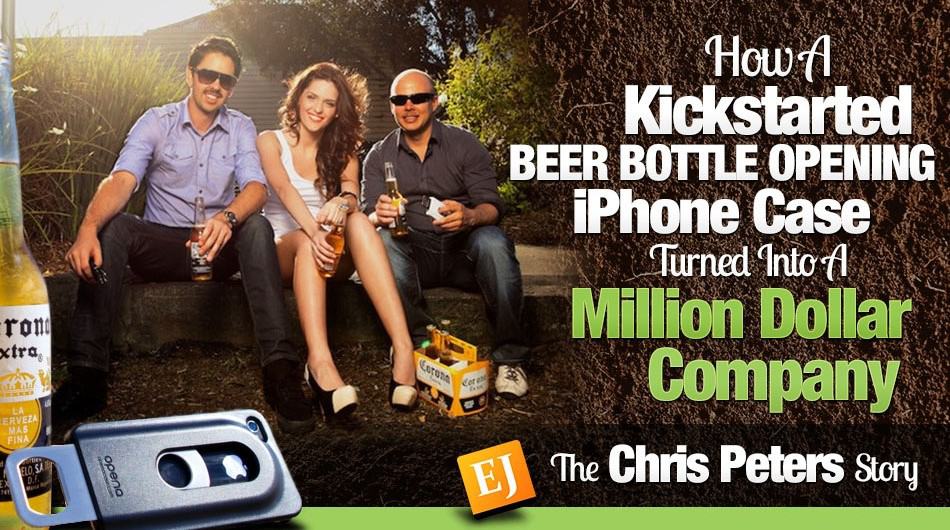 Their second product, the QuadLock case, which is an iPhone case that can be mounted on to things like a mountain bike, car or belt, was also initially funded to the tune of almost $40,000 on Kickstarter.
Since these two successful launch campaigns, Chris and Rob have continued to work hard to grow their company, now shipping their cases all around the world.
Physical Products
During this podcast interview Chris goes into quite a lot of detail about how their product was first created using Chinese prototyping services.
After the prototypes showed promise, they transitioned to Kickstarter campaigns to drum up attention and create enough cash flow to produce the first public offering of their products.
Listening to this interview will teach you a lot about what it takes to run a successful Kickstarter campaign and also what goes into the creation and delivery of a physical product.
I really enjoyed this interview because Chris was willing to answer all my questions in detail. Since I have not manufactured a physical product myself before, I had a lot of questions regarding how you come up with a design and how that design then gets made into something physical.
What We Covered During The Interview
Here's what we talked about during the interview –
Chris talks about his earlier years as an industrial design engineer and some of his first forays into running his own business.
We then cover how Chris and Rob began their partnership and why they decided to run with a beer opening iPhone case as their first product
Chris explains how the prototype product was first created, including what went wrong with the first version
Next we do a complete review of their first Kickstarter campaign, including what rewards they offered, how the video was created, how they drummed up press coverage and what they did to get Ashton Kutcher and Jamie Oliver talking about their product
I ask Chris to explain how they handle manufacturing and delivery of their product
We review what happened after the two successful Kickstarter campaigns and how they turned that early success into a multi-million dollar company
If you have ever thought about creating an innovative physical product, this interview will be inspirational and very practical.
Enjoy it – and thanks to Chris for being so willing to share his story.
Yaro Starak
EJ Podcast
Relevant Links Mentioned in this Interview
 Where to Find Chris Online
[ Download MP3 | Transcript | iTunes | Soundcloud | Raw RSS ]