Every few years I launch a brand new design here on Entrepreneurs-Journey (now Yaro.Blog).
I'm happy to announce that the new 2013 design is live.
If you are reading this page on an RSS reader make sure you take a look at yaro.blog on a desktop or laptop screen to see the new layout.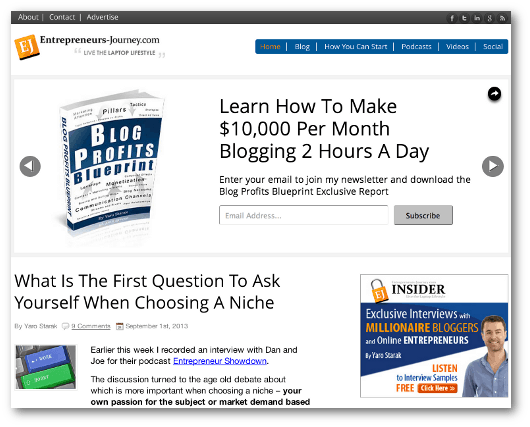 The mobile version of EJ is new too. Currently it's running a responsive design that my designer Carly created. My plan is to get a distinct mobile version of EJ done eventually.
Mobile is hot right now. You are probably reading this on a mobile device while in transit or waiting for something or someone. Hence I really want to tailor the mobile EJ experience.
For now, let me take you on a tour of what has changed here on EJ and why I decided to remove some things and add some other things…
Simplicity Vs Minimalism
I was recently reading some commentary about Apple's ongoing quest to simplify the design of all their products, including software and hardware designs.
Here's a quote taken from their new IOS 7 page –
Simplicity is actually quite complicated.

Simplicity is often equated with minimalism. Yet true simplicity is so much more than just the absence of clutter or the removal of decoration. It's about offering up the right things, in the right place, right when you need them. It's about bringing order to complexity. And it's about making something that always seems to 'just work'. When you pick something up for the first time and already know how to do the things you want to do, that's simplicity.
While I'm not going compare our redesign process here at EJ to what Apple's engineers go through, I can certainly say that Carly and I were on a quest to do more with less.
Here's a list of goals I had with the new EJ design…
Reduce Advertising
I've slowly reduced the number of ads on EJ over the past few years.
At the launch of my last redesign I was running text link ads, video ads, and four different banner zones (125×125, 300×200, 468×60 and 780×90 pixel sizes).
With this new design I wanted to bring the advertising down to just one space for sponsors (125×125 boxes) and keep the 300×200 spot for my own products or affiliate promotions. Gone are the text links, end of article banners and video ads.
Why you might ask? I take a hit to my income by doing this, so it's not necessarily a smart financial decision.
One reason is I want to force myself to be more dependent on other income sources. Advertising is "easy" but it's not my favourite way to monetize a site.
Advertising dilutes your own brand and drives people away from your site. It can be seen as "ugly", not to mention the fact that banner blindness is at an all time high. If it's not ugly or annoying, it's not even seen.
I also had concerns about Google penalties reducing search rankings as a result of having too many ads. Of course Google decides what is too many ads, so it's hard to know how to appease them.
For me this change is mostly a reflection of where I want to go with my online brand.
I get the most satisfaction from making money from my own teaching products. I get a real buzz when someone buys my mindset guide or subscribes to the EJ Insider Interviews club. I can't really say the same thing about selling an ad.
I am keeping ads on my site as I need the dependable cash flow while I make the transition to focus my business on my own product suite. I suspect within a year or two ads will be gone completely.
I believe advertising is a great way to monetize a blog. I would not want you to read this article and think otherwise.
Advertising suits some blogs really well, and has served me well since the early 2000s when I had ads on my very first website. In my case right now it's a strategic and personal decision to head in this direction, which may change again. You should make your own choice and test advertising if you think it will be a good fit for your blog.
The Optin Box And Slider
I have played around with various ways to present my main newsletter optin box on this blog. I started many years ago with a small box to the right of my latest content, I've tested a lightbox pop-up (powered by popup domination) and in my last design, a large generic newsletter optin that could be opened and closed that looked like this…

Like most bloggers who run email lists, I balance a desire not to annoy my regular readers who are already on my newsletter, with an attempt to entice new visitors to join my list.
With this new EJ design I wanted to do two things with my newsletter optin –
Remove the request for a name when getting subscribers (only ask for email address). Tests show that asking for just an email address, no name, increases optin rate. Tests also show that using a name in an email at the start reduces engagement and clicks on links in the newsletter, so I don't use the name field in my emails anymore.
Segment my newsletter into more niche specific autoresponder series. I was giving all my freebies away in one newsletter. Now with the new design I have returned to how I always planned for my newsletter to work – with niche specific training sequences and related products.If you optin for the Blog Profits Blueprint you are tagged in my Office Auto Pilot system as interested in blogging. If you optin for my Membership Site Masterplan, you are tagged as interested in selling your own information products like membership sites, training courses, and ebooks. My other resources will also have their own optin forms and appropriate tags.I can now create follow-up sequences that are better tailored to what you want to learn about, and offer my related products throughout the free training. This is an obvious improvement in audience targeting, which I hope will demonstrate results in years to come as I build out my training suite.
I still wanted to have the big newsletter optin above the fold, but I was keen to mix it up so people didn't always see it, and so I could show several different optin boxes for different resources I make available. I also wanted to mix in feature content and products into that above the fold area as I publish new materials.
My original plan was to run a cookie driven system so after a person opts-in to the Blueprint newsletter for example, they will no longer see the optin for the Blueprint. I could then present them a different optin or content, or nothing at all.
The problem with this option is that cookies are not super reliable with all the different browser settings, and some people clear their cookies. Rather than go with something that doesn't work all the time and would take longer to set-up, we decided to try out a slider system, which you can now see running on the homepage.
At the moment the slider is set to manual, so you have to click the arrows to move through the content. I have the option to have the slides change at a certain time interval. I am sure you have seen how this works on other sites that use sliders.
During my research into other sites that use sliders I came across Refinery29, a female fashion blog that makes really good use of different types of sliders. They inspired me to consider using multiple sliders on EJ.

I came across SlideDeck 2, a plugin for WordPress, which has a number of different slider design templates and makes adding a slider to your blog a whole lot easier.
Carly had a play with the plugin and showed me a few different slider options. I decided to use three, one top main one, one slider for my podcasts and one for my videos.
I'm quite pleased with how the sliders break up the blog content and make the overall design a little bit different. I also think they make for a great way to showcase some of my previous content hidden away in my archives using a big visual presentation.
Matt Inglot chimed in on Facebook and commented that sliders (he called them rotators) are not that effective because no one ever flips through them.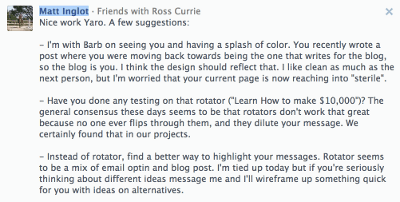 I'm not sure if people will slide to see the different content (did you?). I can always turn on the automatic sliding, so they will change without human interaction.
If people don't slide I don't mind too much as I want my newsletter optin to be the most prominent thing anyway, which is the first slide in the top slider. For the Podcast and Video sliders my most recent content will always be the first slide, so that will change to highlight my new stuff as I publish it even if people don't slide.
What matters to me right now is I like the sliders because they are new and refreshing and big, so they will stay.
White Space
As Matt and Barb and a few others commented on Facebook, the new EJ Design is very white, even possibly "sterile".
I'm not sure I agree with the sterile comment. I certainly reduced the amount of colour in the site, but colour still comes out, especially within the elements I want to highlight.
We all know that if you have lots of whitespace whatever is in the whitespace gets attention. The same is true for colours.
If you remove most of the colours, whatever has colour attracts attention.
It's a bit like swearing. I rarely swear, but when I do, people notice. They pay attention immediately and say it sounds strange coming from me. I can make much more impact by saying less, so when I do say something, it grabs attention.
The new EJ design removed a lot. Not just in terms of elements like advertising, but also structural things like borders and boxes around content. It's a much simpler design.
This was a deliberate change because it gives me the ability to really focus on only a few core things.
Using the whitespace, feature images and large title font, I can highlight the two most important elements on this site –
Content (articles, podcasts, videos)
Offers (optins, advertising)
EJ is about two things now: consuming content and subscribing. This will be 100% the case if I completely remove advertising.
You come to this site to read an article, listen to a podcast or watch a video. You can also subscribe to a newsletter and follow me on Facebook, Twitter, Instagram, YouTube, Google+, LinkedIn or RSS.
I want people to enjoy my work and form a connection with me so you get notified of my future work.
New Dedicated Content Pages
One other change you will notice is if you go to the Podcasts or Videos pages. You will see these pages now display the most recent media files in a table, with download links for MP3s or transcripts where available, and also links to iTunes and YouTube to subscribe to my channels.
I made this change after seeing how Glen at ViperChill had set up his podcast page. I liked that you could find the download links really easily and download more than one episode from the page (thanks for the inspiration Glen!).
I'm an avid podcast listener myself. Sometimes I find it difficult to find certain interviews because they are buried in the archives of a site and the search function is not very good. Having this table structure means it only takes a few pages to scroll through every episode I have ever produced.
I left the blog category style available for those who prefer that style to browse through previous episodes too.
Some of the content pages are not quite finished yet as I write this, so no need to let me know – we are fixing the errors and tweaking the designs still.
Your Blog Design As Art
One thing that is rarely talked about when it comes to blog design in a niche like business or marketing, is how much your design can be an expression of your creativity.
You might say that my blog in some ways is my art. My words carry the stories, but the layout is another place where I can express myself and use design elements to augment my words.
My blog design is not just about achieving business outcomes. I want my blog to make money, but I also want to enjoy looking at it. When you personally find pleasure in your own site it drives you to work harder on it.
I will never suggest you should let a lack of a beautiful blog design stop you from blogging. However when you reach the point where you can spend some money on custom work, you should treat the experience as creative expression, just as much as working to increase your bottom line.
This is why many of the design decisions I made for the new EJ you are now looking at were not done just to maximise income or increase email optin rates. Sometimes I ask for something to be created or changed because I like the way it appears.
Time will tell how much it helps with business outcomes. For now I'm just happy to have that fresh feeling.
Yaro Starak
Renovating